The G7's Greek and Russian Headaches
President Obama and Angela Merkel are looking to maintain a unified front over the war in Ukraine, even as some Europeans sour on sanctions.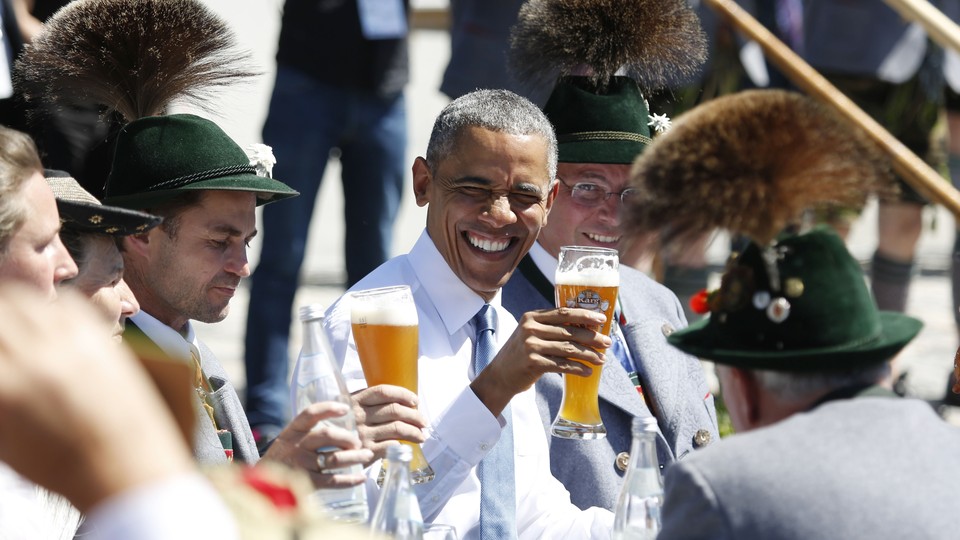 Angela Merkel and Barack Obama kicked the day off with a breakfast beer. Before you judge them too harshly, consider the agenda they've got ahead of them at the G7 summit. You might want a crisp weissbeer to start the day too.
Obama arrived in Germany fresh from delivering a moving eulogy for Beau Biden, the vice president's son, in Wilmington, Delaware, on Saturday. Merkel, the German chancellor, is hosting the leaders of Canada, France, Italy, Japan, and the United Kingdom as well as Obama at the foot of the Bavarian Alps for the summit. As Reuters notes, Merkel has planned an agenda that includes discussion of climate change and global-health challenges like Ebola, but those are likely to take a backseat to two, more pressing crises on Europe's outer edges.
One is the plight of Greece, with the nation's leftist government and its creditors engaged in the latest round of brinksmanship over its debt. Greece is running out of cash, but international creditors are refusing to release bailout money unless the government makes concessions. Prime Minister Alexis Tsipras, elected on a platform of fighting back against European-imposed austerity, has refused to budge. Jean-Claude Juncker, the president of the European Commission, had expected to have a proposal from Tsipras several days ago, but he was "visibly angry," according to The Guardian, speaking about negotiations on the sidelines of the G7 Sunday.
"Alexis Tsipras promised that by Thursday evening he would present a second proposal. Then he said he would present it on Friday. And then he said he would call on Saturday. But I have never received that proposal, so I hope I will receive it soon. I would like to have that Greek proposal," he said.
Fears are once again high that Greece might pull out of the euro, though Juncker and other international authorities say they remain committed to keeping Athens in the fold. A Greek exit would pose a challenge to a beleaguered EU—other countries might feel tempted to follow its lead; meanwhile, rising euroskepticism in Britain led Prime Minister David Cameron to promise a referendum on U.K. membership during his successful reelection campaign.
At least on the other crisis there seems to be a bit more consensus. Merkel is trying to maintain a unified front against Russia, maintaining EU sanctions put in place as a response to the ongoing invasion of Ukraine, where fighting has heated up in the last couple of weeks. (The group that's meeting in Germany was the G8 until Russian President Vladimir Putin was unceremoniously dumped in retaliation for his moves into Crimea.) Sanctions have put a serious pinch on the Russian economy, but they've also hurt Russia's European trading partners. Italy's prime minister and left-wing politicians in Germany are among those bearish on sanctions. Merkel, Cameron and Obama insist measures stay in place until Russia pulls back, and they've proposed aid for EU nations that might otherwise be tempted to reverse sanctions.
Meanwhile, Obama and Merkel are still working to repair their relationship after revelations that the U.S. was spying on her—and she seemed "cooler" at the breakfast, The Guardian reported: "Despite using his first name, and addressing him in the informal 'du' form, she immediately made a veiled reference to the tensions between the U.S. and Germany over the scandal surrounding Germany's intelligence agents allegedly helping the U.S.'s National Security Agency to spy on officials and companies in Europe."
The beer may have gone to the president's head—he said an alphorn performance was the best he'd ever heard, and suggested he might shop for lederhosen while in town. Looking at the G7 agenda, though, it's no wonder he and Merkel wanted a little liquid courage before things start.