'A Profound Restructuring': The Resignation of FIFA Chief Sepp Blatter
A shocking announcement comes just days after the soccer head's reelection.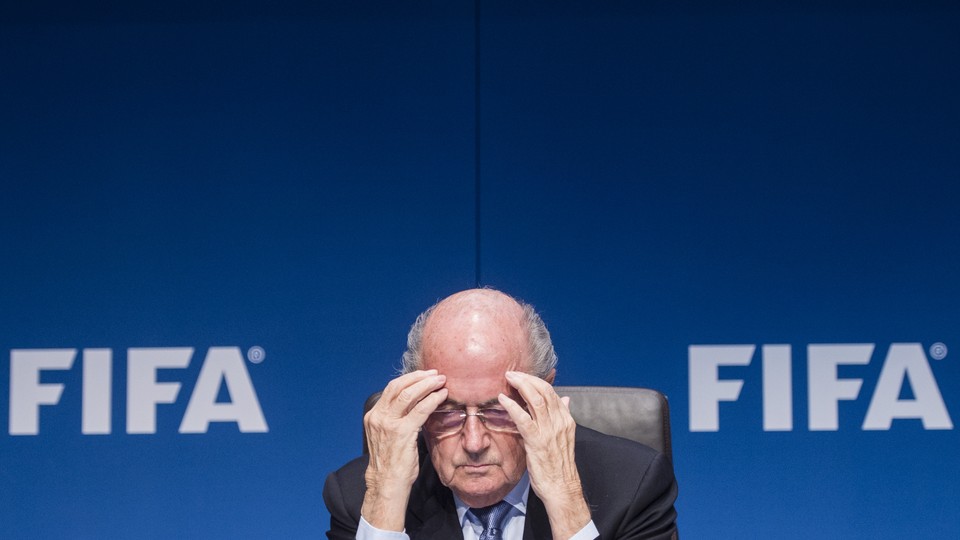 Sepp Blatter, the four-term FIFA chief who weathered an unprecedented period of scandal and controversy in international soccer, announced on Tuesday that he would resign. His statement capped a furious few days of drama during which several FIFA officials and executives were indicted on mass corruption charges, conspiracy theories churned over the U.S. Justice Department's involvement, and Blatter was nevertheless reelected FIFA chief by a wide margin.
"For the next four years I will be in command of this boat called FIFA, and we will bring it back," he crowed triumphantly on Friday. "We will bring it back offshore, we will bring it back to the beach, where finally football will be played."
But by Tuesday afternoon at a hastily organized press conference, Blatter's tone had changed."This mandate does not seem to be supported by everybody in the world of football," he said. "FIFA needs a profound restructuring."
It also needs a credibility boost. Last week, Justice Department officials accused FIFA officials of taking nearly $150 million in bribes over the course of the past 24 years. Swiss investigators also announced that they would open investigations into the bidding processes for the 2018 and 2022 World Cups, set to take place in Russia and Qatar, respectively.
In recent days, the reach of inquiry into the corruption has drawn closer and closer to Blatter, implicating a top deputy for transferring $10 million from FIFA accounts in 2008 to an account controlled by Jack Warner, a FIFA official who was indicted last week.
On Tuesday, the 79-year-old Blatter called for an immediate conference to select his successor and said that he would not stand for office again. Last week, Blatter had promised to stand down after his fifth term, but for reasons that still remain entirely unclear, he decided to resign instead.
One of the frontrunners to replace Blatter appears to be Prince Ali of Jordan, who finished second last week and signaled his interest to run again on Tuesday. Bookies have named Michel Platini, the head of the Union of European Football Associations, as the odds-on favorite to replace Blatter.