What FIFA and the Berlin Philharmonic Reveal About Power
Sepp Blatter and other leaders fail to recognize that retaining authority nowadays requires revolutionary thinking.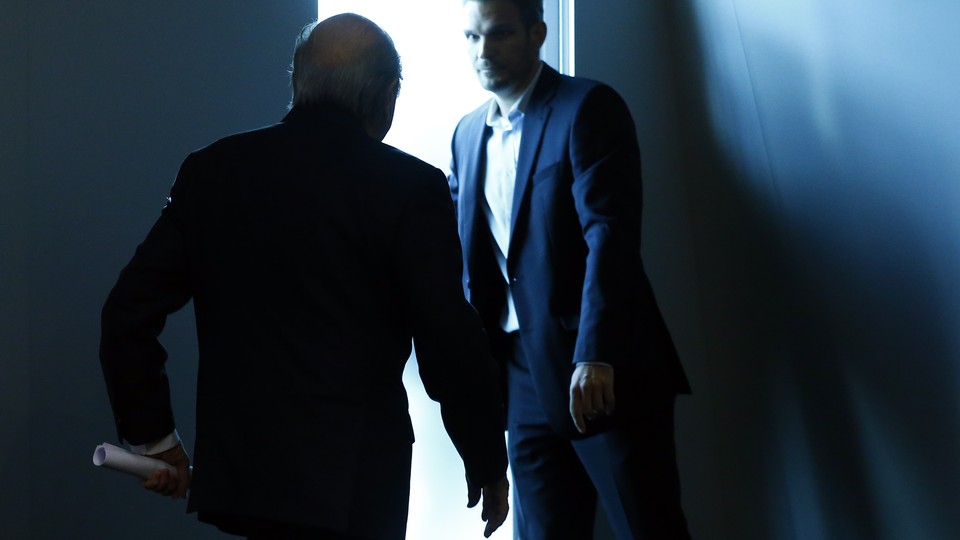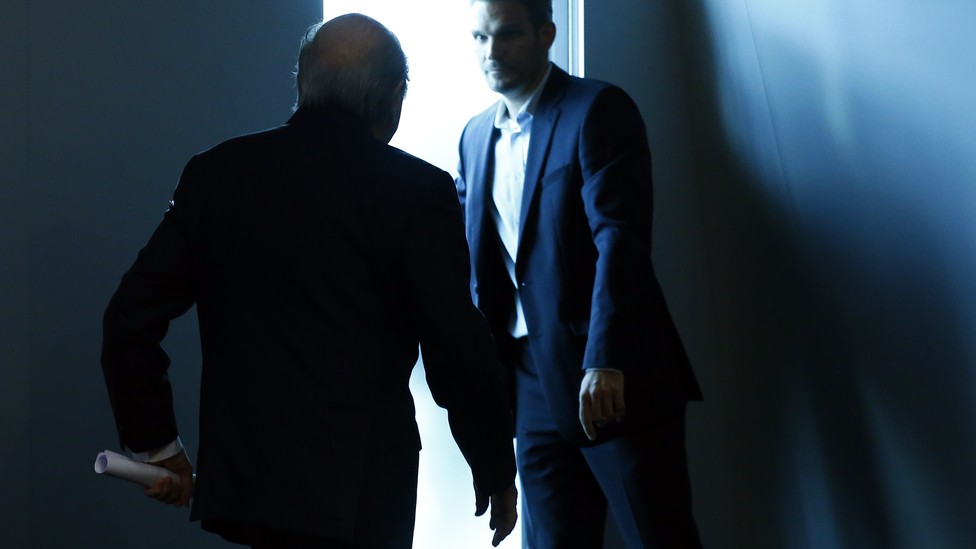 Sepp Blatter has been called the "most powerful man in sports." But until recently, the nature—and durability—of that power was poorly understood. This past week, it was striking to watch Blatter, the long-serving strongman at FIFA, run the global soccer organization and get reelected to a fifth presidential term as if nothing had happened—as if the lieutenants surrounding him hadn't just been accused of corruption and arrested by Swiss and American authorities, the latest in a series of scandals and corruption allegations that had tarnished the federation's reputation for years. Ahead of easily winning the contest for FIFA's highest office on Friday, Blatter said, "We don't need revolutions but we always need evolutions. … I will fix FIFA."
At that moment, Blatter seemed to believe his power was as impregnable as it had been during the years he ran FIFA like a king and many heads of state, eager to secure soccer cups and lucrative deals, treated him as one. But as we now know, his immense power was, in fact, rapidly on the wane. (And with the unsealing of one soccer official's guilty plea to accepting bribes for selecting South Africa as a World Cup host, we now know more about the malfeasance that set the stage for his downfall.)
FIFA will not be fixed by Blatter. It will be fixed, in part, by the American judges and prosecutors investigating and sentencing its corrupt members. Long-established leaders tend to misread signals of change in their environment and assume they can continue with business as usual and successfully neutralize the threats to their authority. So too with Blatter. After 17 years at the helm of FIFA, and just four days after being reelected, Blatter resigned this week in a speech that lasted just four minutes. FIFA needed a major overhaul. Evolution, he now humbly and uncharacteristically acknowledged, was not enough.
Blatter's predicament is not unique. In fact, it's instructive of the way entrenched power everywhere is undergoing profound mutations. Consider, for instance, the Berlin Philharmonic. During an event in May akin to a papal conclave, the 124 members of the world-renowned orchestra gathered in a secret location, surrendered their mobile devices, and voted to elect a conductor to succeed Simon Rattle, with the plan to cast ballots as many times as necessary for a candidate to secure a majority. Instead, for the first time since 1882, the philharmonic failed to reach that majority. The decision, in the fashion of the U.S. Congress, was postponed until sometime next year. "Berliner's musicians orchestrate an end to autocracy," declared the headline of an article by the music critic Shirley Apthorp. She continued, "The age of the autocrat is over; even orchestras less literally democratic than the Berliners want a say in their own destiny. The absolutist style of [former Berlin Philharmonic conductor] Herbert von Karajan and his predecessors has no place in an egalitarian society."
Such shifts extend beyond classical music and international soccer. In recent weeks, elections in the United Kingdom, Spain, and Poland dramatically reshaped the political order in these countries. In the U.K. and Spain, the nationalist Scottish National Party and anti-corruption Podemos and Ciudadanos parties, respectively, wrested power from the traditional parties. In Poland, Andrzej Duda, a relatively unknown right-wing candidate, defeated incumbent President Bronislaw Komorowski. In all these cases, experts and pollsters failed to anticipate the outcome of the races.
Something comparable is happening in business and finance. Fortune magazine is about to publish its latest annual list of the 500 largest American companies. As Alan Murray, Fortune's editor, has noted, 57 percent of the companies listed this year did not appear in the ranking in 1995. The turnover is even greater in the rankings of the world's largest companies, where corporations from emerging markets—especially China—now occupy slots once dominated almost entirely by U.S. and European companies, as well as sectors that didn't exist just a few years ago. Alibaba, the Chinese e-commerce company founded in 1999, is valued at $224 billion; Kodak is gone.
The world's wealthy are experiencing similar flux. Only 10 percent of those on Forbes' annual list of the richest Americans in 1982 remained on the 2012 list. As former U.S. Treasury Secretary Larry Summers has noted, "a significant majority of members of the 1982 list would have qualified for the 2012 list if they had accumulated wealth at a real rate of even 4 percent a year." But they didn't. So who replaced them? Asian billionaires. A report on billionaires recently published by UBS/PwC found that a growing number of people with fortunes of more than a billion dollars work and live in Asia. Of the 1,300 super-rich included in the report, 66 percent did not inherit their fortune but rather created it. Two decades ago, the opposite was true: 57 percent of the world's rich had inherited a large portion of their net worth. Until 1980, the study showed, a staggering majority of billionaires were concentrated in the United States and Europe. This is no longer the case. In 2015, 36 percent of billionaires who did not inherit their wealth are Asian, 17 percent are European, and only 4 percent are American.
As I have previously discussed, those in power nowadays—even those who continue to concentrate power, from Google to Russian President Vladimir Putin—face a welter of constraints on that authority; power has become more ephemeral and, in some cases, has decayed. And yet despite the rapid, pervasive changes in power's sources, limits, and permanence, many leaders appear surprised by these transformations. Sepp Blatter is just the start. He's joined by political parties from Italy to Brazil, established companies whose business models are upended by agile newcomers, and large military establishments struggling to find effective responses to emerging enemies like ISIS.
Many seem oblivious to the urgent need to change their ways and those of their organizations in order to retain power. In practice, inertia and business as usual predominate. Too often, shortsightedness and complacency are as critical in undermining the power of those who have long held it as the actions of their challengers.