Has Obama's China Strategy Failed?
Ahead of a key summit, U.S. policy in Asia appears to be adrift.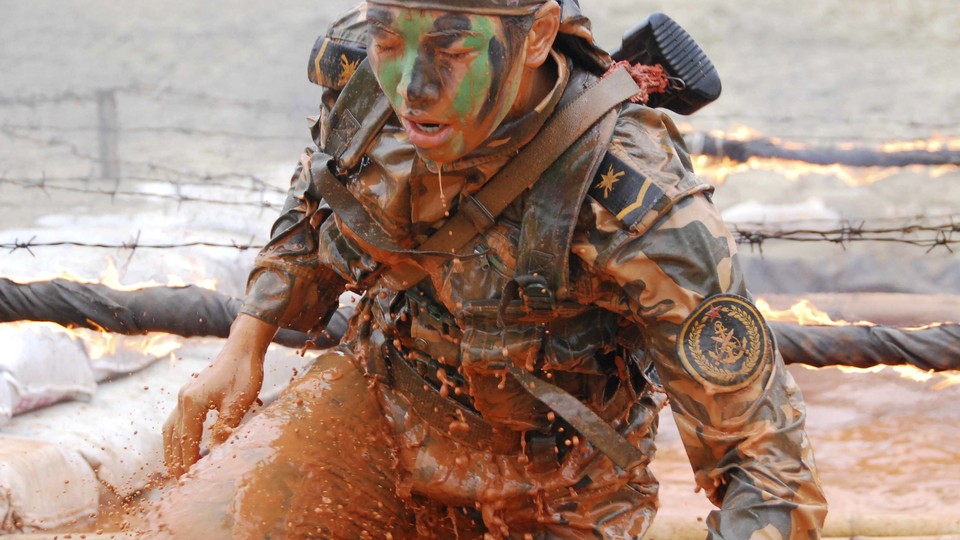 China and the United States are a bit like squabbling family members: Whatever their differences, they still find a way to get together. These regular gatherings are generally a promising sign for the future of U.S.-Chinese relations, even if the summits themselves often achieve little of substance.
On Tuesday, U.S. Secretary of State John Kerry and Secretary of the Treasury Jacob Lew will carry on this tradition, meeting with their Chinese counterparts Wang Yang and Yang Jiechi in the seventh Strategic and Economic Dialogue in Washington, D.C. The two-day gathering comes shortly after revelations that Chinese hackers pulled off a massive breach of U.S. government files, gaining access to sensitive information including the Social Security numbers of government personnel. The Chinese government claims it didn't orchestrate the cyberattack, though it has long accused the United States of staging similar attacks on Chinese infrastructure. The official denial has done little to tamp down mutual suspicion in the Sino-American relationship.
Overall, U.S.-China ties are currently stable, a point reiterated by Chinese President Xi Jinping after Kerry's visit to China in May. But the U.S. government's long-term strategy on China appears to be adrift. Over the last two decades, America's China policy has consisted of two major goals: integrating the Communist Party-ruled country into the U.S.-led global economic order, and maintaining American hegemony in the western Pacific Ocean. Both goals now seem to have stalled.
Consider the objective of exerting American influence in the South and East China Seas. China believes it is entitled to a vast swath of the western Pacific. The United States and many other Asian countries disagree. In recent years, Beijing has tussled with its neighbors over the sovereignty of numerous island chains, such as the Spratly and Paracel, in waters that are believed to contain vast fossil-fuel deposits. Last month, a surveillance aircraft flown by the U.S. Navy uncovered purported Chinese dredging vessels operating near the Spratly Islands, an archipelago claimed by China as well as Brunei, Taiwan, Malaysia, Vietnam, and the Philippines. An annual report released by the Pentagon in May revealed that China has begun developing its own islands in disputed waters, constructing over 2,000 acres of land for potential military use.
According to the Financial Times, the Pentagon has prepared options for retaliating against China. But "such proposals are not universally supported within the [Obama] administration" since some officials are "wary of a confrontation" with Beijing. When asked about China's island policy last week, Daniel Russel, an assistant secretary of state for East Asia and the Pacific, told Reuters that the United States had an "unwavering determination … to avoid military confrontation, including with China." Such a position might head off a major military confrontation, but it might also fail to compel Beijing to retreat from its maritime claims.
On the economic front, China's accession to the World Trade Organization in 2001 was considered a major coup in Washington's attempt to fold Beijing into U.S.-dominated financial institutions. Now China is starting institutions of its own. Last October, China launched the Asian Infrastructure Investment Bank (AIIB), a financial institution akin to the World Bank with a total authorized capital of $100 billion. As the new bank gobbled up prospective members, the United States vigorously tried to dissuade its allies from joining. It didn't work. While Japan and Canada have thus far refrained from joining, Australia and the United Kingdom deflected U.S. pressure and became prospective founding members earlier this year, embarrassing the Obama administration in the process.
Meanwhile, Barack Obama's major initiative in the region, the Trans-Pacific Partnership (TPP), recently suffered a significant setback when members of the president's own party gutted it in the House of Representatives. If passed, the TPP would remove trade barriers between the United States and numerous allies in East Asia, including countries, like Japan and Vietnam, that are embroiled in territorial disputes with China. The Obama administration is trying to work with its recalcitrant allies in Congress to salvage remnants of the TPP, but its failure to push the whole initiative through the legislature stands in contrast with China's efficient assembly of the AIIB.
In 2011, the Obama administration announced its intention to shift, or "rebalance," U.S. foreign policy toward Asia, with then-Secretary of State Hillary Clinton proclaiming "America's Pacific Century." Now, former U.S. Treasury Secretary Lawrence Summers wrote last week, "The repudiation of the TPP … would leave the grand strategy of rebalancing U.S. foreign policy toward Asia with no meaningful nonmilitary component." And that military component, as discussed above, isn't going so well either.
China and the United States do have constructive items on this week's agenda, including work on a long-overdue bilateral investment treaty and a climate-change deal announced last November during Obama's visit to China. But the formal meetings obscure a messier reality: Do U.S. officials have a clear and coherent vision for what to do about China? For the past few decades, successive American presidents have argued that by giving its competitor a place in the U.S.-led international order, China would come to act more in concert with American interests. Has that really happened?
"The consensus of 35 years and five administrations about how to deal with China is fraying so severely that we have lost confidence in the fundamental underpinnings of U.S.-China policy," Frank Jannuzi, a former Asia advisor to John Kerry and the head of the Mansfield Foundation, a Washington-based think tank, told the Financial Times. It's a challenge that yet another Strategic and Economic Dialogue between the two countries is unlikely to resolve.