Is Sepp Blatter Staying?
According to a report, the FIFA head is reconsidering his decision to step down amidst a major corruption scandal.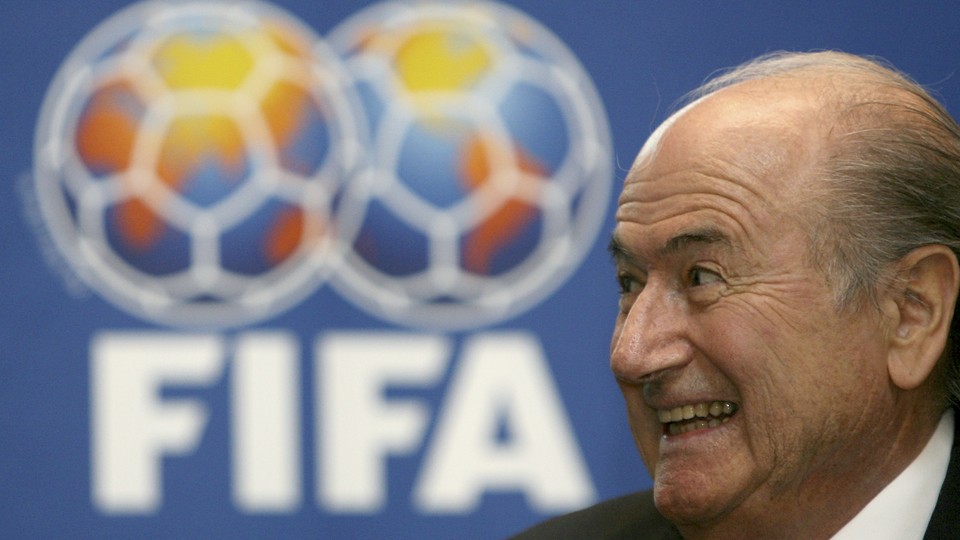 Stop me if you've heard this one: The FIFA president, secretary general, and media director are sitting in a car. Who's driving? (Answer: The Police.)
It was this joke, told on Swiss television last week by Walter de Gregorio, FIFA's own director of communications, that resulted in de Gregorio's forced resignation. Something about this seems unjust. If anyone in the FIFA kingdom should be afforded a little room to make a pointed barb, it's an official whose recent duties involved standing before the press again and again as one of the most sweeping scandals in sports history unfolded.
But the truth is that no one really tells a joke like that unless he or she is angling to be fired. According to a Swiss newspaper, de Gregorio's sudden departure coincides with a report that FIFA Chief Sepp Blatter, who announced his resignation earlier this month, is now reconsidering his decision. This makes sense; de Gregorio had advocated for Blatter's immediate departure and Blatter, who isn't slated to be replaced until December at the earliest, has a history of saying he was finished and changing his mind.
"Blatter did promise in 2011 that he would quit as president in 2015 only to renege on that vow," The Telegraph noted, "and his critics are suspicious his resignation speech may have been designed to buy him time to remain in office."
After winning a fifth term as FIFA president late last month, the 79-year-old executive also promised this term would be his last. Days after Blatter announced his imminent resignation, former FIFA governance adviser Michael Hershman told ESPN's Jeremy Schaap that he didn't totally believe that Blatter would walk away.
So what's got Blatter rethinking things? According to Schweiz am Sonntag, messages of support from Asian and African football associations—the very constituencies that enabled his controversial reelection—are said to have gotten to him.
Blatter has a tough road ahead of him. On Sunday, at least one FIFA executive, Domenico Scala, who heads the organization's audit and compliance unit, told The Irish Times that Blatter needs to stick to his words.
For me, the reforms are the central topic. That is why I think it is clearly indispensable to follow through with the initiated process of president's change as it has been announced.
Meanwhile, EU lawmakers have been pressing for Blatter to step aside now rather than later.
Blatter may be banking on enough time passing for the scandal to recede from the public consciousness so that he may once again consolidate his power. After 17 years of FIFA rule, he probably shouldn't be underestimated.