Greece Braces Itself for a Turbulent Week
The embattled country's negotiations with European creditors fell apart this weekend, just 48 hours before a debt repayment is due.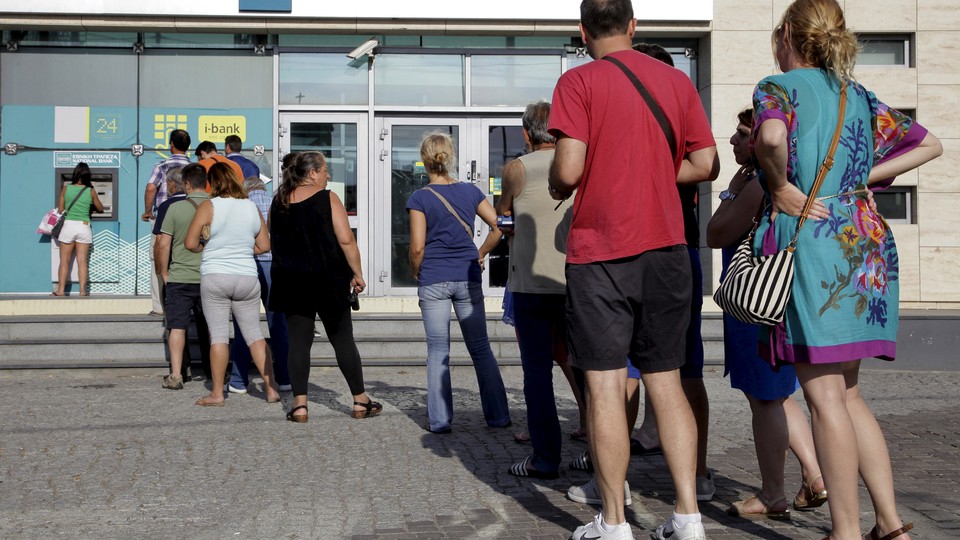 Summer weekends in Greece aren't usually known for tense, high-stakes drama. But in the last two days, a breakdown in negotiations between the country and its European creditors indicated that the country's long-simmering economic crisis is approaching a breaking point.
The circus began on Saturday, when Prime Minister Alexis Tsipras announced plans for a July 5 popular referendum on whether Greece would accept the bailout terms imposed by the Europeans. Stunned by the unexpected decision, the European "troika"—referring to the IMF, European Central Bank, and European Commission—withdrew from negotiations and said that they would not release any more bailout funds to Greek banks. In response, many Greek people spent the weekend withdrawing their money, accelerating a process that, since last November, has reduced private sector deposits in the country by €30 billion. According to Reuters, bank withdrawals were so severe that one-third of all Greek ATM machines ran out of cash at one point or another during the weekend. In an attempt to halt the problem, Tsipras announced on Sunday that all banks would be closed the following day and established capital controls to limit how much money Greeks can take out of the country.
Meanwhile, on Tuesday the Greek government is due to pay the IMF €1.7 billion as part of its debt repayment package. This is a payment Greece can't afford to make—except, of course, if it can borrow money from a European Central Bank that doesn't want to lend it. Absent an agreement between Tsipras and Greece's European creditors in the next 48 hours, Athens will be facing a painful Argentinian-style bailout.
Even if the two sides come to an agreement by Tuesday, the referendum looms just five days later. (Unless the Europeans persuade Tsipras to cancel the referendum as part of a deal.) This is when Greece's crisis may truly become messy. The referendum will ask Greek voters to decide whether to accept Europe's offer of financial assistance in exchange for continued austerity—the very policy that has strangled the country's economic recovery. Should voters approve the referendum, Tsipras and his Syriza government, only in office since January, would likely step aside in advance of new elections. A "no" vote, on the other hand, would pave the way for a Greek exit from the euro—a result neither side claims it wants.
The best case scenario would be for the Greeks and Europeans to avoid a default and maintain the status quo. But the problem is this: Even if the two sides manage to avert calamity this week, the country will be no closer to emerging from a horrific economic slump that has sacrificed more than a quarter of its GDP since 2008. That's because most of the bailout money released to Greece goes toward paying off debt or meeting pension obligations rather than programs that may jumpstart economic growth. Economists call this process an "austerity trap"—and popular opposition to it is what propelled Tsipras into office in the first place.
As Matt O'Brien of "Wonkblog" explains, Athens and Brussels aren't actually very far apart in their negotiations, so finding a solution that satisfies both sides is hardly impossible. After all, Greece wants to remain in the eurozone, and other European countries, at least publicly, say they want Greece to stay. But even if things go relatively well over the next eight days, Greece's fundamental economic problems will remain unchanged—and the tense, unhappy events of this weekend will inevitably recur.