Burma Doesn't Want the Rohingya but Insists on Keeping Them
The unintended consequences of international pressure to address the country's migrant crisis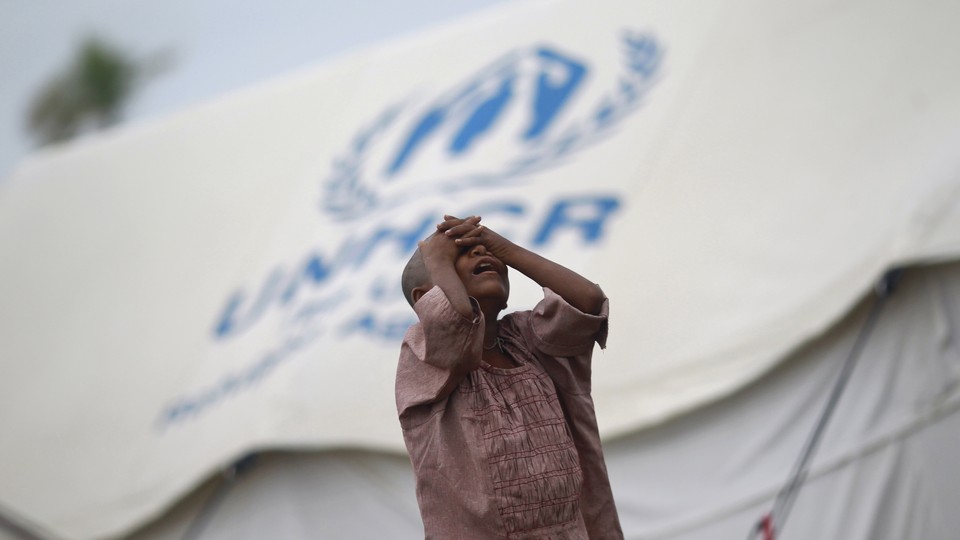 What happens when the government systematically isolates an ethnic minority, denies its members citizenship rights, sends them to refugee camps, looks away as a campaign of ethnic violence targets them, and ultimately promises to drive them out of the country?
It's not a tough question: The members of that minority start looking for a way, any way, to leave. Even if that means paying human traffickers to smuggle them on rickety death traps of boats at extortionate prices to places that don't want them, they'll look for a way to go.
Now, what happens if the same government says they also can't leave?
The world will find out soon enough, though it's hard to imagine the answer will be easy to stomach. According to The New York Times, the government of Burma says it will prevent members of the country's beleaguered Rohingya Muslim population from leaving. The junta that rules the country is responding to fierce international pressure applied over the last few weeks. Thousands of Rohingya were marooned at sea, onboard overcrowded vessels, often without food or water, but without any place to go either, since neighboring countries were unwilling to take them in. Those countries are essentially pleading poverty—who will pay for the refugees? And if those countries let a few in, what will stop a mass exodus landing on their shores?
What's happening now seems like a lesson in the law of unintended effects of international pressure. Burma's leaders, who are slowly moving into the embrace of the international community, have relented on the most immediate question, but aren't doing anything to address the deeper problem:
[T]he government insists that most of the migrants do not belong in Myanmar, referring to them as Bengalis, and says it has no plans to alter policies that strip them of basic rights and confine more than 140,000 to a crowded, squalid government camp here.

"There is no change in the government's policy toward the Bengalis," U Zaw Htay, a deputy director general of the Myanmar president's office, said in an interview this week.
The government posture is decidedly ahistorical. Muslims, and particular Rohingya, have been in present-day Burma for quite some time. Though they are originally of Bengali descent, the present-day populations in Burma date back at least a century, and perhaps much longer. But in order to qualify for even a second-class citizenship, they must prove family residency for at least 60 years. In the impoverished region they call home, paperwork is often impossible to come by. Others have lived in Burma their entire lives, but still don't have 60 years to go on. Meanwhile, they've been barred from voting and prevented from entering professions like law and medicine. Yet none of their neighbors, including Bangladesh, want to take the Rohingya in, either.
There have been warnings of coming ethnic violence in Burma for almost a decade. In 2013, a bizarre, numerology-driven campaign by radical Buddhist monks began a wave of violence against Muslims. Many fled their homes, and now there are an estimated 140,000 living in ramshackle, temporary huts. They're dependent on international aid, though not all are eligible for it, and desperately in need of medicine. And the Burmese government won't let them leave the camps or their environs. What is happening is at the very least apartheid, and some observers—including the U.S. Holocaust Memorial Museum—have warned it could tip into genocide.
Who will pressure the Burmese government, though? The U.S., pleased by the junta's opening up, has mostly stayed out of it. The international community seems more concerned for the moment about the refugees in boats than the ones suffering on shore, a situation that has resulted in today's can't-leave-and-can't-stay dilemma. And Burma's domestic opposition seems to have precisely no interest in standing up for the Rohingya.
In particular, it's been disconcerting to see Aung San Suu Kyi, a leader known as a model of political courage and moral probity, resolutely refusing to get involved. The Nobel Peace Prize winner has disappointed many people who viewed her as a hero for human rights. Apparently unwilling to take up a cause that's unpopular with most Burmese, she won't even say the word "Rohingya." She has been unmoved by a plea from the Dalai Lama to speak up.
The fact that even Suu Kyi won't defend them spotlights the isolation of the Rohingya—an isolation that will only increase now, as detention camps intended as a prelude to deportation are becoming more permanent prisons. In May, as refugees tried to reach Malaysia, the Malaysian deputy home minister insisted Rohingya stay away: "I would like them to be turned back and ask them to go back to their own country." The problem is that the Rohingya have no country.