A Summer of Fatal Weather: Pakistan's Heat Wave
Deadly heat, flooding, extreme drought, and storms have marked what's expected to be the hottest year on record.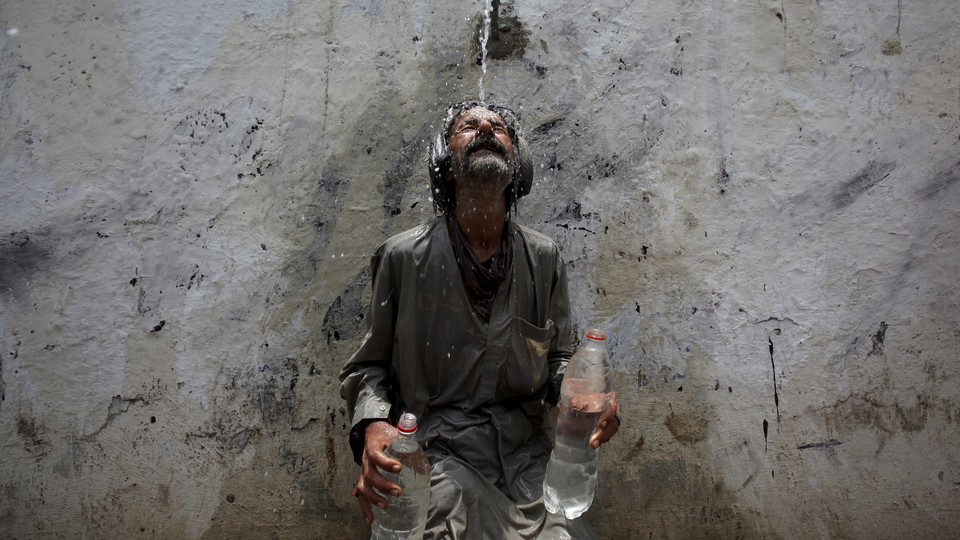 As of Thursday, more than 1,000 people have died because of a heat wave in Pakistan, a catastrophe made worse by its coincidence with Ramadan, during which many Muslims refrain from eating or drinking water during daylight hours. The heat wave is the latest of several episodes of fatally severe weather across the world this summer, including droughts, storms, and floods in the United States and Mexico.
As NPR's Christopher Joyce has explained, it can be difficult to trace whether any single bout of extreme weather is attributable to climate change—witness the debate among scientists in Pakistan on whether the country's heat wave is linked to a changing climate. But there is widespread scientific consensus that climate change generally makes extreme weather events such as flooding, droughts, and heat waves much more frequent and more intense.
A major report this week from The Lancet finds that climate change significantly increases the fatal risks of these types of events. The report, which was backed by the World Health Organization, diagnosed climate change as "a medical emergency" with the power to undo 50 years of progress in global health. In a landmark document released last week, Pope Francis aimed to focus the world's attention on the matter of how climate change impacts the poor. "Climate change is a global problem with grave implications: environmental, social, economic, political and for the distribution of goods," he wrote. According to NOAA and NASA, this year is on track to supplant last year as the warmest year on record.
Here are some of the deadliest weather catastrophes that have drawn headlines this year. As the summer progresses, we'll continue to update this report with any new developments.
---
Heat Wave in Pakistan
Circumstances: The travails of the ongoing heat wave in Pakistan are being exacerbated by the Ramadan fast. On Wednesday, June 24, a religious cleric issued a rare fatwa permitting Muslims to eat during the day because of the heat and government officials in the Sindh district declared an administrative holiday in the hopes that it would keep residents from going outside.
Effects: At least 1,000 people have died, a number that continues to rise. According to reports, the morgues in Karachi have run out of space.
---
Tornadoes and Floods on the Great Plains
Circumstances: In late May, Texas was in the midst of a severe drought when heavy rains flooded the state so thoroughly, it managed to reverse the drought. In Oklahoma, in addition to two feet of rain in May, tornado warnings forced Governor Mary Fallin to declare a state of emergency in all 77 counties on May 26. As the National Weather Service noted, "122 tornado warnings were also issued in the state from May 1 to May 25, more warnings than that time period from 2011 to 2014 combined."
People affected: More than 30 people died in Texas, Oklahoma, and Mexico. Thousands either lost their homes or suffered severe property damage.
---
Heat Wave in India
Circumstances: A long-lasting heat wave in late May struck India with temperatures in some regions rising to the 120-degree range. The early end of pre-monsoon showers brought with it sustained and unseasonable heat. As two-thirds of the citizens battled the heat with no electricity, temperatures in the capital city of New Delhi surged to 113 degrees, causing the roads to melt.
Effects: More than 2,500 people died and hospitals were overrun with people who fell ill from the heat.