Ramadan Attacks on Three Continents
Dozens are dead on Friday after attacks on a beach resort in Tunisia, a mosque in Kuwait, and a factory in France.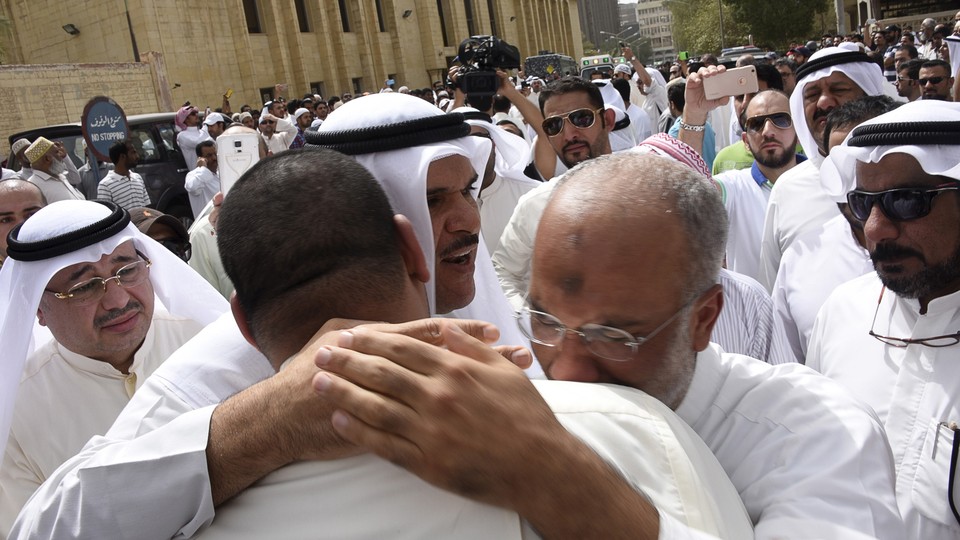 Updated on June 26 at 1:13 p.m. ET
On Friday, three deadly attacks struck Tunisia, Kuwait, and France. Many details are still unknown, and death tolls are not yet final, but the incidents on three different continents all coincided with Ramadan. Although all three attacks have been described as terrorism, there are no clear indications yet that the attacks were coordinated.
Earlier this week, Islamic State spokesman Abu Muhammed al-Adnani called for the organization's followers to execute more attacks during Ramadan. "Aspire to battle in this noble month," al-Adnani urged, according to a translation posted on Twitter by Charlie Winter, a senior researcher studying jihadism at the Quilliam Foundation.
While ISIS has claimed the attack in Kuwait, there have been no statements of responsibility for the events in France or Tunisia.
Sousse, Tunisia
Two gunmen opened fire at a beach resort, killing at least 37 people, according to The New York Times. According to the country's Interior Ministry, one of the gunmen was killed, while another is still on the loose. It's not yet known how many of those killed in the attack were foreigners, said the AP, but "during the holy month of Ramadan, those on the beach tend to be tourists." Early reports indicate most of the victims were British and German.
In March, nearly two dozen people—most of them tourists—were killed in an attack at Tunisia's Bardo Museum. "There's a clear logic at work when terrorists attack tourists," wrote The Washington Post's Adam Taylor at the time. "Not only do these attacks spread terror internationally, they also have a negative effect on the economy of the local government."
These attacks are particularly significant because Tunisia's fledgling democracy is seen as one of the fragile successes of the Arab Spring. After the Bardo Museum attack, the Atlantic contributor Larry Diamond wrote that the violence didn't diminish Tunisia's accomplishments, or its prospects.
Tunisia remains full of promise. Alone among the Arab Spring states, it has achieved a remarkable level of political compromise among secular parties and the principal Islamist party, Ennahda. This has been due in no small measure to the leadership of Ennahda founder Rachid Ghannouchi, who has, at every crucial turn on the sometimes-troubled path from dictatorship, embraced flexibility and moderation and promoted the vision, as he put it in a March 20 statement celebrating the country's 59th anniversary of independence, of "a republic of freedom, democracy, and social justice."
Kuwait City, Kuwait
Over the last few years, the tiny Gulf state of Kuwait has been immune to the jihadist violence roiling many other countries in the Middle East. But on Friday, a terror attack punctured Kuwait's calm.
"Kuwaiti parliament member Khalil al-Salih said worshippers were kneeling in prayer," Reuters reported, "when a suicide bomber walked into the Imam al-Sadeq Mosque side and blew himself up, destroying walls and the ceiling." At least 25 people have died in the bombing, and more than 200 are injured. Several of the victims—mainly men and boys attending midday prayers—remain missing. The Islamic State group claimed responsibility for the attack and identified the suicide bomber as Abu Suleiman al-Muwahed.
In a statement released after the attack, ISIS referred to its target as a "temple of rejectionists," using a term the extremist Sunni group frequently uses to describe Shiite mosques. Friday's attack was the first to target Kuwait's Shiites, who make up about one-third of the country's population.
"This incident targets our internal front, our national unity," Sheikh Jaber al-Mubarak al-Sabah, Kuwait's prime minister, told Reuters. "But this is too difficult for them and we are much stronger than that."
Lyon, France
An attacker stormed into an American-owned factory, tried unsuccessfully to set off an explosion, and decapitated one person. According to French President François Hollande, the killer has been arrested. The man, whose identity has not been confirmed, had worked for the victim.