Why Is John Kerry in Russia?
The Secretary of State went to Sochi on Tuesday to meet with Vladimir Putin for the first direct talks in two years.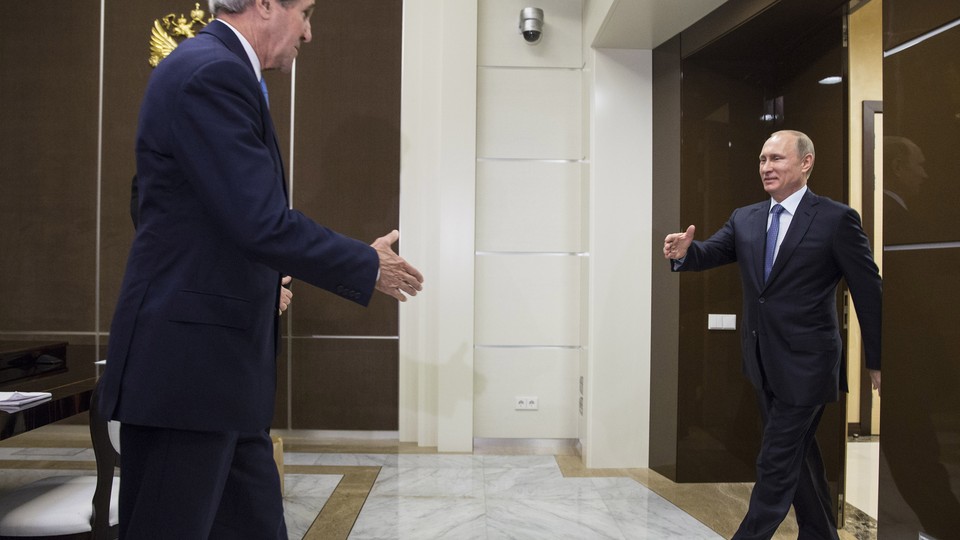 Tuesday seemed like a particularly strange day for Secretary of State John Kerry to pay the highest-level U.S. visit to Russia in nearly two years. The ceasefire in Ukraine hasn't stopped the daily violence between pro-Russian separatists and Ukrainian troops. The Russian-backed regime of Bashar al-Assad in Syria is reportedly dropping chlorine bombs on civilians again, despite a Russian-brokered deal requiring Syria to destroy its chemical-weapons stockpiles. And, earlier this week, the United States was the most prominent of Western countries to not to show up to Russia's Victory Day celebrations commemorating the end of World War II.
Nevertheless, on Monday, Kerry's trip was announced, with discussions about Iran, Syria, and Ukraine reported to be on the agenda. "This trip is part of our ongoing effort to maintain direct lines of communication with senior Russian officials and to ensure U.S. views are clearly conveyed," read a State Department press release.
The Russians were quick to convey their views as well. "His [Kerry's] visit began on an inauspicious note after the Russian Foreign Ministry issued a lengthy statement on Monday castigating the Obama administration for trying to isolate Russia," reported Michael Gordon of The New York Times. On Tuesday morning, Kerry and Russian Foreign Minister Sergei Lavrov met for four hours before Kerry sat down with Putin.
Press reports have indicated that Kerry's diplomatic agenda will include gauging Russia's flexibility on issues like Ukraine, Moscow's controversial delivery of an advanced air-defense system to Iran, and whether Assad's growing battlefield difficulties may impact Russia's alliance with the Syrian dictator. "While there have been no outward signs of a Russian reversal on Ukraine or Syria," Reuters noted, "U.S. officials hope recent defeats to Assad's forces may change the Russian stance."
But this trip, which comes shortly after a visit by German Chancellor Angela Merkel, may also send the wrong signal. Ahead of Kerry's arrival, Russian officials described the visit as a move to normalize ties between the two countries, though the State Department has characterized Kerry's goals more modestly. Kerry landed on the same day that a report co-written by Boris Nemtsov, the Kremlin critic who was assassinated in February, was released. The report asserts that more than 220 Russian soldiers were killed while fighting in Ukraine, where Putin has claimed the Russian army is not involved.
Kerry may have done Putin a favor by taking some of the focus off the Nemtsov report with his Tuesday visit to Sochi. On his arrival, Kerry was reportedly given a World War II T-shirt and two baskets of tomatoes.