Who Is in Charge of Burundi?
A general claims to have deposed Burundian President Pierre Nkurunziza. Nkurunziza disagrees.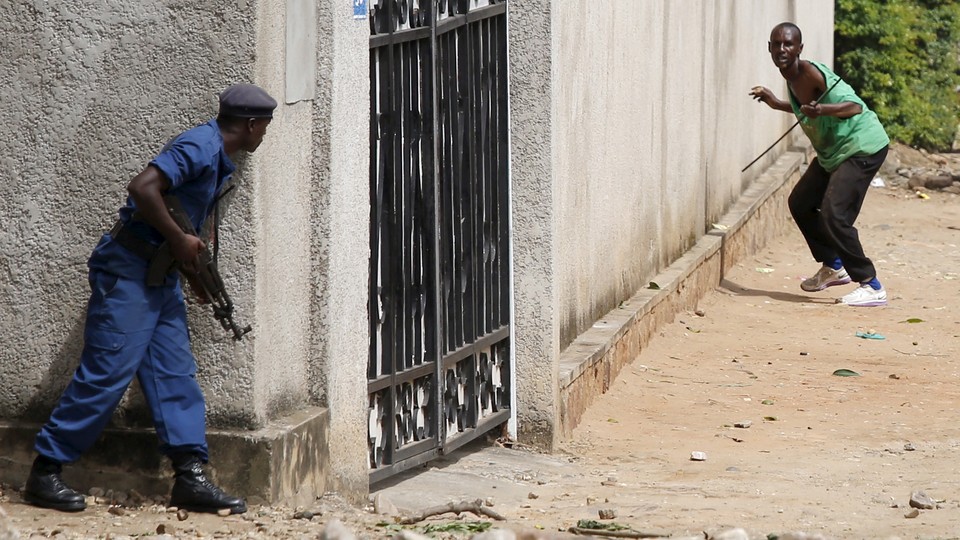 Updated 5/14/15
On Thursday, fighting continued in Burundi, stoking fears that the security situation could further descend into outright civil war.
Just one day after a military leader announced that he had successfully deposed Burundi President Pierre Nkurunziza, forces loyal to Nkurunziza claimed to be in control of parts of Bujumbura, the East African country's capital. Five soldiers were reportedly killed in clashes that centered around the state-run radio station.
Meanwhile, the whereabouts of Nkurunziza, who was thought to be trying to reenter the country from Tanzania, where he was attending a summit, remain unknown. As the BBC also pointed out, "There has been no new statement from the general who announced the coup."
Earlier in the day, the State Department released a relatively pro forma statement that appealed for calm: "We call on all parties to immediately end the violence, to exercise restraint, and above all to prioritize peace in Burundi."
However, later in the day, multiple sources reported that the State Department recognized Nkurunziza as the country's president. The United Nations Security Council has convened a special session to discuss the crisis.
---
On Wednesday evening, citizens of Burundi went to sleep while it remained unclear exactly who is in charge of their country. Earlier in the day, Major General Godefroid Niyombare announced that he had deposed Pierre Nkurunziza, leader of the tiny east African country, while the president was at a summit in Tanzania. (Three months ago, Niyombare was dismissed as the country's intelligence chief.)
The general's radio announcement set off wide celebrations in the capital Bujumbura and police seemed to withdraw from the streets. From afar, however, Nkurunziza rejected the claims in a statement posted on social media.
"A group of soldiers mutinied this morning and made a fantasy declaration of a coup d'etat," said the statement. "This attempted coup was foiled and these people ... are sought by defense and security forces so they are brought to justice."
At The Week, Pascal-Emmanuel Gobry offered some background:
The incumbent president (Pierre Nkurunziza) wants to run for a third term, in defiance of the country's constitution; people are rioting in the streets; the police are cracking down; people are dying; the stench of a coup, or a civil war, or worse, is in the air.
The country's history should inspire fear that the situation could devolve into mass violence; Burundi has a legacy of ethnic tension in the wake of a 12-year civil war that ended in 2005, and the country remains politically unstable.
At the summit in Tanzania, a number of African leaders offered their support for the embattled president. As of Wednesday night, it was unclear where Nkurunziza was. The BBC cited unconfirmed reports that Nkurunziza had attempted to fly back to Burundi but reversed course back to Tanzania.