Where FIFA's Power Stops: Protecting Workers
"What do you expect of a football organization? FIFA is not the lawmaker in Qatar."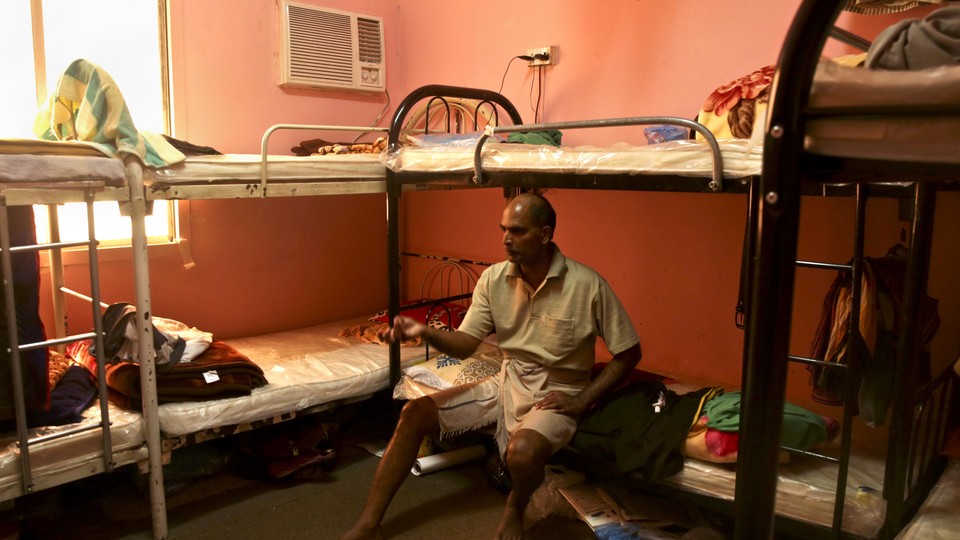 Before Wednesday, the power of top officials in soccer's international governing body seemed to observe few legal boundaries. That was the upshot of a 47-count indictment against nine FIFA officials—covered in more detail by my colleague David Graham—seven of whom were just arrested at a five-star hotel in Zurich. Meanwhile, the Swiss attorney general is leading a separate investigation into another alleged abuse of power: the suspected "criminal mismanagement and money laundering" surrounding the bidding process for the 2018 and 2022 World Cups, which were awarded to Russia and Qatar respectively.
Yet perhaps most troubling are the ways FIFA hasn't been using its power. To build the stadiums, transportation, and luxury hotels required for the 2022 tournament, Qatar needs workers, and immigrants make up some 90 percent of Qatar's workforce. Under the country's kafala labor system, employers control migrant workers' legal rights, including the right to find a new job or leave the country. Tek Bahadur Gurung, Nepal's labour minister, spoke to The Guardian after Nepalis in Qatar were barred from returning home to visit victims of April's earthquake: "Nothing will change for migrant workers until FIFA and its rich sponsors insist on it," he said. "We are a small, poor country and these powerful organizations are not interested in listening to us."
But FIFA's response has been to keep calm and confirm that Qatar won't lose the tournament. Germany's member of the FIFA executive board, Theo Zwanzinger, feigns helplessness in the face of worker abuses. "This feudal system existed before the World Cup," he said. "What do you expect of a football organization? FIFA is not the lawmaker in Qatar."
It's true that Qatar's abuse of migrant workers predates the country's being awarded World Cup hosting duties in 2010. That announcement brought attention to the conditions migrant workers face in the country, and in response to international criticism, Qatar's government promised limited reforms last year. But a new Amnesty International report found that the oil-rich Gulf nation is dragging its feet: "On the crucial issues of the exit permit, the restriction on changing employers in Qatar's kafala system protection of domestic workers and the freedom to form or join trade unions—there has been no progress whatsoever." Qatar's public-relations efforts have fallen flat too. The prime minister's office invited a group of journalists from the BBC to check on what the government itself called "sub-standard labor accommodations." When the BBC tried to interview a group of workers from Nepal on their own, they were arrested and interrogated.
Off the building sites, conditions are no better. "We wake at four in the morning, get to work at about six and work until five in the evening. It takes an hour to get back to the camp. My room there isn't fit for humans—six of us share and there's no place even to sit and eat," Imran, a 32-year-old Bangladeshi, told the BBC. An in-depth 2013 report from The Guardian called the abuses faced by Nepalese tantamount to "modern-day slavery."
It's hard for a multinational institution that made $5.7 billion from 2011 to 2014 to play powerless. During the 2010 World Cup, FIFA convinced hosts South Africa to set up dedicated courts to hand out swift sentences to thieves who might ruin visiting fans' experiences. FIFA pushed Brazil to serve alcohol in stadiums during the 2014 tournament, despite the country's decade-old law banning the drinks at games for safety reasons. For the sake of this World Cup in Qatar—where summer temperatures can soar above 100 degrees—FIFA moved the 2022 tournament from summer to winter. But no such influence has been wielded to improve the conditions of those building the stadiums. Never mind that the French-Algerian soccer player Zahir Belounis was recently, by the same labor system that governs the Nepali migrants, trapped in Qatar for two years after a pay dispute with his team—as yet, pressuring the 2022 host to treat foreign employees better is for FIFA a step too far.
It's too soon to tell whether today's arrests will bring real change for the 2022 tournament—it would take a huge internal shakeup for FIFA to agree to a new vote, or choose a new host. But it is clear which organization connects, however indirectly, mistreated Nepali laborers to a luxury Swiss hotel a world away. FIFA.