What Happened to ISIS's Leader?
A look at the various reports about the health and well-being of Islamic State 'caliph' Abu Bakr al-Baghdadi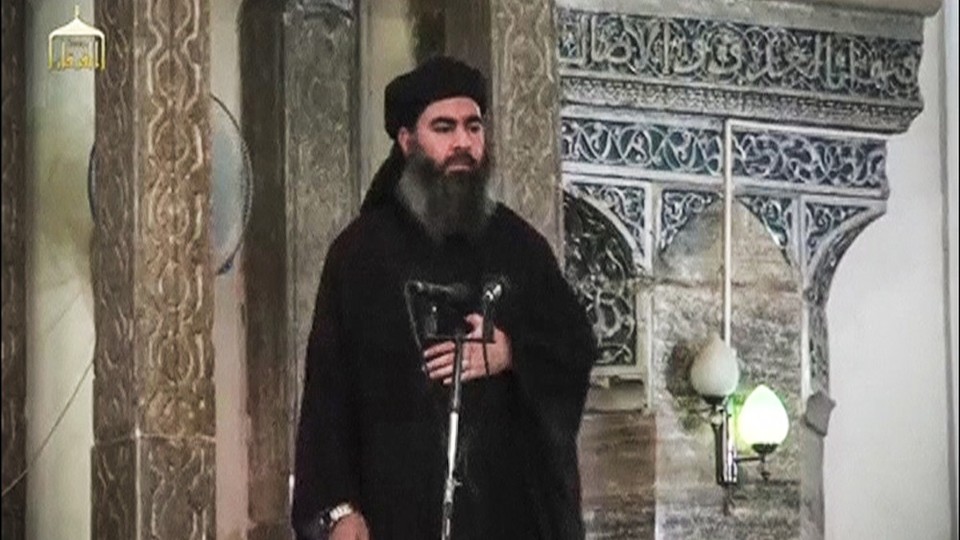 On Friday, The Guardian expanded on its earlier reporting that Islamic State leader Abu Bakr al-Baghdadi had been seriously wounded in American airstrikes in March. According to reporter Martin Chulov, Baghdadi "remains incapacitated due to suspected spinal damage and is being treated by two doctors who travel to his hideout from the group's stronghold of Mosul."
The Guardian's initial reporting, based on sources within Iraq, has been disputed. Most notably, the Pentagon denied that Baghdadi had been targeted in March and said there was no evidence he had been killed. (The Pentagon has not yet replied to a request for comment about today's report.) Following rumors of Baghdadi's death that circulated in Iraq last September, Jacob Siegel of The Daily Beast suggested that the self-styled caliph's supporters could have started them to throw off his enemies.
There have been other reports, since discredited, that said Baghdadi had been hit in airstrikes in November and December. Further back, the September rumors that Baghdadi had been killed were accompanied by a graphic photo purporting to show his corpse, which went viral before being declared a hoax. And, for the coup de grâce, earlier this week, Iranian media offered the rumor that Baghdadi had been pronounced "clinically dead" by Israeli doctors in the Golan Heights.
While uncertainty surrounds Baghdadi's fate, other questions arise as well—not only about who might replace him, but also what the significance of such a leadership change would be for a group like ISIS.
As in the case of al-Shabab leader Ahmed Abdi Godane, who was killed in September, would Baghdadi's death or incapacitation be more of a symbolic victory than an operational one? Last month, many outlets reported on the alarming overlap between the Islamic State's inner sanctum and the former military leadership of Saddam Hussein's Baath Party, which was deposed in the American-led invasion of Iraq. Despite the fixation on the foreign fighters joining ISIS from Minneapolis to Melbourne, it now seems clear that ISIS wouldn't be ISIS without the military and financial know-how of former Saddam loyalists.
Following last month's reports about Baghdadi's sidelining, multiple publications suggested that Abu Alaa al-Afri, described as long-term senior official, had taken over management of ISIS's day-to-day operations. "More important, and smarter, and with better relationships" than Baghdadi himself, an Iraqi government adviser told Newsweek of Afri. "He is a good public speaker and [has] strong charisma."
As Northeastern University terrorism scholar Max Abrahms notes, the removal of terrorist leaders often means more civilian deaths as a result of weakened leadership and the delegation of decisions to lower-ranking members. And even when one leader goes away, there's usually someone ready to step in.