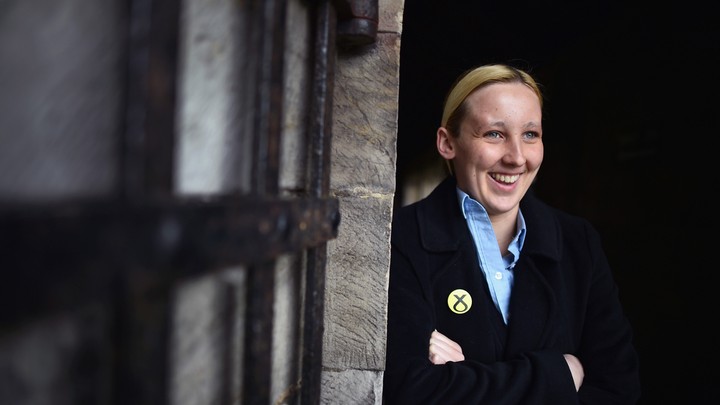 In many ways, Mhairi Black symbolizes the opposite of what drove a majority of British voters to the polls on Thursday.
Rather than representing the conservative continuity of Prime Minister David Cameron, whose party defied expectations by winning an outright majority of seats in parliament, Black is a (very) young member of the Scottish National Party (SNP), the left-leaning insurgents of the 2015 British general election. Without a deep roster of experienced politicians, the SNP surged to score 56 of Scotland's 59 seats to become the third-largest party in parliament.
Black's is perhaps the greatest triumph of all. "Black has no political experience to speak of, and a history of Tweeting about her drunken exploits," wrote Quartz's Heather Timmons, "but was a strenuous campaigner for Scottish independence in the failed referendum last year."
To win, the 20-year-old university student had to oust Labour heavyweight Douglas Alexander, who had served as the shadow foreign secretary as well as his own party's national campaign coordinator. Having done so, Black is set to become the country's youngest lawmaker "since Christopher Monck, a 13-year-old who was given a seat in Charles II's parliament" in 1667, as Buzzfeed's Jamie Ross pointed out.
In overturning Labour's longstanding electoral stranglehold over Scotland, the SNP and Black embody the rise of a drastically different movement within the United Kingdom. The SNP has advocated for Scottish independence, but is now poised to wield considerable power within the House of Commons.
"I think the big story of this election will turn out to be the continued fragmentation of the United Kingdom," British political writer Liam Hoare wrote to me in an email. "Scotland is set to turn its back on the Labour Party and become a one-party nation almost entirely controlled by the SNP."
Black, a politics and public-policy student and an activist for Scottish independence, turned out to be a credible messenger of change. "The fact is that people have woken up to the fact that Westminster has not been serving them and the Labour party has not been serving them," Black said on Thursday.
The SNP's best electoral showing prior to this one was back in 1974, some 20 years before Black was born, when the party scored 11 seats. But last year's referendum on Scottish independence may have raised the party's profile, even though only 45 percent of Scots ultimately voted in favor of it.
"For years Scotland's been sleepwalking to the polls," Black told Jamie Ross before Thursday's vote. "It was always 'vote Labour, keep out the Tories, vote Labour, keep out the Tories,' but then the referendum came and suddenly everyone woke up. Door after door I chap on, I'm coming across Labour voters just saying they're totally scunnered with them." The apparent skepticism of Scottish voters regarding their place in the United Kingdom in some ways parallels how UK voters more broadly feel toward the European Union. Part of what helped the Conservatives hold onto power was the promise of a possible referendum for the United Kingdom to leave the European Union—an insurgency of its own.
Meanwhile, the sentiment that Scottish interests had to be protected was evident in SNP leader Nicola Sturgeon's comments the BBC on Friday. "Given that we are, unfortunately, facing another Conservative government," she said, "it's all the more important that we've got a strong team of SNP MPs standing up for Scotland." Black aspires to be one of those MPs, but before all that she must finish her dissertation. It's due at the end of the month.
We want to hear what you think about this article. Submit a letter to the editor or write to letters@theatlantic.com.
Adam Chandler
is a former staff writer at
The Atlantic
. He is the author of
Drive-Thru Dreams: A Journey Through the Heart of America's Fast-Food Kingdom
.