The Brexit: Europe's Own Version of 'Shark Tank'
David Cameron's quest for EU reforms is turning into an economic reality show. Will he get a deal or walk away?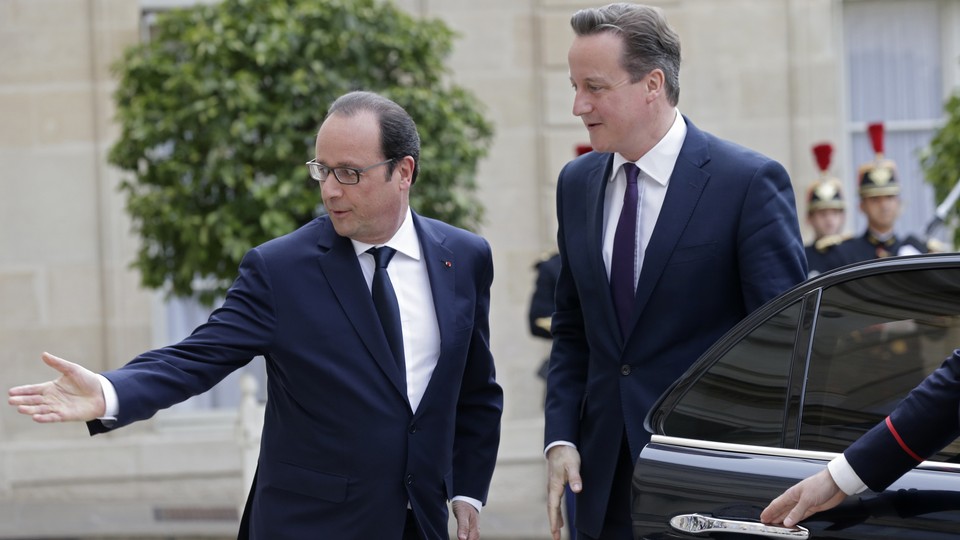 Writing in The Guardian earlier this week, Vittorio Sabadin commented that the last time England and Europe broke up, it was over the Pope's rejection of Henry VIII's marriage to Anne Boleyn. "Just like today, many advisers of the king were worried, but for England in the 16th century, it was a happy choice," Sabadin wrote.
Now, the looming possibility of a British exit from the European Union is making headlines and causing new alarm across the Old Continent. This split wouldn't be over a marriage deemed politically unpalatable by a pontiff on the European mainland; rather, it would be the end of a marriage with Europe itself.
Nothing has been decided yet. British Prime Minister David Cameron campaigned in his country's recent elections and won handily earlier this month on the promise that he would put forth a domestic referendum for Britain to leave the EU by late 2017 if he didn't extract some enticements to stay.
Fans of Shark Tank, ABC's venture-capital reality show and one of America's truly bad (not Anglo-inspired) television programs, could learn a thing or two from the goings on across the pond. For the uninitiated, the show features smiling and determined entrepreneurs who sweat uncomfortably under studio lights as they pitch stakes in their business to skeptical celebrity investors (sharks). Results vary. Sometimes, it's a flatulence-scented candle, sometimes it's a Scrub Daddy.
The Pitch
On Thursday, Cameron left London to embark on a two-day, four-nation trip to make his pitch for reform to the Netherlands, France, Poland, and Germany, four important countries whose support will be vital when an EU summit convenes in Brussels next month.
Cameron is expected to issue vague requests on a number of different of issues, but his central demands have to do with reducing the number of EU nationals moving to the U.K. from elsewhere, limiting the welfare benefits of foreign nationals, and safeguarding his country against the mechanisms that would further tie other countries to the euro currency. (The U.K. is among nine countries in the 28-member union that has not adopted the common currency.) "The British prime minister has also said European parliaments should have the power to work together to block EU legislation," The Wall Street Journal's Nicholas Winning notes.
Cameron has a few things going for him: Great Britain recently surpassed France to become world's fifth-largest economy. Also, defying predictions, Cameron retained the premiership with a clear mandate earlier this month.
On Thursday, Foreign Secretary Philip Hammond performed the warm-up for Cameron's mission:
We have a clear set of requirements. The prime minister is very clear in dealing with European Union counterparts—that if we are not able to deliver on those big areas of concern that the British people have we will not win the referendum. And we expect our European Union partners to engage with us in delivering a package that will enable the British people to decide that they think Britain's future is best delivered inside the European Union.
As my colleague Uri Friedman points out, the language of the referendum—"Should the United Kingdom remain a member of the European Union?"— may be meant to suggest that the problems plaguing the EU can be fixed.
The Pushback
In the world of Shark Tank, the pitch is often followed (or interrupted) by questions about the viability of the proposal from logistical and philosophical angles. Similarly, even as the EU has generally remained receptive to reform, Cameron's quest faces many hurdles.
The changes sought by Cameron will likely require changes to EU treaties, which must be approved by all 28 members of the bloc. Specific alterations like the freedom of movement between the EU and the U.K. would be unpopular across Europe.
On Friday, Polish Prime Minister Ewa Kopacz didn't respond warmly to Cameron's immigration proposals, saying in a statement on her website after meeting with Cameron that she "strongly opposed measures that may lead to discrimination against Poles and other EU citizens seeking legal employment in the U.K."
A Possible Deal
As the reform agenda takes shape, the EU and particularly Germany, which will lead any negotiations, will have to decide which concessions to make, and whether it's worth doing so in order to keep Britain's economic, political, diplomatic, and military clout within the family. Even a shark will tell you sometimes it's worth a bad deal to stop someone from walking away.
Should no deal materialize, there's also no certainty that British voters will choose to leave the EU. Despite the jockeying of some Europhobic constituents, some are sounding the alarm that even holding a referendum on leaving the EU could plunge the British economy into uncertainty and that an exit could potentially cost thousands of jobs.