Thailand's Royal Conundrum
The death of the country's 87-year-old king—who was hospitalized on Friday—could precipitate a major political crisis.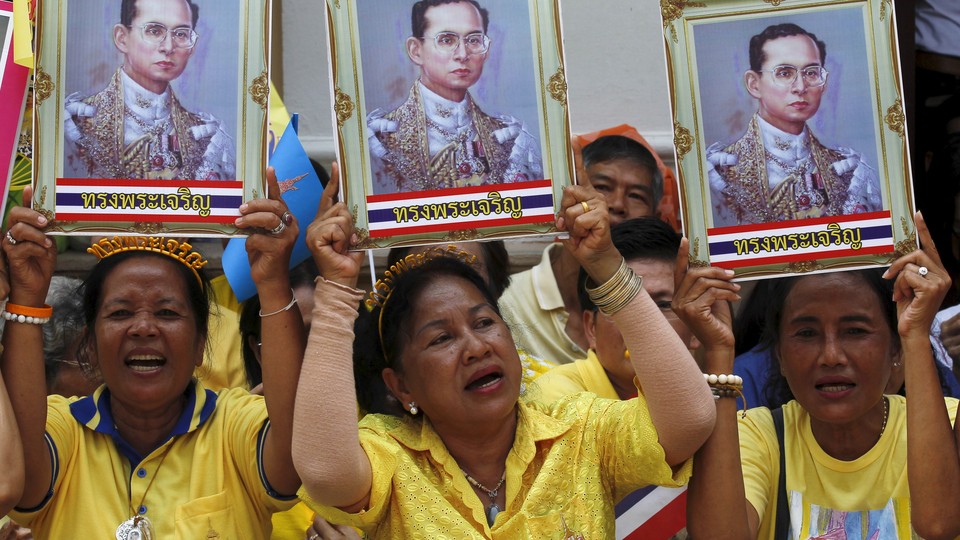 On Friday, King Bhumibol Adulyadej, Thailand's monarch since 1946, was again hospitalized just three weeks after his release from a seven month confinement. The 87-year-old king's health has long been precarious—he has been in and out of Thai hospitals with various ailments since 2009. But his latest hospitalization has come at a trying time for his country, whose political life was upended after a military coup last year.
Few countries in the world are as divided as Thailand. The country has experienced 19 separate coups since adopting constitutional government in 1932, and even its elected governments have struggled to include and tolerate opposition. Since 2001, these divisions have become even more entrenched. That year, the telecommunications billionaire Thaksin Shinawatra was elected prime minister on a platform of aiding Thailand's rural poor, who have received few spoils from the country's decades of fast-paced economic development. Five years later, Thaksin, beset with accusations of cronyism and graft, was ousted by the military and forced into exile.
In 2011, Thaksin's sister Yingluck assumed the prime ministership and vowed to carry on Thaksin's agenda. But last May, following months of violent protest, she herself was removed in a coup and now awaits trial on corruption charges. In the last 12 months, the military regime has eroded democratic institutions by installing generals in key positions and sidelining technocrats. New elections are not scheduled until 2016.
"Thailand's new military leaders view themselves as a kind of cleanup crew, tasked with eradicating corruption, keeping politicians in line, and restoring the old order," wrote Thitinan Pongsudhirak, a Thai academic, in Project Syndicate.
The only force that unifies Thailand is the king. The monarch is regarded as a near-deity in the country, where his image is a ubiquitous presence in homes and businesses across the country. Any criticism or slander of him is strictly prohibited, and both Thai and foreign nationals are routinely imprisoned under the country's strict lese majeste laws. In 2011, a 61-year-old Thai man was sentenced to 20 years in prison for sending text messages deemed offensive to the queen. In Thai politics, the king functions as an arbiter between the rural poor—who are loyal to Thaksin and Yingluck Shinawatra—and the urban elite whose interests are represented by the military. This system, however imperfect, has largely kept Thailand from collapse.
But what happens when the king dies? His son and appointed successor, Crown Prince Maha Vajiralonkorn, is a widely loathed playboy whose past ties to Thaksin have aroused the suspicion of the military. Last fall, the crown prince raised eyebrows by requesting that the government strip his wife of her royally-bestowed title amid the arrest of several of her family members. According to the International Business Times, Vajiralonkorn has recruited soldiers from Thailand's northeast region to serve in a royal guard corps—a possible hedge against the possibility that his succession to the throne is questioned.
All this political uncertainty has damaged Thailand's economy, which is Southeast Asia's second-largest. Household spending has slumped and exports—hamstrung by the excessive strength of Thailand's currency, the baht, have been disappointing. For decades, Thailand was seen as an oasis of success in a region beset by war, genocide, and stagnation. Now, Myanmar, Cambodia, Laos, and Vietnam are all growing faster than their once-exceptional neighbor.
As the health of King Bhumibol remains in peril, his 69 million subjects nervously wonder what will happen as soon as his remarkable life comes to an end.
"It's like a musical chairs game," Ernest Bower, an expert on Thailand at the Center for Strategic and International Studies, told the Washington Post. "When the music stops — when the king dies — whoever has power gets to organize the next steps."