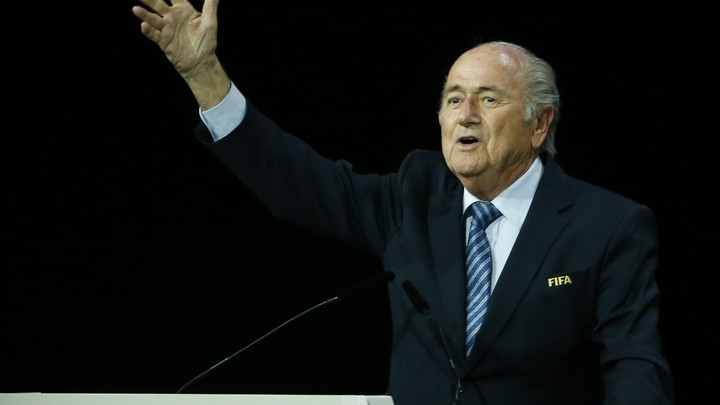 Sepp Blatter, the embattled, divisive, seemingly invincible president of the International Federation of Association Football (FIFA), has been reelected for a fifth consecutive term, marking his 17th year as arguably the most powerful man in soccer. Blatter was confirmed after receiving 133 out of 209 votes in the first round—just shy of an outright majority, but enough to prompt his challenger, Jordan's Prince Ali bin al-Hussein, to withdraw from the race.
At any other time, the intricacies of a leadership contest within FIFA, soccer's governing body, might pass without much fanfare. But Blatter's victory marks the end of a week in which seven senior FIFA officials were arrested in a Zurich hotel and nine charged by the U.S. Justice Department with racketeering, wire fraud, and money laundering. The question of whether the organization's Swiss-born president could survive the indictment of so many of his colleagues might have seemed obvious to outsiders, but Blatter's grip on global football is such that unseating him was always going to be extraordinarily difficult. Still, with increased scrutiny on FIFA's actions, rising calls for a boycott of the 2018 World Cup, and the Justice Department's acknowledgement that investigations are ongoing, Blatter's role is more unstable than it's ever been.
At the Friday meeting of FIFA's 65th Congress, shortly before member nations cast their votes, Blatter addressed the assembled officials, praising FIFA's mission of "unity, of bringing people together," and going on an unexpected tangent about the principles of a fourth dimension. "Some might say that I've been with you for a long time, others might say for too long a time," he said. "But what is this notion of time? Time is finite when we slice it up. I find that the time I've spent with FIFA is very short, and will remain short."
This kind of philosophical musing is characteristic of the 79-year-old, who's spent the past few decades evading trouble and charming world leaders, even as he's frustrated fans by refusing to allow goal-line technology and video replays in matches (he relented following a catastrophic disallowed goal in a match between England and Germany at the 2010 World Cup). He's no stranger to gaffes, once stating that racism on the pitch could be solved with a simple handshake. But the announcement five years ago that the 2018 World Cup would be held in Russia and the 2022 World Cup in Qatar drew unprecedented reprobation and allegations of malfeasance.
Qatar, a tiny desert state in the Persian Gulf, beat out other countries including the United States, Japan, South Korea, and Australia despite having summer temperatures exceeding 120 degrees. It pledged to build air-conditioned stadiums to host the month-long event, but this was eventually deemed impractical, and the 2022 World Cup was rescheduled for winter, disrupting European leagues. The building of Qatar's stadiums has also drawn criticism and allegations of slave labor, with 185 Nepalese migrant workers dying in 2013 while working on construction in the country.
The history of FIFA and its malcontents is a long and complex tale, and one in which corruption seems destined to play an intrinsic part. Blatter has worked for FIFA for more than 40 years, and has served as its president since 1998. Even then, his election was marred with charges of bribery (the vice president of the Confederation of African Football, Farra Ado, alleged that he'd been offered $100,000 to vote for Blatter), and his subsequent tenure has been similarly plagued with accusations of endemic corruption and misappropriation. But Blatter has also increased FIFA's revenue substantially, from $600 million to over $2 billion in the past decade alone.
Blatter's improbable victory this week is thanks to the way FIFA is structured. There are 209 member countries within the organization, and each gets one vote in the presidential election, meaning Brazil (population 200 million) has as much influence as San Marino (population 31,000). Earning the disdain of powerful countries like Germany and Britain might damage Blatter's reputation globally, but it doesn't do much to hurt his reelection chances, since he can effectively purchase the votes of smaller nations by bestowing largesse in the form of soccer pitches, new buildings, and other projects. FIFA's website even has a "development globe" allowing people to see exactly where the organization's cash has (in theory) been going, from women's football programs in Afghanistan to infrastructure development in Togo.
Blatter's support is unwavering in Asia and Africa, which have 100 member nations (and thus 100 votes) between them. "Blatter feels Africa, he sees Africa, and he has imparted so much—a lot of development programs," Amaju Pinnick, the president of the Nigerian Football Association, told the BBC. "Without Blatter we wouldn't enjoy all the benefits we enjoy today from FIFA. What Blatter pushes is equity, fairness, and equality among the nations. We don't want to experiment."
Following the announcement that Prince Ali of Jordan was conceding the presidential race, Blatter seemed triumphant, embracing colleagues. "For the next four years I will be in command of this boat called FIFA, and we will bring it back," he said. "We will bring it back offshore, we will bring it back to the beach, where finally football will be played." He said he'd spent the two-hour voting period meditating and praying to "God, Allah, whatever is this extraordinary spirit in the world," but he also seemed eager to assert himself, assuring the crowd, "I am the president of the whole FIFA."
Still, it's unlikely that the challenges facing Blatter will end with his successful reelection. Greg Dyke, the chairman of the English Football Association, has expressed support for the concept of a coordinated European boycott of the 2018 World Cup in Russia, and Michel Platini, the president of the Union of European Football Associations (UEFA), has said that such a boycott is a possibility. On July 25, the qualifying rounds for the 2018 World Cup will be drawn in St. Petersburg, meaning that the debate over Blatter's legitimacy is only just beginning.
We want to hear what you think about this article. Submit a letter to the editor or write to letters@theatlantic.com.
Sophie Gilbert
is a staff writer at
The Atlantic,
where she covers culture.