Why It's Now Easier for a Princess to Become Queen
The Duchess of Cambridge has given birth to a daughter. Thanks to a new U.K. succession law, any younger brothers the baby ends up having won't be able to overtake her in the line to the throne.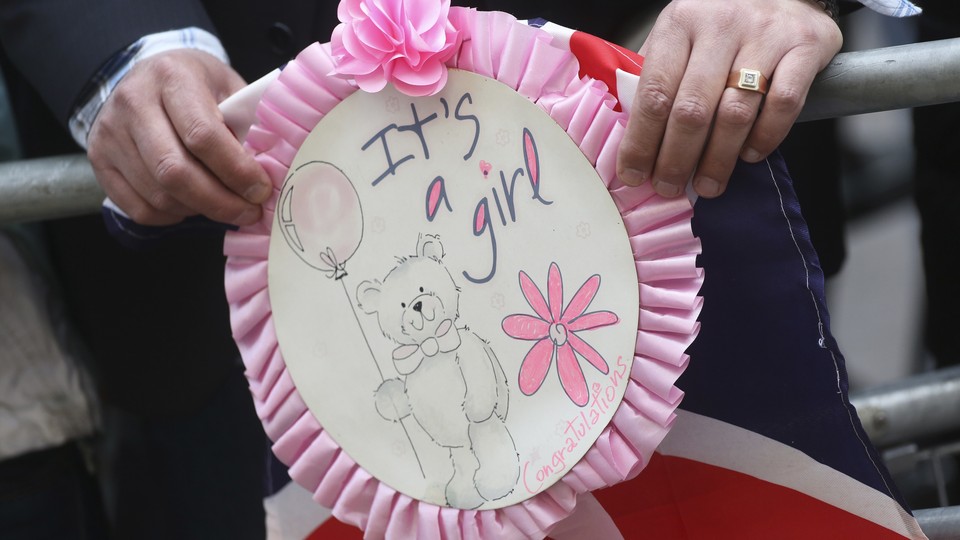 On Saturday, Catherine, Duchess of Cambridge, gave birth to her second child—a baby girl. Born only 21 months after her older brother, Prince George of Cambridge, this new daughter of the throne will be the first royal in the House of Windsor to benefit from the Succession to the Crown Act of 2013. The law, which took effect on March 26, 2015, officially ended male preference primogeniture, which meant that a woman can only descend to the throne if she has no living brothers or nephews who were born to a deceased brother.
The newest baby royal, in other words, is the first princess who can't be pushed aside by her brothers, just because she's a girl. It only took 314 years.
The British rules of succession date back to 1701, when a law was passed to settle a dispute over the succession of Sophia of Hanover. The language of this law, called the Act of Settlement, was understood to mean that brothers are preferred over sisters in the line of succession to the throne. Although this rule has only come to bear twice in modern British history—Princess Augusta of Great Britain and Victoria, Princess Royal, were both beaten out by their little brothers—it was technically the law of Great Britain well into the 21st century.
In 2011, leaders of the sixteen countries of the Commonwealth announced that they would be drafting legislation in each of their countries to end the rule of male preference for succession, and in 2013, the U.K. Parliament passed its new succession law. Shortly before the act was passed, Deputy Prime Minister Nick Clegg observed that "if the Duke and Duchess Cambridge have a baby girl, she can one day be our Queen even if she later has younger brothers."
Now, that baby girl has been born. At this moment, she's fourth in the line to the throne, and she may never be queen. But at least her country has agreed that she's just as capable as her brothers of "reading letters from the public ... [taking] audiences with political ministers or ambassadors ... and [meeting] with her Private Secretaries to discuss ... her future diary plans."