What Republicans Can Learn From British Conservatives
Several of the world's center-right parties have modernized in ways the GOP hasn't.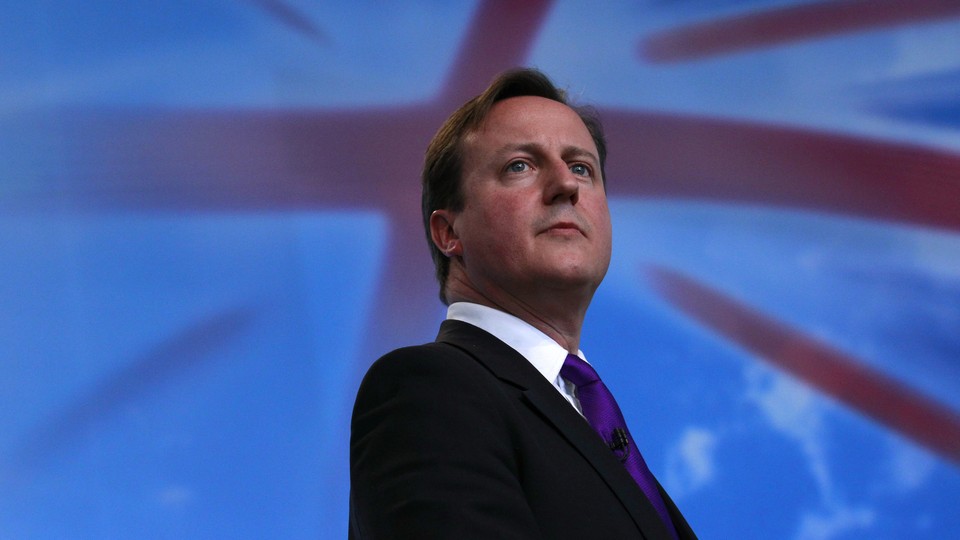 Stephen Harper in Canada. Tony Abbott in Australia. John Key in New Zealand. And now, impressively reelected, a second-term David Cameron in the United Kingdom.
Center-right leaders are in charge of every one of America's closest English-speaking allies. Only in the United States does the liberal left govern. With Hillary Clinton holding strong leads in the polls over all her likely opponents, this form of "American exceptionalism" looks likely to persist for some time to come. Why?
Their American detractors may grumble, but these other conservatives are indeed "real conservatives" (Harper and Abbott tend to be more popular among their U.S. counterparts than Cameron and Key). After coming to power in 2010, the Cameron government cut personal and corporate income taxes. It imposed tough new work requirements on physically capable welfare recipients. Government spending as a share of GDP will decline to pre-2008 levels next year. Thanks to Cameron's reforming education minister, Michael Gove, more than 3,300 charter schools ("academies," as the British call them) are raising performance standards in some of Britain's toughest neighborhoods—a 15-fold increase since 2010. Under the prime minister's leadership, the post office was privatized.
More reforms will follow in the next government. Cameron has pledged further tax reductions, including eliminating death taxes on family homes. Restrictions on home construction will be relaxed. Government's share of GDP will be pushed down with the goal of undoing the Blair-Brown spending spree that began in 1997.
Cameron Conservatives, like conservatives in the Anglosphere and Germany, converge with and diverge from Republicans in the United States in significant ways. And these ways are crucial to their electoral success—and, I'd argue, supremely relevant to the comparative failure of their American counterparts.
Unlike their U.S. counterparts, these conservatives don't fetishize the music, fashion, or religious practices of some of their voters in a way that prevents them from reaching all of their potential voters. Unlike their U.S. counterparts, they accept that healthcare security actually supports—rather than inhibits—the entrepreneurial risk-taking of a dynamic free-market economy. Unlike their U.S. counterparts, they have found ways to both enforce immigration laws and to make immigrant populations feel at home politically.
Of course, these conservatives differ among themselves in important ways. And their success is conditional; all face political challenges at home, including a tough re-election for Stephen Harper in Canada later this year. But what they all show their American counterparts is that the fear of a "tipping point" beyond which a state plunges into socialist dependency is utterly misplaced. Countries with universal health coverage, for instance, can be hospitable to conservatives—if conservatives can resist the impulse to repeal that coverage. It's the resistance to the program, not the program itself, that sinks conservative hopes. Politics doesn't tip. It evolves. And winning conservative parties evolve with it.