The Fall of Ramadi
The Islamic State takeover of a major Sunni city in Iraq was followed by reports that Shiite militias were gathering to take it back.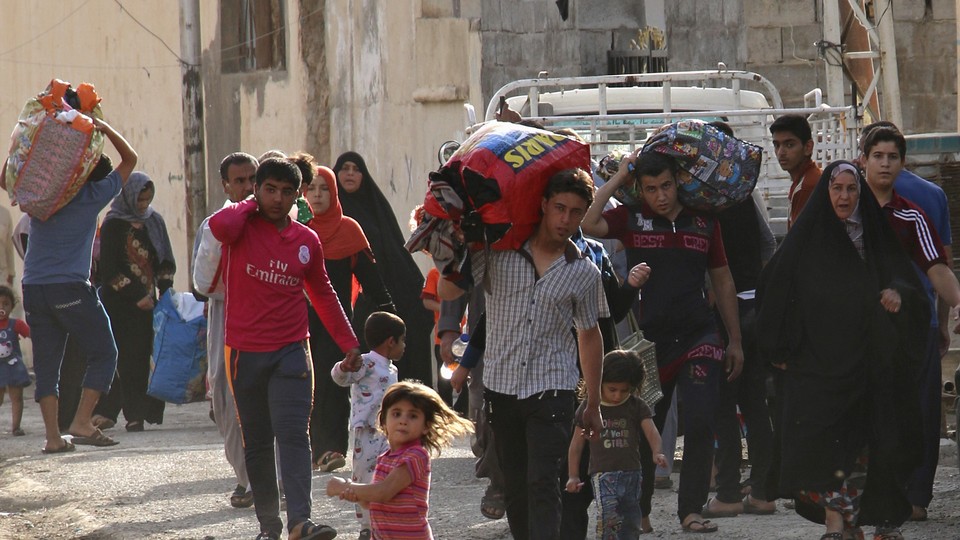 Updated 5/18/15 9:30 a.m.
On Monday, Iranian-backed Shiite militias were seen gathering outside Ramadi just a day after the city reportedly fell to Islamic State forces. Their participation in efforts to win back the capital of Anbar province is a troubling sign for the United States, which opposes the militias' involvement over fears that it will trigger sectarian violence between Shiite and Sunni groups. The deployment of the militias is also an implicit rebuke of America's airstrike-heavy strategy, which failed to stem ISIS's momentum in Ramadi.
"In further sign of Iran's deep involvement in Iraq, the Iranian defense minister, Brig. Gen. Hossein Dehqan, arrived for talks Monday in Baghdad even as Iraqi forces plotted how to reclaim Ramadi, just 80 miles to the west," reported The Washington Post.
---
Updated 5/17/15 4:33 p.m.
The New York Times reported on Sunday that Ramadi, an Iraqi city located 80 miles west of Baghdad, had fallen to the Islamic State. Ramadi came under sustained ISIS attack last week, when fighters assumed control of a mosque and provincial government building in the city center. On Sunday ISIS completed the takeover by capturing a key military depot and executing citizens loyal to the Iraqi government.
In recent days, Iraqi Prime Minister Haider al-Abadi was asked to send in Shiite militias to engage with ISIS fighters in Ramadi, a majority Sunni city. But the United States, wary of inflaming sectarian tension, opposed this move.
Recent ISIS territorial gains in Iraq and Syria have dampened U.S. enthusiasm over the assassination of Abu Sayyaf, a top ISIS official killed by American forces on Friday night.
---
Traveling by Black Hawk helicopters and Chinook aircraft, Special Operations soldiers from the U.S. Army Delta Force crossed into Syria on Friday night and killed Abu Sayyaf, a senior Islamic State commander responsible for the terrorist group's oil and gas operations. The raid, which involved significant hand-to-hand combat near the city of Deir Ezzor, resulted in the capture of Umm Sayyaf, Abu's Iraqi-born wife, as well as a girl from Iraq's Yazidi minority thought to be enslaved by the couple.
In a statement released on Saturday, the Obama administration described the mission as a success, and said no American forces or Syrian civilians were injured. But the raid also illustrates some of the larger strategic difficulties faced by the United States in its fight against ISIS. As Joshua Keating noted in Slate, the U.S. typically uses drone strikes rather than ground forces in targeted assassinations, an indication that the mission was to capture Sayyaf alive. American officials believed that the Tunisian-born militant had direct contact with Abu Bakr al-Baghdadi, the terrorist group's reclusive leader, as well as key insight into ISIS' energy-sourced revenue. His death—necessitated by Sayyaf's engagement with American troops—may have deprived the U.S. government of a key intelligence asset.
A second issue for the United States is its reluctance to cooperate with Bashar al-Assad, Syria's president. In 2012, when Arab Spring protests seemed poised to overthrow Assad's regime, President Obama publicly called for the dictator's removal. But Assad—thanks to a brutal campaign waged against his opponents—has held on, and three years later the two leaders find themselves dealing with a common enemy in ISIS. The two sides have indirectly helped the other, but both Syria and the United States claim that Washington did not consult Damascus prior to the attack.
Following the announcement of the raid, U.S. Secretary of Defense Ashton Carter announced that the Abu Sayyaf killing dealt "a significant blow" to ISIS. But according to The New York Times, Sayyaf is a "midlevel leader" who is "replaceable in fairly short order." Meanwhile, ISIS continues to make territorial advances. In Iraq, ISIS fighters have captured much of Ramadi, a major city located 60 miles west of Baghdad. And in Syria, Palmyra, a UNESCO heritage site noted for its priceless ruins, is under threat from militants who have encircled it.
On Saturday, Washington reiterated its commitment to defeating the Islamic State. "The United States will continue to stand shoulder-to-shoulder with our Iraqi partners in our effort to degrade and ultimately destroy ISIL." But the terror group's resilience may push the Obama administration, however unwillingly, back into the arms of Bashar Al-Assad.