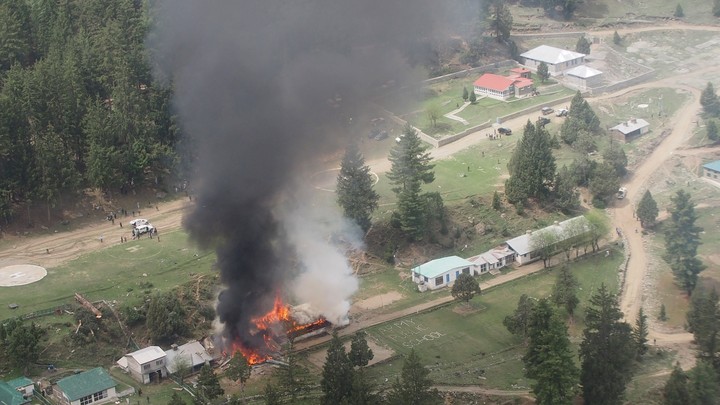 On August 17, 1988, just a few minutes after takeoff, an airplane carrying the president of Pakistan, General Muhammad Zia-ul-Haq, and the American ambassador to Pakistan, Arnold Raphel, suddenly crashed, killing them and 29 others. The cause of the accident has never been fully agreed upon: American investigators concluded it was a matter of mechanical failure, while the Pakistani government blamed sabotage. And there were many conspiracy theories—Zia, a military dictator, had plenty of enemies, and had killed his predecessor Zulfikar Ali Bhutto.
Pakistan is again reeling from an air crash that has killed foreign envoys. Once again, the circumstances are unclear, and there are competing explanations for what happened.
Here's what's known: A Pakistani Air Force helicopter crashed while close to landing in Naltar, a town in the Gilgit-Baltistan area in Pakistan's northeast, part of the Pakistani-controlled portion of the disputed Kashmir area. Among the dead were the Norwegian and Filipino ambassadors to Pakistan; the wives of the ambassadors from Malaysia and Indonesia; and two pilots and a crew member. The Dutch, Indonesian, Malaysian and Polish ambassadors survived the crash. All of them were en route to attend the inauguration of a tourism project when the helicopter crashed. According to reports, the craft hovered briefly, then crashed into a Pakistani military school on the ground.
What caused the crash is disputed. In a mirror image of the Zia crash, the Pakistani government says it was nothing more than a tragic accident. The BBC notes there has been a series of crashes with the same chopper. But the Pakistani Taliban also quickly claimed credit for taking the helicopter down, saying it was attempting to assassinate Prime Minister Nawaz Sharif. Sharif was expected to travel to Naltar, but has now canceled his trip.
"A special group of Tehreek-e-Taliban Pakistan had prepared a special plan to target Nawaz Sharif during his visit but he survived because he was travelling in another helicopter," a spokesman told AFP, adding that a ground-to-air missile had been used to execute the attack.
In addition to the Pakistani government's rejection of the claim, initial reports from witnesses on the ground suggested the chopper had lost control but that there had been no explosion that would suggest an attack.
It's true that Kashmir is not the Pakistani Taliban's traditional territory. The group's stronghold is in the Federally Administered Tribal Areas adjacent to Afghanistan, in northwestern Pakistan. From that base, the group has launched deadly attacks across the country. As Reuters noted, Naltar isn't a militant stronghold, and terror groups are often eager to claim credit for attacks, whether they actually had a connection or not. Earlier this year, the Asia-Pacific publication The Diplomat reported that the Pakistani Taliban was seeking to build up its presence in Gilgit-Baltistan.
Over the last year, the Pakistani Taliban's most notable attacks haven't been assassinations or missile launches. In June 2014, the group laid siege to the Karachi airport, leading to 21 deaths, including 10 attackers. In December, militants attacked a school in Peshawar, killing 145 people including 132 children at a military-connected school. The attack brought the group widespread condemnation throughout Pakistan, including among figures who had been accused of sympathizing with the group or its aims. While the Peshawar attack was the bloodiest, school assaults have become something of a trademark for the Pakistani Taliban. Most famously, it shot Malala Yousafzai, a 12-year-old advocate for women's education, in 2012. Yousafzai survived the attack and won the 2014 Nobel Peace Prize.
But attacks on political leaders aren't exactly unusual, either. The Pakistani government blamed Baitullah Mehsud, a Pakistani Taliban leader, for the 2007 assassination of Benazir Bhutto. Bhutto—a former two-time prime minister and daughter of Zulfikar Ali Bhutto, Zia's deposed nemesis—died when an attack hit her parade as she campaigned for a return to power. Then-President Pervez Musharraf was later charged with murder for failing to provide adequate security. Musharraf himself survived several assassination attempts. So did Sharif, in a previous term as prime minister.
Being a diplomat in Pakistan is dangerous, too. Four diplomats were killed in a 1995 bombing of the Egyptian embassy. Other strikes have targeted foreign diplomats, including an assault on the U.S. consulate in Peshawar. An attack on the American consulate in Karachi killed U.S. diplomat David Foy in 2006.
Still, if it were an attack, this incident would seem to fit a different profile. It's too soon to know what effects the crash might have on Pakistan's foreign ties, but Islamabad is working to try to project an image of strength and stability in the region, and a tourism event like the one planned for Friday is just the sort of event to do that. In a poignant note, the late Norwegian ambassador Leif Larsen praised the opportunities for Norwegian business in Pakistan in an interview published just last month in Newsweek Pakistan. "Pakistan is doing an excellent job with its operation against extremism, and we hope to see it completed," he said.
The battle continues, but Larsen will never have the chance to see it to its end.
We want to hear what you think about this article. Submit a letter to the editor or write to letters@theatlantic.com.