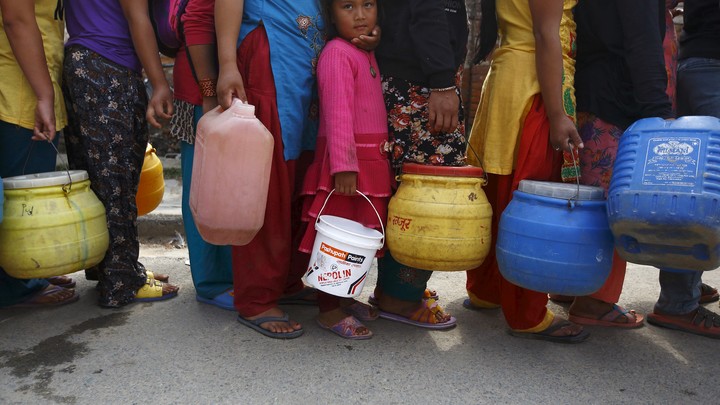 Nine days after a major earthquake struck Nepal, the country remains mired in a humanitarian crisis. The death toll from the disaster stands at more than 7,200, while many thousands more are injured. The earthquake destroyed at least 70,000 buildings throughout the country, and officials estimate that more than 75 percent of those left standing in Kathmandu are uninhabitable or unsafe. More than 2.8 million Nepalis—roughly 10 percent of the population—have been displaced, and several million are in dire need of food, water, and sanitation services.
International assistance is essential in addressing the immense challenges posed by the April 25 quake. But on Sunday, government officials barred airplanes carrying aid from landing at Kathmandu's Tribhuwan International Airport on account of damage sustained by the airport's lone runway. Tribhuwan is Nepal's only international airport and, in a landlocked country with poor road and rail infrastructure, its most important transportation hub. Nepal's mountainous topography and poor infrastructure have made it difficult for rescuers to reach many of the hardest-hit villages. But the country's unstable and ineffective government—not its geography—remains its biggest liability.
According to a UN official, Nepali customs regulators have been slow to process incoming aid, and many materials have piled up at Kathmandu Airport. Krishna Gyawali, a senior bureaucrat in Sindhulpalchowk district, estimated to The Guardian that aid operations have only met 20 percent of need. Nevertheless, on Monday the Nepali government asked remaining international rescue workers to depart the country, having determined that they were no longer needed.
Nine years after a decade-long civil war, Nepali politics are characterized by gridlock and instability—problems that have been on display in the aftermath of the disaster. Aware that the area around Kathmandu is susceptible to earthquakes, the Nepali government established building codes mandating that new structures be earthquake-proof. But enforcement was often lacking.
"There is complete lack of accountability," Krishna Kanal, a Nepali political analyst, told the Hindustan Times. "This disaster was compounded by the absence of political leadership and will as well as ineffective urban planning and disaster management."
As Nepal faces its largest reconstruction process in generations, the country's fractured and ineffective government may be as much a problem as a solution.
We want to hear what you think about this article. Submit a letter to the editor or write to letters@theatlantic.com.
Matt Schiavenza
is the senior content manager at the Asia Society and a former contributing writer for 
The Atlantic
.