The Earthquake-Wrecked Town That the Nepali Government Forgot
The country's military has stepped in following a massive natural disaster—but it hasn't provided much meaningful support to citizens.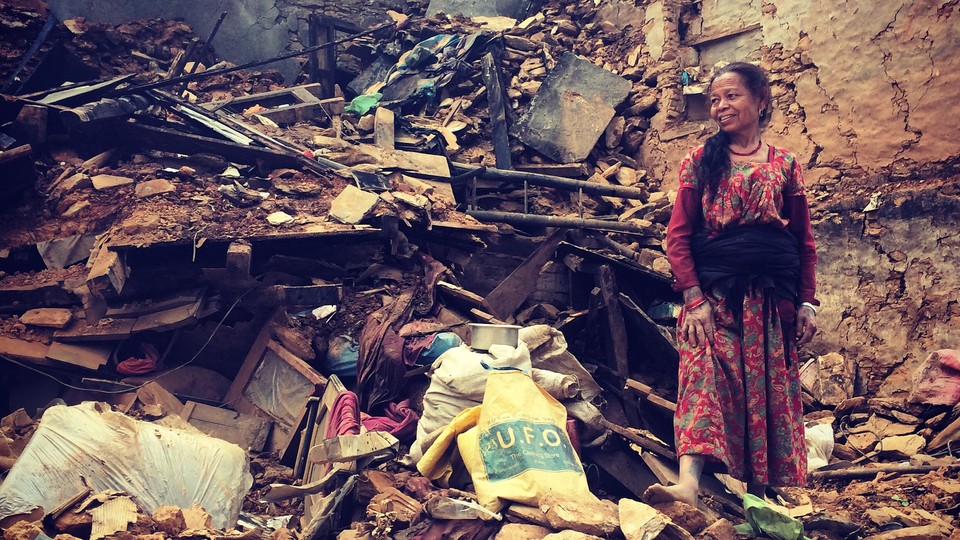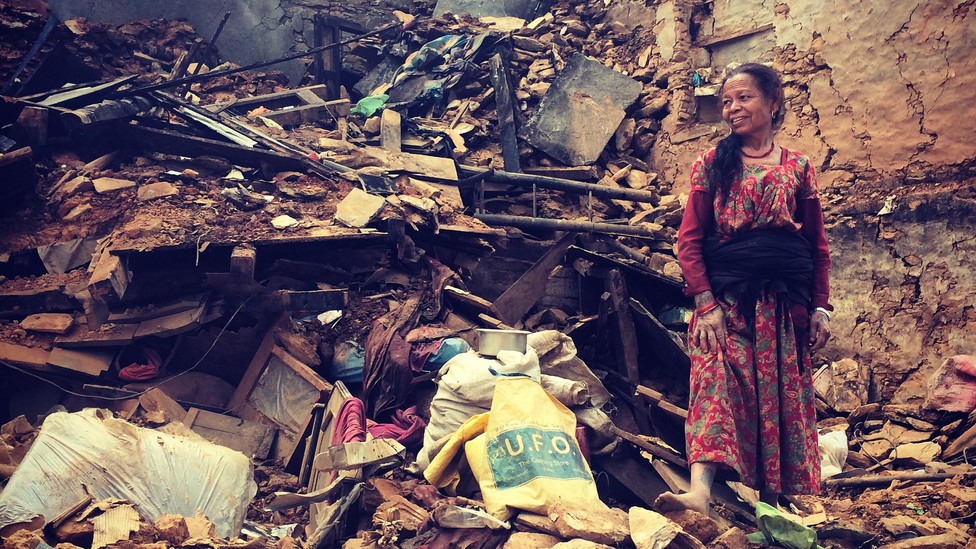 CHAUTARA, Nepal—Cries of anger rose above the din of military helicopters and wails of the injured, as men banged their fists on the metal gate outside the town's government offices. But it was fruitless: Local officials had fled the building shortly after Nepal's earthquake, leaving the windows open and a truck—its windshield smashed by the crowd, creating a spiderweb-shaped crack in the glass—parked outside.
"No one from the government has come to speak to us, they've just left us," said 52-year-old Netra Kc. In a soiled green T-shirt and jeans, he swayed back and forth with the seething crowd. "We will protest until they help us," he pledged.
The town of Chautara is green and lush, connected by winding dirt paths that decorate a cliffside with a magnificent view of the Himalayan foothills. Much of Chautara was flattened in Nepal's April 25 quake, which has killed at least 6,200 people.
Six days on, and international relief operations are only now reaching rural areas; the sole road going north from Kathmandu to Tibet, on which Chautara is located, has been repeatedly blocked by large crowds accusing the government of stealing tents and blankets provided by aid agencies and destined for those who have lost their homes. The Nepali prime minister's Disaster Relief Fund, set up explicitly for the earthquake, reported on Friday that it had raised $1.5 million but only distributed 1 percent of that money so far (the United Nations, by contrast, has allocated $15 million in emergency funding). The authorities have also promised $1,000 to each family that lost someone in the disaster, over a third more than the average Nepali's annual income. "The government is trying its best, but it's not enough, not nearly enough," Basant Maharjan, chief of community health development at the NGO Phect, told me. Foreign aid agencies have complained of severe delays in getting their cargo planes into the country's sole and tiny international airport. Nepal's communication minister, for his part, has admitted that there "have been some weaknesses" in the government's relief effort.
"Why do you think we're in charge here?" a Nepalese Army sergeant, wearing camouflage and a black facemask to ward off disease, asked me in Chautara. "We're managing this to prevent violence against the government," said the sergeant, who requested to remain anonymous since he was not authorized to speak to the press. In recent days, the 150,000-strong army has become deeply involved in search-and-rescue efforts and assisting with medical aid and logistics. All around the sergeant, soldiers were carrying villagers on blood-stained stretchers to medical teams in makeshift tents. The stench of a large, communal toilet wafted over us. Major Deepak Gurung, who oversees military operations in the wider district of Sindhupalchowk, said he expected the district's total death toll of 1,470 to double.
It was easy to see why. Though Chautara, a town of roughly 4,000 people, is only 25 miles northeast of Kathmandu, the drive now involves three hours of negotiating thick mud, since most of its crag-hugging roads have been destroyed. In the town itself, whole floors of brick buildings were ripped away; on the third floor of one house, a family's framed pictures of their children hung on an exposed yellow wall, beside a neatly stacked pile of shoes. The town had so many cracks and clusters of detritus that the rare, untouched building seemed improper, almost impertinent.
When I visited, Rachana Sahi, 25, was digging for salvageable belongings through the heap that had been her family home. "Sure, the government will help us," she hissed, dragging out a dust-covered rug. "Once we're dead."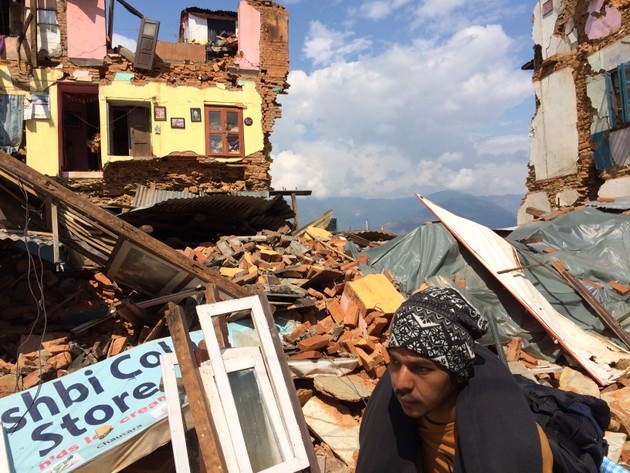 Nepal's history includes repeated episodes of resistance to rulers. The country has experienced a dozen regime changes over the last century, including a communist government in the mid-1990s and the abolition of its 239-year-old monarchy in 2008. "Nepal has been dogged by political disasters and natural disasters, the one affecting society's ability to respond to the other," wrote the Nepali publisher Kanak Mani Dixit in the Times of India this week.
Today, Nepal is still recovering from a devastating civil war between government forces and Maoist fighters. Maoists, incensed that the country's short-lived communist government had collapsed, began a violent revolt in 1996, which resulted in a decade-long war that killed 18,000 people and ended when Maoists were allowed into government.
"If the government manages to inspire people to come together [after the earthquake] by reassuring them that they are being looked after, then the situation will calm down," Gagan Thapa, a prominent member of parliament from Nepal's governing Nepali Congress Party, told me. "But if it fails, then anything can happen. The anger is justified."
Before the earthquake struck, Nepali politics were deadlocked over a proposed constitution. One year before the removal of Nepal's last king, an interim constitution gave women and ethnic minorities, including the country's large Tibetan refugee population, more rights. But the Maoists want constitutional changes such as dividing Nepal into states based on ethnicity, which the Nepali Congress Party objects to. While many Nepalis see the constitution as the key to ushering in political stability, the long-delayed document has yet to be implemented. (Nepalis are split on the merits of the document itself. In a poll conducted by Himalmedia in January, 44 percent of respondents said they were willing to wait for a "better" constitution to be drafted, while 41 percent wanted the constitution in force immediately.)
According to Thapa, "the constitution will now be pushed back by at least another year. The number-one priority right now is the earthquake." Ironically, Dixit wrote, the earthquake hit when politicians were, at long last, beginning to reach consensus on the constitution. "The earthquake has eclipsed constitutional politics for the moment," he observed, "but there is no getting away from the fact that the renowned resilience of the Nepali people is wearing thin—and the politicos hopefully are aware of this."
The Nepali government's sluggish and inadequate response to the earthquake is emblematic of this political paralysis, according to David Gellner, a Nepal specialist at the University of Oxford. "It might be tempting to think that delays over writing Nepal's long-awaited constitution don't matter, that life can go on as normal without political resolution (and many Nepalis, bored with the games of political musical chairs in Kathmandu, had begun to think just that). But the earthquake shows just how vital it is to have political institutions that work, both at the center and, even more importantly, at the local level," Gellner wrote at The Conversation, referring to the fact that local elections haven't been held in nearly two decades.
In Chautara, this lack of government translates into having to dig one's dead relative out of a collapsed house. I found Kumar Shrestha, 41, doing precisely this. Armed with his own generator and jackhammer, he was trying to retrieve his nephew; hours passed before he could make out the shape of part of his nephew's body. "Anger does not do justice to my feelings at the moment," he said brusquely between drilling. Villagers gathered to watch. Around them lay the debris of lives interrupted by cracked earth: a fake pearl bracelet, a TV remote, a computer screen, a submerged motorcycle. Under the surrounding cliffs, viridian wheat fields were almost ready for harvesting—cold comfort for the people of Chautara.
---
Reporting for this article was supported by a grant from the International Reporting Project.