The Clock Finally Runs Out for FIFA
Soccer's international governing body has long been suspected of mass corruption, but a 47-count U.S. indictment is one of the first real steps to accountability.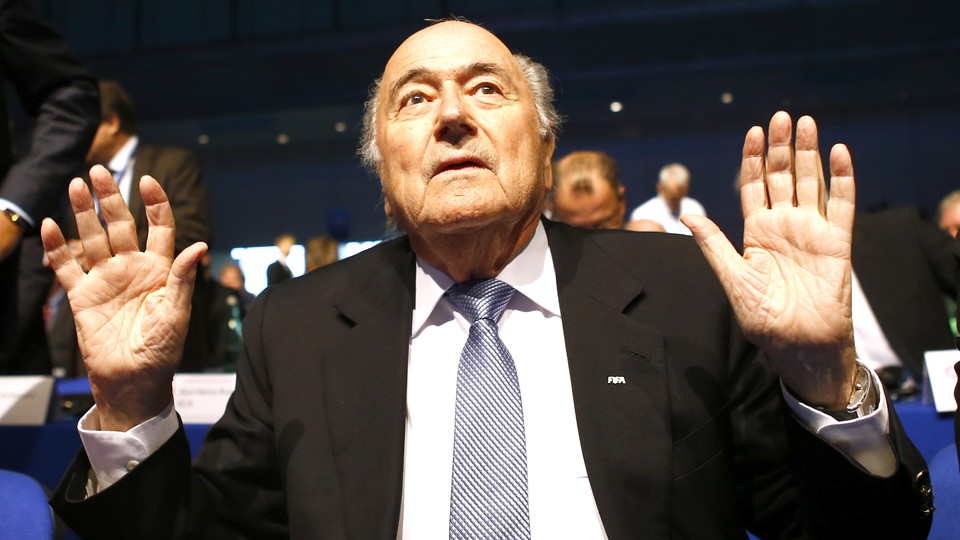 Imagine this: A shadowy multinational syndicate, sprawling across national borders but keeping its business quiet. Founded in the early 20th century, it has survived a tumultuous century, gradually expanding its power. It cuts deals with national governments and corporations alike, and has a hand in a range of businesses. Some are legitimate; others are suspected of beings little more than protection rackets or vehicles for kickbacks. Nepotism is rampant. Even though it's been widely rumored to be a criminal enterprise for years, it has used its clout to cow the justice system into leaving it alone. It has branches spread across the globe, arranged in an elaborate hierarchical system. Its top official, both reviled and feared and demanding complete fealty, is sometimes referred to as the godfather.
This organization isn't the Mafia. It's FIFA, the international governing body for soccer. But as anyone who's ever watched a mob movie knows, even the best-laid schemes eventually hit rocky ground. For FIFA and its boss, Sepp Blatter, that moment came early Wednesday morning in Zurich, where seven top officials were arrested at a five-star hotel with views of Lake Zurich and the Alps.
The arrests came after a lengthy FBI investigation. In total, the Justice Department charged 14 people with 47 corruption counts, including racketeering, wire fraud, and money laundering, following "a 24-year scheme to enrich themselves through the corruption of international soccer." In addition to FIFA officials, five corporate executives are charged, and Justice has unsealed several prior guilty pleas in the case. The FBI also raided the offices of CONCACAF, FIFA's Americas affiliate, in Miami on Wednesday. The case originated in the Eastern District of New York; until her confirmation in April, that district was led by U.S. Attorney General Loretta Lynch.
New York Times reporters, who'd apparently been tipped off, recorded the surreal scene in Zurich on Twitter. Swiss police, in street clothes, entered the deluxe Baur au Lac hotel. They arrived at the hotel bearing documents, and stopped at the front desk to request room numbers for their targets. Each of the targets apparently went quietly, with at least one bearing his luggage. The journalist Sam Borden overheard one of the arrested men asking another how he was. "Nervous," the second replied. Police hustled them out of side doors and into waiting compact cars (it's Europe, after all), using bedsheets to shield them from the media—a nod to restrictive privacy laws, but one that's a bit slapstick given their high profiles. The hotel staff, meanwhile, reacted somewhat frantically to the proceedings.
Those arrested in Zurich will be extradited to the United States to be tried. Even as Swiss police shielded the men from public view, the U.S. Justice Department was trumpeting the arrests—only the most superficial sign of the deep differences between how various justice systems have historically approached FIFA. The British press has complained that even amidst allegations of corruption against FIFA, courts in Europe are unwilling to go after the organization—the sacrifices at stake in football-loving countries are simply too much. But The Telegraph's Ben Wright argues the charges demonstrate that FIFA just isn't able to intimidate the U.S. justice system in the same way—both because of a more aggressive mindset about white-collar crime, and because affection for soccer isn't so ingrained. The academic Dan Drezner only half-jokingly suggests that the arrests are the best U.S. foreign-policy move of the year, with America taking on a powerful but widely disliked bully.
Meanwhile, the Swiss government announced it was opening investigations into the bidding processes for the next two World Cups, scheduled to be held in Russia in 2018, and in Qatar in 2022.
Allegations of corruption certainly aren't anything new in global soccer. FIFA—which made $5.7 billion in revenue from 2011 to 2014—is in some ways perfectly designed to encourage fraudulent conduct. There's no good analogue for FIFA in any other sport: It's a huge multinational institution with billions in revenue that has a hand in practically every level of soccer, from children's leagues up to the World Cup. With hundreds of different nationalities, dozens of languages, countries' frantic jostling for position, and money sloshing around everywhere, FIFA is like a grand bazaar of soccer. And like any busy marketplace, it's the perfect place for crime to flourish.
Because of the prestige and potential economic benefits of hosting the World Cup, the process of bidding for it and rounding up support practically begs for bribery. Media and marketing rights, and the smaller, regional tournaments that lead up to the quadrennial World Cup, offer even more chances for potentially illegal dealings. FIFA's rules also seemed geared toward shutting down any investigation that might smoke out trouble. One of the people indicted today is Jack Warner, the Trinidadian former head of CONCACAF. As Warner came under scrutiny in 2011 for trying to buy votes in his election and receiving millions in misappropriated funds, he resigned his post—automatically shutting down FIFA's ethics investigations into his conduct.
Amid the chronic allegations of bribery, FIFA has also faced acute crises over the next two World Cups. The 2018 games, scheduled for Russia, have sparked outcry, both because of Russia's human-rights record and involvement in Ukraine, and because of allegations of vote-buying in the process—allegations dismissed by a FIFA commission. The 2022 tournament in Qatar is, on its face, absurd: Why schedule an intensive tournament, in a sport that requires running for 90 minutes, in a country where summer temperatures generally exceed 100 degrees? The concern was exacerbated by brutal conditions during the 2014 Brazil World Cup, where unheard-of water breaks became essential.
Though Qatar promised to air-condition the field, the tournament was eventually pushed back to winter, disrupting league soccer schedules in the process. And vote-buying allegations have also dogged the tournament, along with accusations of human-rights violations and slave labor. Construction for the 2022 cup has relied heavily on poorly paid migrant workers. According to The Guardian, a worker died every two days on the project in 2014.
With so much at stake, the big trophy for any prosecutor is Sepp Blatter, the head of FIFA. Blatter, a 79-year-old Swiss national, has led the organization since 1998. The Argentine soccer icon Diego Maradona calls him a "dictator." In April, Osiris Guzman, the Dominican soccer boss—who was suspended in a bribery inquiry in 2011—floridly compared Blatter to Moses, Jesus, Lincoln, Churchill, Martin Luther King, and Nelson Mandela. The Daily Mail, meanwhile, has called him a "smug, self-righteous Zurich gnome." Other critics, deeming Darth Vader to be too humble an appellation, refer to him as Emperor Palpatine. Blatter seems to love the attention, even if it's not all positive. FIFA spent an astonishing $26 million on a 2014 film featuring Blatter as a hero, in which he was played by the actor Tim Roth.
Despite overseeing FIFA for most of the period covered by the FBI investigation, Blatter escaped indictment Wednesday—much to the chagrin of football fans worldwide. It's another mafia-movie trope: the pater familias whom everyone believes to have dirty hands, but who seems to perpetually be one step ahead of the law.
But Blatter, who's canceled his upcoming public appearances, might not be in the clear yet. His immediate challenge comes on Friday, when FIFA holds its election for the presidency. Blatter was widely expected to cruise to a fifth term—an outcome that may still hold, but which will surely be complicated and shadowed by the week's arrests. FIFA's spokesman insisted Wednesday that the organization was the victim in all of this—hurt by the malicious dealings of a few bad apples, no doubt.
In the longer term, the investigation is a blow to Blatter's power. And there are signs that officials still hope to take him down. In a statement, Kelly Currie, the acting U.S. attorney for the Eastern District of New York, said: "Let me be clear: this indictment is not the final chapter in our investigation." Soccer fans and anti-corruption campaigners around the globe will be watching for the next chapter as avidly as any qualifying match.