The Final Posts of a Murdered Blogger
"No one with a free mind can limit themselves within the walls of narrow-mindedness," Ananta Bijoy Das wrote hours before his death.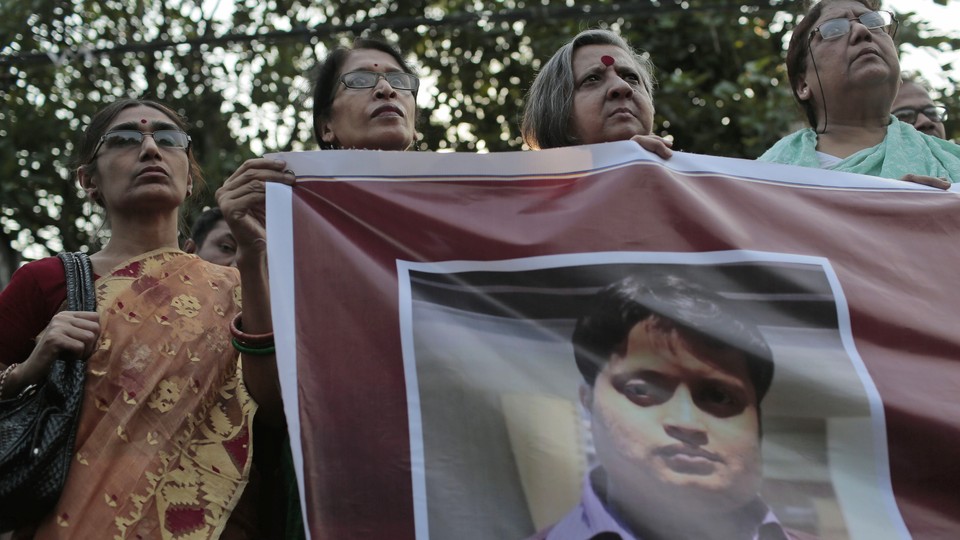 Earlier this week, as he left for work, Ananta Bijoy Das was ambushed by four masked men outside his home in Sylhet, Bangladesh. Armed with machetes, the men—suspected Islamist militants—hacked Das to death in broad daylight on a busy street in the country's fifth-largest city.
Das's crime was that he blogged. A writer critical of religious fundamentalism and enthusiastic about science, his fate matched that of two other men, Avijit Roy and Washiqur Rahman, who were killed in similar fashion in Bangladesh in February and March, respectively, for writing on and promoting secular themes in a country where 90 percent of the population is Muslim.
Das's work has been described as the least controversial of the three. "He had written about superstitions, but he wasn't among the writers that would hurt the sentiments of religion," one of Das's friends told The Guardian. The friend added, however, that the frequency of death threats against Das had surged following the killings of Roy and Rahman.
"We don't know if police will protect us," Binoy Vadra, another friend and a fellow blogger, told the BBC on Tuesday.
That specific issue was the topic of one of Das's last posts, published a day before he was murdered. In the post, translated into English this week by Scroll.in, he reflected on what the Bangladeshi police had failed to do not only in the cases of Roy and Rahman, but also other victims of violence who weren't blogging about anything.
On dereliction of duty by the police: May 11, 2015

When Avijit Roy was murdered, the police were standing nearby and watching the spectacle. The murderers left unscathed after their act. Later the police claimed there had apparently been no dereliction of duty. One would love to know what their duty was.

When the murderers were escaping after killing Oyasiqur Rahman Babu, the police had been standing by then too, But unfortunately for them, they could not say that on this occasion too they had not abandoned their responsibilities. For a person of the third gender, named Labanya, captured the murderers, who were sent to jail.

The police were paper tigers when women were being molested one by one before an audience of thousands at the new year celebrations. They were engaged primarily in not neglecting their duty. They were busy clearing the way for the sexual offenders to escape. So when Lyton Nandi and several others nabbed some of the sexual terrorists and handed them over to the police, the police released them after some time.

When there was an uproar in the media about this, the police categorically denied any such incident. No one had complained to them. When the molesters were spotted on CCTV footage, they fell silent. The old guitar began to be played again. No one had complained to them. The police are inactive even after several of the sexual terrorists have been identified. There's no dereliction of duty.

When a number of leftist organizations, including students' unions, submitted a memorandum of protest to the police, demanding to know why the offenders were not being arrested, why not even attempts were being made, the police pounced on them, injuring university students with the butts of their guns and their boots. Here too I was told that the police had not abandoned its responsibility. But I'm very keen to know what the real responsibility of the police is.
Das was a citizen of a nominally secular state. But that state has been failing to safeguard free speech and demand accountability for machete-wielding fundamentalists. Das wasn't the first blogger killed; he was the third in three months. Bangladeshi politics are polarized between secular and Islamist camps, and, according to the BBC, the government has recently been cracking down "on civil liberties and freedom of speech … affecting both religious fundamentalists and those who argue for free speech and for faith to be separate from government."
"We are walking a fine line here," the son of the Bangladeshi prime minister told Reuters a day before Das's death, in explaining why his mother had not commented publicly on Roy's murder. "We don't want to be seen as atheists. It doesn't change our core beliefs. We believe in secularism. But given that our opposition party plays that religion card against us relentlessly, we can't come out strongly for him. It's about perception, not about reality."
Das's government wasn't the only one that failed to protect him. "The week prior to his death the Swedish embassy had rejected Mr Das's application for a visa,"
The Economist
reported
. "He had proposed to make only a short trip to Sweden, but the embassy staff surmised that he would have had plenty of reason to try staying, once he got in."
Just hours before his death, Das posted again. This time, the target of his frustration was a member of parliament who had threatened to publicly flog a university professor—and the violent rhetoric that enabled murder and intimidation in his country. He compared the lawmaker to a zamindar, an aristocratic landowner in British India:
Whips used to be wielded by zamindars once. They would skin their subjects alive on the slightest of transgressions. But no one protested against the zamindars' daylight robbery. We have to say we're fortunate that the age of zamindars no longer exists. But like the all but extinct organ, the appendix, a handful of leftover zamindars remain. Will you let us know which clan of appendices you belong to, Janab Parliamentarian?
He continued: "Janab Parliamentarian, the word university refers to universality. But what a few Sylhet fundamentalists like you say creates the impression that you and your ilk do not consider the university anything more than a private kindergarten in your locality."
Das concluded:
To Sylhet fundamentalists, Sylhet is not a part of Bangladesh, it is a separate nation. So my suggestion is that you should make Sylhet secede from Bangladesh first and carve out an independent country, after which you can display as much love for Sylhet as you wish, and hunt for so-called Sylhet-haters. But you cannot live in Bangladesh, live off Bangladesh, be a citizen of Bangladesh, carry a passport of Bangladesh, be a member of the Bangladesh Parliament, and still practice shameless regionalism. You'd better shed your Bangladeshi identity first.
He ended his final post by quoting from an essay he edited in the magazine Jukti (Rationality):
No one with a free mind can be indoctrinated in regional fundamentalism or limit themselves within the walls of narrow-mindedness. The world is very large, but our well-behaved hypocrites are still quite primitive, it's time for them to crawl out of the well and view our enormous universe from a new perspective. All of us are human, and all of us are Bangladeshi Bengalis—how long will it take the people of Sylhet to understand this simple truth?