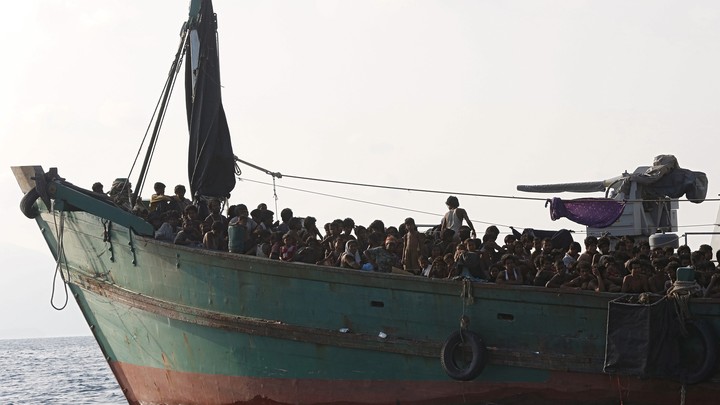 In recent weeks, the international media has devoted significant attention to the immigration crisis in the Mediterranean Sea, where hundreds of African and Middle Eastern refugees have lost their lives attempting to flee to Europe. But an even more serious crisis is now occurring many thousands of miles to the east, in the crystalline waters near Southeast Asia. In the last week, more than 5,000 refugees from the Rohingya ethnicity have fled Burma on overcrowded, unseaworthy vessels, desperately attempting to escape a humanitarian crisis at home. Some of the ships—whose occupants lack sufficient food, water, and methods of communications—have successfully docked in countries like Thailand and Malaysia. But an estimated 2,500 Rohingya remain marooned in international waters, and more are likely to come. According to Reuters, more than 25,000 Rohingya boarded refugee boats in the first three months of 2015.
Burma's Apartheid State
The Rohingya are a dark-skinned, Muslim ethnicity native to the area near Burma's border with Bangladesh. A religious minority in a country that's 90 percent Buddhist, many of the 1.1 million Rohingya live in a state of apartheid, clustered in concentration camps that are largely disconnected from the outside world. In a 10-minute documentary produced by The New York Times last year, columnist Nicholas Kristof found that the Rohingya almost completely lack access to medical care or international aid.
This isolation has caused a humanitarian catastrophe, captured in harrowing detail in the documentary. Kristof profiles an older man, now permanently disfigured as no doctor could treat his broken right arm. A pregnant young woman, in labor for more than 20 hours, is turned away from an overwhelmed clinic. She miraculously survives—but her baby does not.
The Rohingya are subject to violent attacks from Buddhist Burmese, who speak of them with intense hatred. In the documentary, Kristof asks a group of Buddhist children what they'd do if they encountered a Rohingya of their age."I'd kill him," said a boy of no more than 10. Last January, a Buddhist mob did just that, hacking 22 Rohingya—including five children—to death.
The Burmese government denies basic citizenship to the Rohingya, who are unable to vote and whose movements are strictly limited. Even Aung San Suu Kyi, Burma's revered Nobel Peace laureate who is now a member of parliament, has refused to take up the Rohingya cause, fearful of jeopardizing the chances of her National League for Democracy party in elections scheduled for this October. Suu Kyi refuses to even use the word "Rohingya" in public.
An Unwanted People
The Rohingya who flee Burma face severe limits on where they can go. Many attempt to migrate to Malaysia, a Muslim country whose developed economy faces a shortage of unskilled workers. Malaysia claims it has accepted over 120,000 Rohingya, but that it cannot take them indefinitely.
"What do you expect us to do?" Malaysian Deputy Home Minister Wan Junaidi Jafaar told The Guardian. "We have been very nice to the people who broke into our border. We have treated them humanely, but they cannot be flooding our shores like this."
Thailand, which faces a slow-burning Muslim insurgency in its southern provinces, also doesn't want more Rohingya. Neither does Indonesia. And unlike in Europe, where the Triton program involves search-and-rescue missions in the Mediterranean, no parallel institution exists in Southeast Asia.* Those Rohingya who are rejected from foreign ports are destined, then, to float indefinitely.
Little Help From the U.S.
On Saturday, the Malaysian government claimed that the ultimate responsibility for the Rohingya belongs to Burma, a country now opening up after decades of tyranny and isolation. But American advocacy for the Rohingya has also fallen short. President Obama has touted this Burmese perestroika as one of his administration's signature foreign-policy achievements, and became the first sitting American president to visit Burma in 2012. In the years since, the U.S. has made little effort to apply real diplomatic pressure on Burma. According to Kristof, Obama's criticisms of the country's human-rights record have been "pathetically timid." In a routine letter sent to Congress last week, Obama said he would maintain sanctions on Burma. But earlier this month, the administration welcomed a Burmese official known for his extremist anti-Rohingya views to Washington.
"In a statement released afterwards, the White House's press office even avoided using the word 'Rohingya,' apparently so as not to offend Myanmar," Kristof wrote.
Meanwhile the Rohingya themselves—persecuted at home and abandoned at sea—struggle just to survive.
---
* This article originally said that the Mare Nostrum program runs search-and-rescue operations in the Mediterranean. That program ended last fall and was replaced by Triton. We regret the error.
We want to hear what you think about this article. Submit a letter to the editor or write to letters@theatlantic.com.
Matt Schiavenza
is the senior content manager at the Asia Society and a former contributing writer for 
The Atlantic
.