A Second Earthquake Strikes Nepal
Weeks after a devastating mega-quake killed thousands, a 7.3-magnitude temblor hit on Tuesday.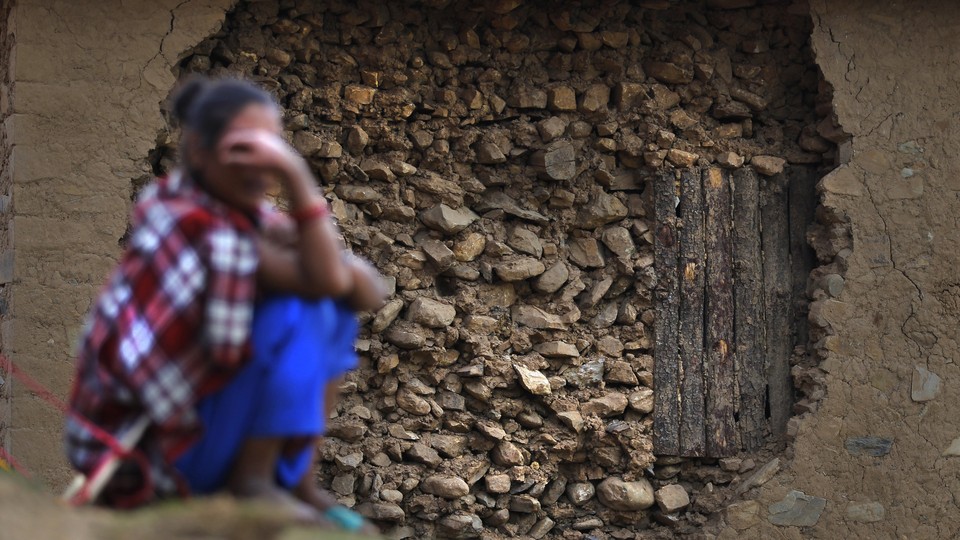 On Wednesday, rescue and relief operations continued in Nepal and northern India following Tuesday's 7.3-magnitude earthquake. The death toll rose to nearly 70 and many impacted by the disaster slept outside as aftershocks continued.
A Marine helicopter went missing on Tuesday while delivering aid supplies with six Marines and two Nepali troops abroad. There have been conflicting reports about its possible whereabouts and whether or not the aircraft has been spotted.
"The info we have is that it is down in one of the rivers, but none of the choppers has seen it yet," a Nepali military official told Reuters. "There are 400-plus of our ground troops looking for it also. By this evening, we might get it."
However, others contend that the helicopter's whereabouts are unknown and that reports of a crash are premature given that there is no sign of smoke or fire and that no emergency beacon has been detected.
"Essentially what we have right now is truly a missing helicopter," an American colonel told the BBC. "We simply don't know its location."
According to the Pentagon, the Marine helicopter reported "fuel issues" shortly before disappearing.
Updated 5/13/2015, 10:06 a.m.
---
Just weeks after a violent earthquake struck Nepal, a second temblor hit on Tuesday, killing dozens of people, triggering landslides and further stalling recovery efforts. The earthquake, which hit early in the afternoon, has injured more than a thousand people. According to officials, the death toll is expected to rise.
Where the Earthquake Struck
Tuesday's temblor struck near Namche Bazaar, a town near Mount Everest in eastern Nepal.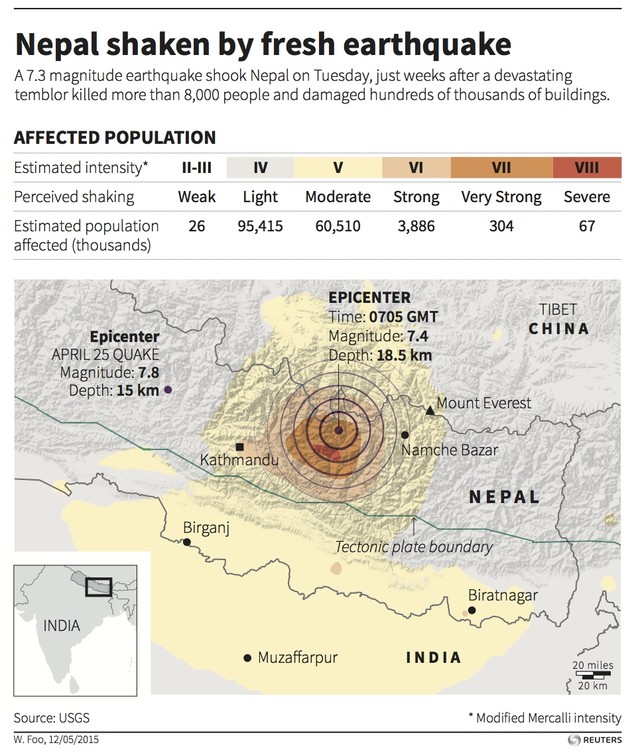 The earthquake appears to have struck at a deeper level (11.5 miles) than the previous one in April (9.3 miles); deeper earthquakes tend to cause less damage. According to the AP, heavy shaking was reported in northern India and tremors were felt as far as Lhasa, the capital of Tibet.
How Powerful Earthquakes Cause Other Earthquakes
It is not unusual for major earthquakes to generate aftershocks that would register as mega-quakes in their own right.
Writing in The Atlantic in February, Adrienne LaFrance noted how secondary earthquakes, which are technically aftershocks, can often be extremely powerful.
Much of what we know today about aftershocks emerged in the wake of the 9.2-magnitude Prince William Sound earthquake of 1964—often referred to as the Great Alaska Earthquake. After that earthquake, thousands of aftershocks were recorded over a period of years, according to the Seismological Society of America. There were a staggering 11 aftershocks above 6.0 magnitude in the first 24 hours after the quake—11 huge earthquakes in their own right!—and thousands of smaller aftershocks every single day for several weeks.
Tuesday's 7.3-magnitude earthquake in Nepal, while also technically an aftershock, will still register as one of the largest quakes in the country's history.
How Recovery Efforts Have Been Affected
This earthquake came as the Himalayan nation was steadying itself again after weeks of recovery and post-disaster assessment. Many homes and buildings that had been damaged during April's quake came tumbling down on Tuesday. Government infrastructure was also affected.
"At least 30 of the country's 75 administrative districts were affected, according to state-run Radio Nepal," The Los Angeles Times reported. "The quake caused the temporary closure of Katmandu's Tribhuvan International Airport, the hub for relief operations, and was felt as far away as New Delhi, 500 miles west of Katmandu."
One particularly cruel detail about Tuesday's disaster is that it came just as many people were returning to their homes for the first time. "I don't think anybody's going to be sleeping in their homes tonight," one emergency worker told The New York Times.