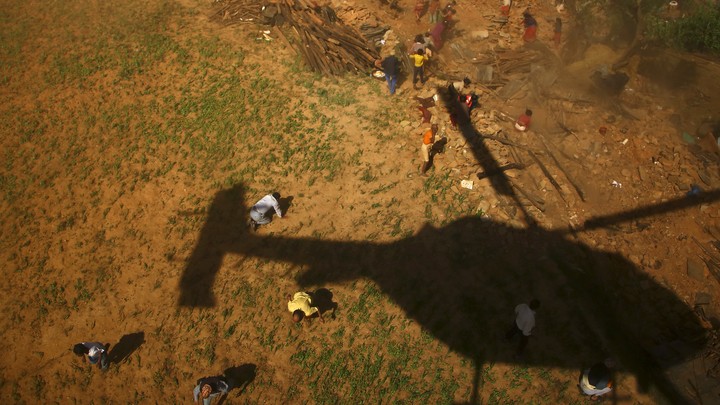 The wreckage of a missing Marine helicopter was found on a mountainside in Nepal on Friday, according to U.S. officials. The Huey had disappeared on Tuesday during disaster-relief operations in the wake of a 7.3-magnitude earthquake that struck Nepal earlier this week.
Six Marines and two Nepali soldiers were on board. "It was a very severe crash. We believe there were no survivors," said John Wissler, a Marine lieutenant general, according to Reuters. According to the Nepali defense secretary, three bodies were spotted amid the helicopter wreckage.
The presumed loss of the eight soldiers adds to a death toll from the latest quake in Nepal that eclipsed 100 earlier this week. A 7.9-magnitude temblor that struck Nepal in April killed more than 8,000 people, and the country remains on edge, with many citizens afraid to sleep in their homes.
The disappearance of the helicopter also diverted both manpower and focus from a recovery effort that has failed to match the country's needs. "So far, only 14% of the humanitarian aid sought by the United Nations for the relief effort in Nepal has been met," CNN reported, citing the United Nations. "That means only $59 million has been committed, of the $423 million requested."
Meanwhile, 600 Nepali soldiers were dispatched to aid in the search for the missing helicopter. "Two more U.S. Hueys, two MV-22B Osprey tilt-rotor planes and Nepali and Indian choppers had been involved in the search for the helicopter, which was part of a joint task force sent in by the United States to provide assistance at Nepal's request," Reuters noted.
On Friday, the U.S. president paid tribute to the six Marines who had been on the helicopter, praising them for representing "a truth that guides our work around the world: When our friends are in need, America helps."
We want to hear what you think about this article. Submit a letter to the editor or write to letters@theatlantic.com.
Adam Chandler
is a former staff writer at
The Atlantic
. He is the author of
Drive-Thru Dreams: A Journey Through the Heart of America's Fast-Food Kingdom
.