118 Degrees in the Indian Shade
Severe temperatures have reportedly claimed more than 1,100 lives across India. Why are so many people dying?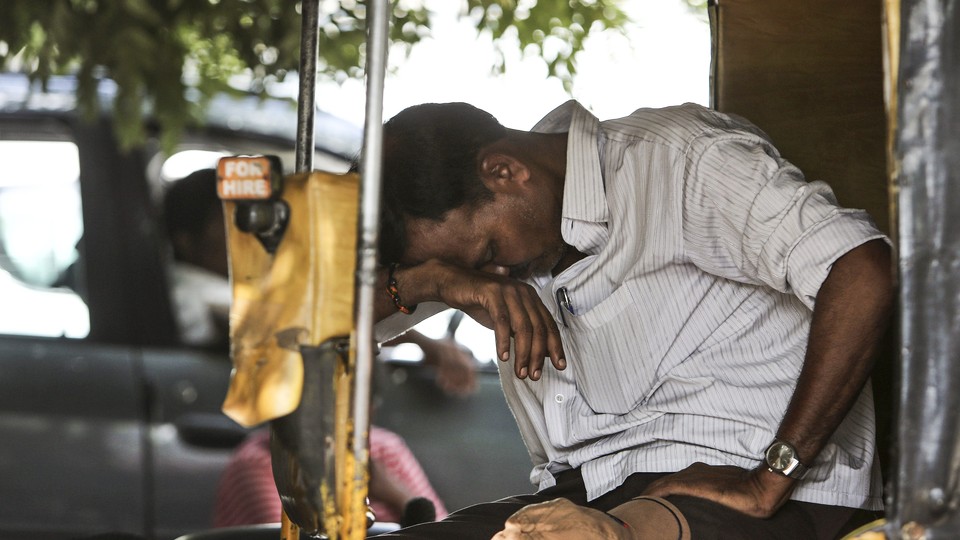 "The capital remained on the roast pit for the fifth straight day," The Times of India wrote Wednesday of New Delhi, which is in the grip of an unrelenting and deadly heat wave. The 113-degree high in India's capital might be considered a relief when compared to temperatures in Balangir District to the southeast, where temperatures peaked at nearly 118 earlier this week.
On Tuesday, AFP reported that the mercury went as high as 122 degrees elsewhere the country, causing the roads to melt:
Most of those deaths across the country have occurred in just the past week. "Experts say that hot conditions should not usually lead to this many fatalities," CNN noted. "But many of the affected areas in India are humid, which worsens the level of stress caused by excessive heat." CNN also said that upwards of 800 million people—roughly two-thirds of India's population—are already battling the extreme conditions without access to electricity.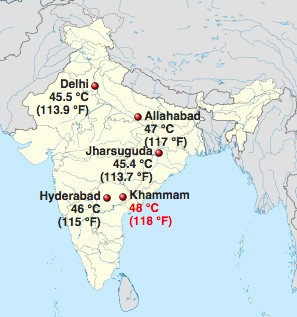 The Wall Street Journal placed the beginning of the catastrophe at the point "when cyclonic patterns of clouds and winds over the Bay of Bengal drifted away, bringing an abrupt end to pre-monsoon showers." That turned one of India's intermittent heat waves into a sustained one that has lasted now for weeks.
India's summer heat claims lives every year. But the duration of this heat wave, along with India's ongoing problems with infrastructure, power cuts, and some workers' reliance on outdoor labor to support themselves, have helped make this year's heat particularly deadly. "I get headaches, fever sometimes," one scrap collector told Reuters. "But ... how will I make money?"
The elderly and the poor are also particularly vulnerable. Those hospitalized with heat-related ailments in the southern state of Telangana, one of the worst-hit states, were "mostly elderly people, and those working or living out in the sun," one state official told The Wall Street Journal.
Temperatures in parts of the country hovered well into triple digits during the evening on Tuesday. In some parts of India, temperatures are expected to return to normal in the next few days. But for other parts of the country, there won't be a respite until next week.