Your Reactions to the Atlantic Redesign
Readers tell us what they like, dislike, and really dislike about the site's new look and feel.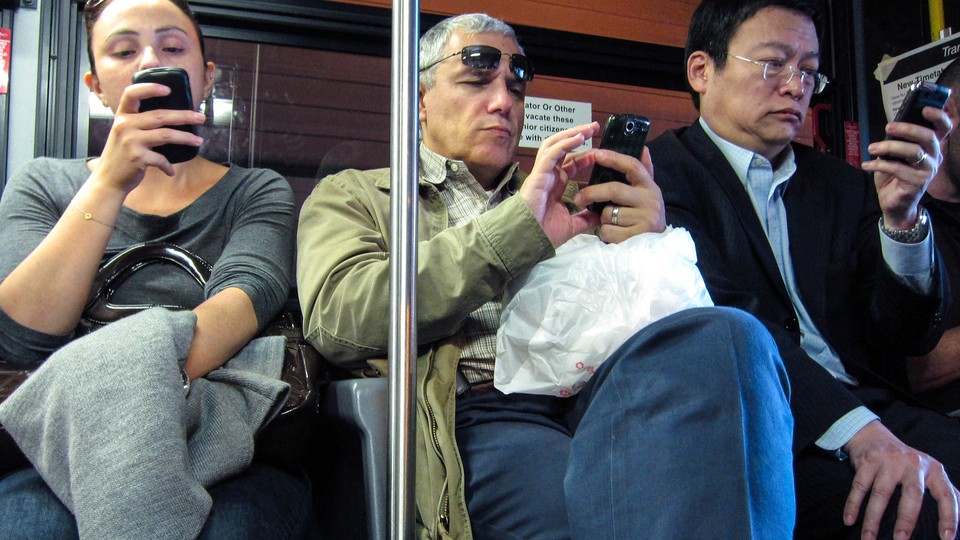 Many thanks to the hundreds of readers who used our new email address, hello@theatlantic.com, to comment on last week's redesign (introduced by J.J. Gould here). As The Atlantic's new editor of reader contributions, I culled from the inbox the most representative emails, edited for concision, and excerpted them below. (If you'd rather wade through the raw reaction in the comments section, here's the link—and a comparison of our new homepage to a "cancer.") A reader writes:
Hello, hello@.

Aesthetically, the layout of the new homepage is gorgeous. It's clean, uses up the right amount of space, and makes the photos (always a strong suit) the centerpiece. My one worry is that to get an "overview" of all the stories I missed during the past day or so, I have to scroll down for what feels a pixel mile. Which means, even over the past day and a half, I've later discovered stories squirreled away that I just hadn't scrolled to yet. I suspect I'll miss stories this way.
"Cumbersome, if beautiful" is how another reader puts it. A similar take:
Why does a "real-time magazine" require endless scrolling that—contrary to your intentions—doesn't prioritize anything but items at the top of the page? While this kind of layout might be good for a tech company, where layers of information help you digest the message, it's not so helpful for a news site, where you want to get a glimpse of the day's headlines. Now I'm forced to scroll, and scroll, and scroll to find what I'm looking for.

Sigh. I love The Atlantic, but I'm really not a fan of this new change—sorry!
Indeed, the most common criticism from readers—and most of the emails we got were negative—focused on the lower density of information on the homepage. But in fact, only 5 percent of visitors to The Atlantic come through that page, and three years ago it was 13 percent—the kind of precipitous decline that's now the norm in the news industry. And those Atlantic readers who did frequent the old homepage? They ignored a lot of it:
"There were like five different modules that people didn't click on," [Kimberly Lau, general manager of Atlantic Digital] said. As for the nav bar, she said, "It took up 200 to 300 pixels at the top of the page. What we found is, no one clicks on any of that stuff. We really took the opportunity to clear out a lot of the clutter."
The vast majority of readers visit the site through individual articles, mostly via Facebook—about 50 percent of overall traffic. And barely any of your emails were critical of the new look of those interior pages, which is a good sign for the overall readership. So what good is a homepage these days if only a tiny percentage of people use it for navigation? In Nieman Lab's review of our redesign, Joshua Benton tackles that question:
For many modern media sites, the homepage is as much a brand showcase as anything else. The Atlantic's old one looked like 50 pounds of modules stuffed into an 8-pound sack; it looked low-rent. The new one does a much better job of communicating a brand identity in that 10-second glance — The Atlantic is thoughtful, beautiful, and high-end. Sure, that may make The Atlantic seem less newsy to folks like me or those commenters above. But it also seems like a tradeoff that probably makes sense to make.
But back to your reviews:
What I love:

Interior pages
This is by far the best thing about the new site. I come to The Atlantic to read longer-form web content, and I usually read entire pieces without skimming. I love not having to click a link to read a "second page". I love the line height, the new font, and the lack of clutter on the page.

That damn carousel is gone
The #1 worst part of the old site was the carousel module on the homepage. I would have to fight against the auto advance just so I could read the teaser text. (I do miss that teaser text though. This isn't Buzzfeed or Upworthy. I actually want to see the substantive overview of the article before I click through.)

Most popular articles
Hats off to whoever designed the teaser style used by the "most popular articles" at the bottom of article pages. I love being able to start reading the article the moment I see it. And that fadeout! Good stuff.

What I am sad to see go:

Finding content is difficult
The homepage used to be dense with links. It was very easy to get an overview of what articles were ly available and skip over what I had already read or what I was not interested in. The new layout only affords a single article at a time, or maybe one teaser with a couple headlines.

The pictures are pretty but ...
There is a lot of nice photography featured on the homepage (and I love the "photos of the week" series), but I really come to the site to read the articles. So much of the homepage is taken up by images that I spend more time scrolling past them than reading the headlines.
A snarky reader makes that last point "with a picture, so you can understand it":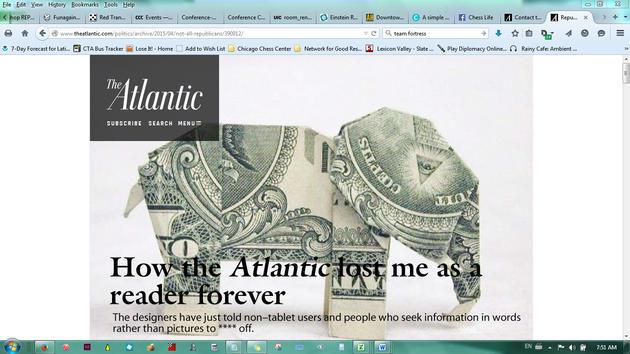 Another finds that "the big images take a long time to load." Likewise from this reader:
You have made everything very large, with big 'ol pictures that take up a lot of space and don't add a lot of information. It's probably just that I'm out of touch with modern internet. I don't use Twitter. I don't use Pinterest. I don't use Facebook. I just want to read interesting, topical articles and be able to navigate easily. I could do that on your old site, but not as easily on the new one. But I am probably not your target audience.
From that audience:
The new site looks better on a tablet. As someone who hates having to download "yet another app" just to read an online magazine, it works better there. It is nice being able to have a site that caters to touch screens. (But even then the site doesn't work; it is missing the inclusiveness that one wishes to get from a paper copy.)
Another reader adds, "It makes sense for mobile users, whom I suspect account for the majority of the site's users." Indeed, a growing share of you—nearly 55 percent—come to The Atlantic via mobile. A positive review along those lines:
New web/mobile layout = A+. I'm a journalism major at Northwestern and extremely passionate about the potential of online journalism. I really appreciate that The Atlantic is making a conscious effort to distinguish their web/mobile audience from its print audience, and that it's catering to the needs and abilities of these readers.
A punny reader gives us "mag respect" for the redesign. As does this one:
WOW! Absolutely beautiful, elegant, fast! The user experience (apologies for the jargon but I'm a developer) is fantastic.
The foremost expert on responsive web design actually gave us a shout-out on Twitter. More props from the inbox:
I like the redesign! I haven't seen any of those ads that open up in the middle of an article and start playing a video I do not care about. I would really appreciate never seeing one of those again. Thank you for trying something new. Even if it doesn't work long term (I think it will), you made this effort. It's a hard world to keep current in.
This reader is less impressed:
All these new site designs look the same now. Between your redesign, Bloomberg's, and WSJ's, the entire industry just followed the same pattern. They may be slick from a design perspective, but from a readership and/or information gathering perspective, they are terrible.
"I don't come here because I really love picture books," a reader grumbles. Criticizing the use of visuals is actually a long tradition among Atlantic readers, who in 1947 were outraged over this cover: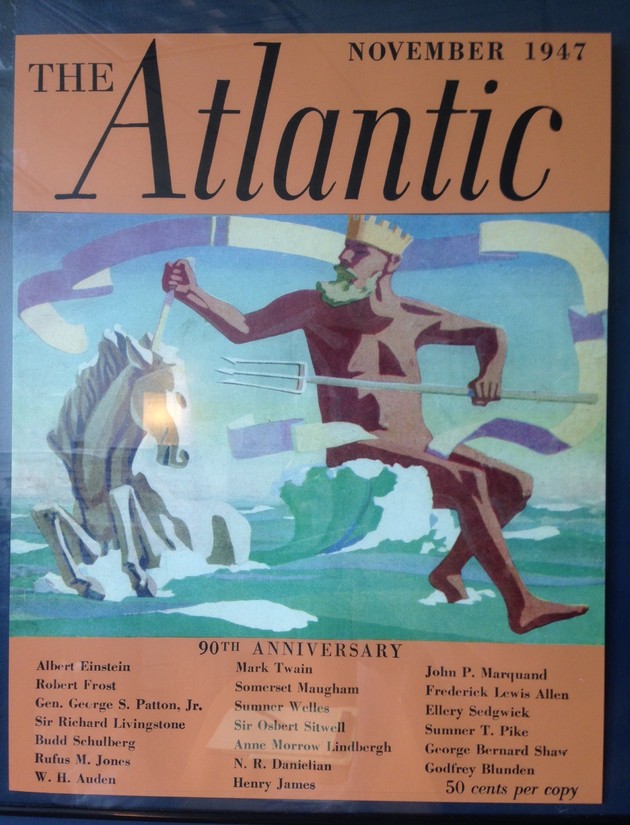 The problem wasn't a naked Poseidon:
NINETY YEARS PASSED between The Atlantic's founding and its first substantial redesign, in 1947, when the editors appalled some subscribers by replacing the table of contents they had usefully run on the cover with an image, a concession to commerce and the quickening metabolism of postwar newsstand browsers.
"A table of contents for the illiterate" is how one current-day reader describes the new homepage. The criticism continues:
While I understand your desire to group similarly themed stories together, I find it distracting and also confusing to have old stories have the same (or sometimes more) visual importance than articles that just came out. For example, two of the stories near the top of the homepage right now are about Amazon. One is from this morning, the other's from over six months ago. I understand what you're trying to do, but maybe it would make more sense to put the related stories on the new article's page in a "related" section instead of taking up valuable homepage space?

The old layout was boring and functional. The new layout makes me want to go elsewhere.
Another flight risk:
The Atlantic used to be a daily for me, but now it will have to become weekly or less, as I just don't have time to search all around to see what's going on. I will try subscribing to the new Atlantic Daily newsletter, so maybe that will solve the problem, and I won't have to visit the site except to read an interesting article mentioned in the newsletter.
Some more disoriented readers:
How to I find TNC, Fallows and Conor? I had a system, damn it—scan the 5 top stories, hit the contributors, check "In Focus" for new posts, and then hit the main article section to see if I missed anything that dropped since I last checked. Now I have to figure out a new routine. But you really have to pull the contributors to an easy-to-locate section near the top of the page—I'm going to scroll myself to death.
To prevent that fate, head over to our Writers page to find your favorites. Another reader sounds off:
The biggest issue with the new design is simply not being able to identify any new stories. Your old design allowed me to see at a quick glance if there was anything new on the site.
That's easy—just bookmark the Latest page to find our most recent articles, listed in reverse chronological order. And to find the most popular pieces at any moment? There's a page for that too. All of those pages—along with your favorite sections, from Politics to Culture to Health—are a quick click on the Menu in the upper-left corner of the homepage:
This reader squints:
The redesign looks good, and I'm pleased that it's relatively free from pop-ups, banners, and borders.  But why, why, WHY do so many web designers insist on killing users' ability to change the size of the font, as you've done here?
Another complaint:
It would be extremely helpful if you would return to labeling with "Magazine" any article online that also appears in the print magazine. These articles are always live on the website before the home delivery of the magazine, and I would prefer to read the articles in print, but I often "accidentally" read them online first. It's so frustrating to sit down with a latte and The Atlantic, only to realize I have already read half the content online.
Not to worry: Articles that appear in the print magazine have a label (e.g. "May 2015 Issue") just to the right of the author byline. Our last two readers take the opportunity to air a different kind of grievance:
This has nothing to do with the redesign, but I deliberately stopped subscribing to the magazine, online or print, when the moderation of the Disqus comments stopped. I don't want to sound over-the-top, but the way the commentary has been taken over by a half-dozen truly vile people prompts me to both avoid interacting with the article, the authors, and the other commenters, and to avoid sending money in to a magazine that does not respect its loyal readers. I know of no other way to signal to the management of the magazine that I cannot abide their decisions other than not pay for the service, as none of my emails are answered and the same vile people continue to disrupt conversations and post excremental statements.
Yeah, we hear you. Another email along those lines:
As a long-time reader and founding subscriber of Andrew Sullivan's The Dish, I've been fruitlessly searching for a replacement now that it's gone. (I'm also an Atlantic dead-tree subscriber.)  But TheAtlantic.com can't be that replacement without doing something with comments. I don't know what the economics are, but I do know that unmoderated comments tarnish your brand. Further, ignoring comments is a huge missed opportunity for both authors and readers. Either include worthwhile comments in follow-up posts, as Andrew and his team did so well, especially with pushback (Fallows does some of this, and all of your writers/editors should do more), or have authors moderate their comments (as TNC used to do).
I actually worked with Andrew for about seven years, as executive editor and co-owner of The Dish, where I was responsible for reading, editing, and posting the massive amount of email we got every day. (The Dish never had a comments section, for many of the reasons expressed above.)  Some of the blog's best content came from readers, so I know from experience that email tends to elicit the most substantive and civil commentary. But so few publications actually take the time to carefully edit and publish the best contributions from readers, instead relegating their voices to the bottom of the page, where the trolls patrol.
So here at The Atlantic, we will increasingly use our new email address to solicit all of your smartest, funniest, most thoughtful, most critical, most personal, and, above all, most publishable comments. We won't completely ignore the comments section—there are, in fact, many gems hidden among the ad hominem that we're planning to highlight. But the best way to see your writing appear on The Atlantic is via email, at hello@theatlantic.com. So keep the feedback coming.