What Does Europe Owe Fleeing Migrants?
While casting blame on people-smugglers for deaths in the Mediterranean, the continent's leaders have cut naval operations that saved lives.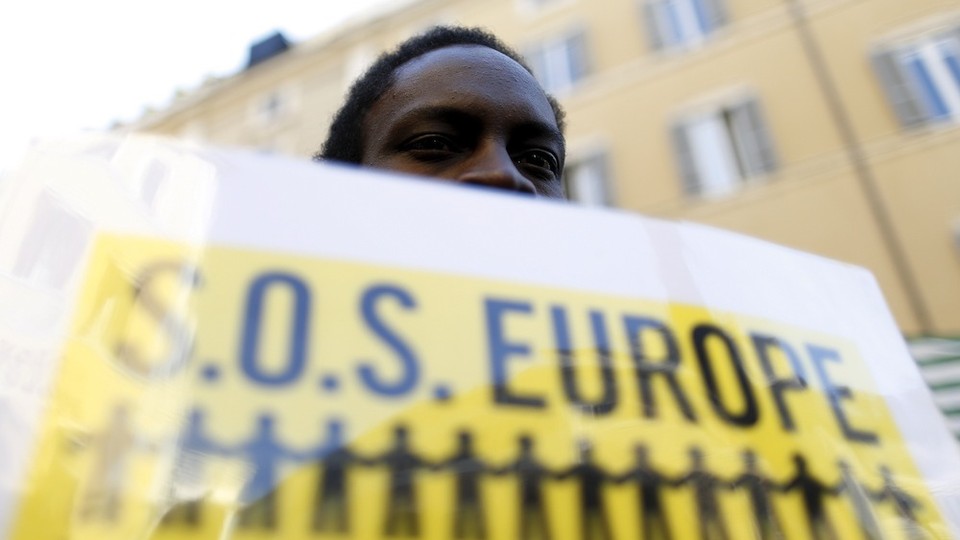 In the aftermath of Sunday's sea disaster, which killed more than 800 would-be migrants off the coast of Libya, European officials were quick to blame traffickers for recklessly crashing the overcrowded boat.
Speaking about the smugglers in a joint statement on Monday, three European premiers, Britain's David Cameron, Italy's Matteo Renzi, and Malta's Joseph Muscat, offered that the "highest priority has to be action to disrupt their activities." The reality is a bit more complicated.
Almost 2,000 migrants have perished in the Mediterranean while trying to reach Europe since the start of 2015, a staggering number when "compared to fewer than 100 deaths by the end of April last year, a period when a similar number attempted the crossing," reported Reuters.
What's changed? Mare Nostrum, the Italian search-and-rescue program that scanned the Libyan coast looking for smuggling ships, was scrapped last fall in favor of Triton, a comparatively meek (and cheaper) European Union program that patrols the waters near Europe. With traffickers sending migrants on boats not fit for sea and sometimes forcing passengers onto small rubber ships, the coasts of Europe rarely even appear on the horizon before tragedy strikes.
"We do not support planned search-and-rescue operations in the Mediterranean," Joyce Anelay, the British Foreign Office minister, wrote in October. In spelling out a policy that would cut funding to search-and-rescue operations, she cited "an unintended 'pull factor,' encouraging more migrants to attempt the dangerous sea crossing and thereby leading to more tragic and unnecessary deaths."
The pushback was immediate. "People fleeing atrocities will not stop coming if we stop throwing them life rings," said Maurice Wren, the head of the British Refugee Council. Human-rights organizations pointed out that Mare Nostrum had facilitated the rescue of roughly 150,000 people in just one year. "We cannot allow the Mediterranean to become a vast cemetery," implored Pope Francis in November.
Instability, war, and other violence are among the factors that have led thousands of asylum seekers and refugees to risk everything to reach Europe. According to a report by Arezo Malakooti, director of migration research at Altai Consulting, half of the migrant traffic to Europe last year came from Eritrea and Syria. Sunday's incident involved 350 Eritreans and a number of other people from sub-Saharan Africa as well as some Syrians.
Meanwhile, a renascent and destabilizing civil war in Libya has also catalyzed the movement of refugees. "A U.N. report in February cited Italian officials as saying that 85 percent of the 167,184 migrants rescued at sea in 2014 had originated from the Libyan coast," noted Borzou Daragahi at the Financial Times. An estimated 220,000 others made it to Europe by sea in 2014.
"I tell them its 95 percent sure that you will die," one Somali migrant who survived the journey said of his family members. But for some, those odds are good enough.