Trevor Noah's World
What makes The Daily Show's new host unique—according to South African comics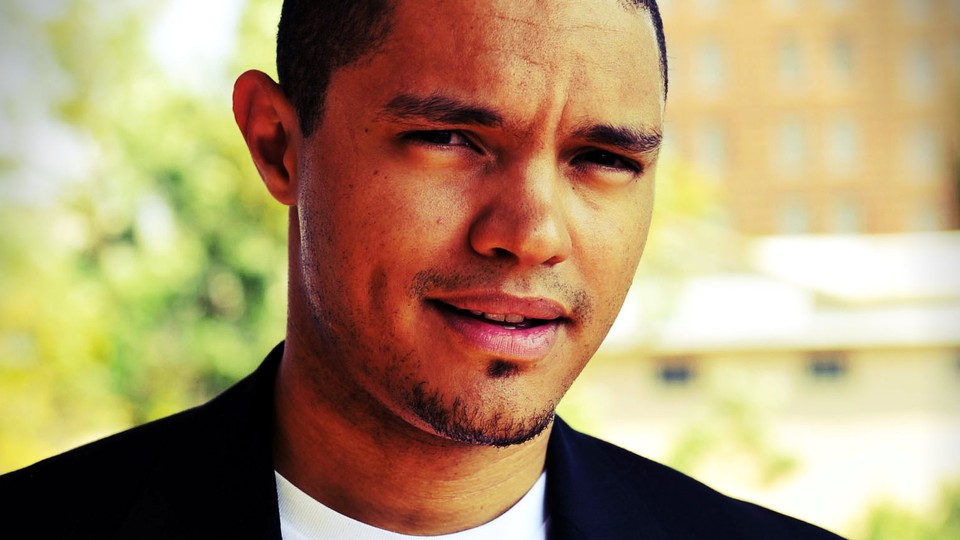 CAPE TOWN, South Africa—When word circulated on Monday that standup comic Trevor Noah had been chosen to succeed Jon Stewart as host of The Daily Show, South Africans hailed Noah in hyper-caffeinated terms as the country's "next great export" after Nelson Mandela, Desmond Tutu, and Charlize Theron. On that day, I happened to be in Johannesburg shepherding students through the newsroom of The Star, where the lineup of stories at the morning editorial conference included a series of firefights between gangsters and police on public highways, allegations of corruption at every level of government, and the teetering condition of the state-run utility company, which regularly plunges the country into rolling blackouts. It was no wonder that news of a major U.S. television show hiring a 31-year-old mixed-race South African phenom as anchor had proven so welcome.
By now, the basics about Trevor Noah are well-known. He's the young, super-cool comedian with the cherubic face and itchy Twitter finger who, beginning in 2012, achieved global recognition by way of Jay Leno, David Letterman, and Jon Stewart. In a series of solo performances around the world over the last three years, he has blown up in ways that cultural figures from South Africa haven't since the 1960s and 1970s, when musicians like Hugh Masekela and Miriam Makeba packed music halls during the height of racial oppression back home.
Noah is a post-Apartheid comic who specializes in mining material from melancholic episodes of his own harsh upbringing. His mother, Patricia, is a Xhosa-speaking black woman from Soweto township who fell in love with a white man from Switzerland in the early 1980s, a period when cross-racial romance was still illegal. Noah was born an outsider's outsider—a light-colored boy in a black community who had to learn to cross multiple lines of difference, including language, color, and culture. Noah put it to a documentary filmmaker this way: "I've lived a life where I've never really fitted in in any particular way. Even now, people still debate on what I am. People say, 'Oh you're black,' And then someone will turn around and say, 'But he's not black, he's coloured.' And then coloured people will say, 'But you're not coloured.' And then when you get older it's cool because you've lived everywhere and nowhere, and you've been everyone and no one, and so you can say everything and nothing and that's really what affects my comedy and everything I say." Perhaps his greatest strength as a comedian is his ability to serve as a translator across all these intersecting lines. In a polyglot world, he's made it his trademark to explain ourselves to one another.
In the days since Noah's appointment, on the airwaves and online, in casual conversations around Johannesburg and Cape Town, reactions have run the gamut from brimming pride to utter surprise, which turned to apprehension as the media in the United States and elsewhere latched onto some of Noah's past portrayals of African Americans and seemingly anti-Semitic, sexist, and otherwise offensive tweets.
The uproar over Noah's comments has been perplexing for South African comics steeped in the country's often sharp, scatological, and confrontational brand of humor—particularly since Noah's style is milder than that of many of his contemporaries. "The controversy just seems ridiculous from our vantage point," said Kagiso Lediga, a veteran comedian from Johannesburg. Noah has "always been the most clean, polite comic on stage. He's the one you'd take your mom to watch. He didn't use obscenities, and never used racist or sexist material in his act. Trevor was our cuddly guy."
Lediga grew up in the battle-scarred 1970s and belongs to a circle of mostly black comics who are edgier and more aggressive than Noah. He co-produces a popular Daily Show-esque program in South Africa with Loyiso Gola, whose known for taking the stage with brash authority, promptly dropping f-bombs, and regularly challenging the prejudices of his fans.
Noah's signature, in contrast, is to sheath his barbs and cushion the blow of his most difficult material with slow pitches, wide smiles, and shy shrugs. He delivers his lines in proper English (though he riffs on the six languages he speaks fluently), and dresses in stylish suits and impeccably polished black shoes. He isn't interested in blustery displays of machismo, or targeting audience members for insults and send-ups. Even his talent for mimicry is usually deployed for inoffensive purposes like invoking the voice of Mandela in a tender way (exceptions include his portrayal of privileged, witless, white American women and his devastating portrayal of South Africa President Jacob Zuma). In other words, Noah is a Boy Scout among lovable scoundrels. That might explain why his comedy has translated so well in Europe and the United States.
When I visited the Cape Town Comedy Club's Pumphouse one night this past week, I found several hundred people wedged in between a spare stage and a massive bar. The audience consisted mostly of South Africans, with a sprinkling of European tourists. Martin Evans, the white master of ceremonies, launched into an energetic and jittery routine, roaming the stage and pouncing on select audience members; he speculated repeatedly about the penis size of an 18-year-old Afrikaans-speaking white man from the rural Western Cape and needled a woman nearby for appearing to nuzzle her cell phone between her breasts. "I talk dirty for a living," Evans explained to the crowd. Nobody, black or white, was immune. When a white woman, seated at a table surrounded by black folks, told Evans that she and her friends were in the midst of a going-away party for Lucky, a black man, the comic upbraided her for presuming to speak for blacks in the new South Africa. "Lucky doesn't have to do fuck-all now because he's free of the clutches of your racist company!" he shouted, as she squirmed. Welcome to a post-Rainbow Nation discourse about race.
At the bar between sets, Evans told me that the comedy scene in South Africa had seemed "so fucking racist" just five years ago, but was now undergoing transformative change thanks to new talent. "In African humor, we don't get upset, or upset each other, by having any sacred cows," he noted. The new generation of South African comics, he said, traded in open, impolite talk about ethnic, cultural, and racial differences. Noah, he added, deserves his success, "but you also have to admit that American comics are quite boring now. Too timid."
What makes Noah's comedy unique? "He's slick as fuck!" Evans replied. "But also super charming," added the young comic sitting next to him. He was a slight, Afrikaans-speaking man named Schalk Bezuidenhout, who sometimes opens for Noah when he's performing in town. Only 22 years old—the same age as Noah when he jump-started his career as a comedian—Bezuidenhout had just come off stage after a set about the hazards of dating a flight attendant ("a non-smoking fuck") and the unintended consequences of imposing a non-racial ideal on young people from South Africa's 11 different language groups ("There's nothing more messed up than a bunch of Afrikaans kids singing an African song").
Both men said Noah distinguished himself from other comics by resisting labels and "genre-based comedy." Bezuidenhout noted that Noah always identified himself as a mixed-race South African raised in straitened circumstances in Soweto without "using it as a crutch." Contemporaries who have shared the stage with him say he's unusually attuned to the audience, shifting direction based on the feel in the room, and Bezuidenhout has seen Noah drop chunks of material based on the city he's performing in. This was a quality that a number of immigrants in South Africa had already mentioned to me. Omega Chembhere, a waiter, told me that when he had arrived from Zimbabwe 10 years earlier, much of South African pop culture had seemed inaccessible. "Trevor's different, so good at it," he said. "His strength is that everything springs from his experience in life, but you understand his reality because he makes an effort to explain."
Last up at the comedy club was a black comic from a small village in the Eastern Cape named Ndumiso Lindi. His round face was dominated by oversize black-framed glasses and split by a goofy smile, topped by a perky bowler hat. "So many white people in the front!" he exclaimed, blinking into the spotlight and backing away. Lindi told a story about being one of the first black students to integrate the country's best public schools back in the mid-1990s after Apartheid ended, and being subjected to sustained and vicious hazing from white students.
"At that time, my English was only at 40 percent and downloading," he said. The white students had screamed "Why are you here?" at their black peers, and one of them had told him, at the lunch table, that he was nothing but "shark shit." "Hm, I thought—that is so specific," Lindi said, letting the punch of the insult linger. His tormentor explained: "But sharks don't shit—so you are nothing. Nothing." The Pumphouse rumbled with nervous laughter, and the sound of chair legs shrieking on the floor.
Like many of those on stage that night, and on other stages all over the country, Ndumiso Lindi was rooting his performance in experiences of racial denigration and brutal violence and hardship—the kind of rough-hewn material that also inspires Noah (the difficulties that Noah's faced haven't been confined to his childhood; in 2009, for instance, his mother was nearly killed by her ex-husband, who threatened Noah as well).
It's damn hard for comedians to stay true to themselves and their history while creating humor out of such searing conditions. Harder still to translate laughs transmuted from this particular pain into universal terms. Fred Khumalo, the South African novelist and political observer, wrote me to say that Noah's "unique selling proposition," as they call it in advertising, is first and foremost that he does not pigeon-hole himself: his is not black humor or regional humor, a weakness among his contemporaries. Their gags are sometimes too parochial to be appreciated by the outsider—even if the outsider is black and South African.
Heading off for a job that no African has done before—hosting a prime-time satirical comedy show a continent away—represents a nearly impossible challenge (imagine the reverse for a moment: Jon Stewart looking for the right angle to take in a standup routine at The Pumphouse in Cape Town). But for Trevor Noah, this journey across borders and cultures isn't quite as daunting as the distance he's already traveled out of Soweto.