Saudi Airstrikes Intensify Yemen's Humanitarian Crisis
A renewed bombing campaign in the Arab world's poorest country is occurring amid dangerous shortages in fuel, food, and medicine.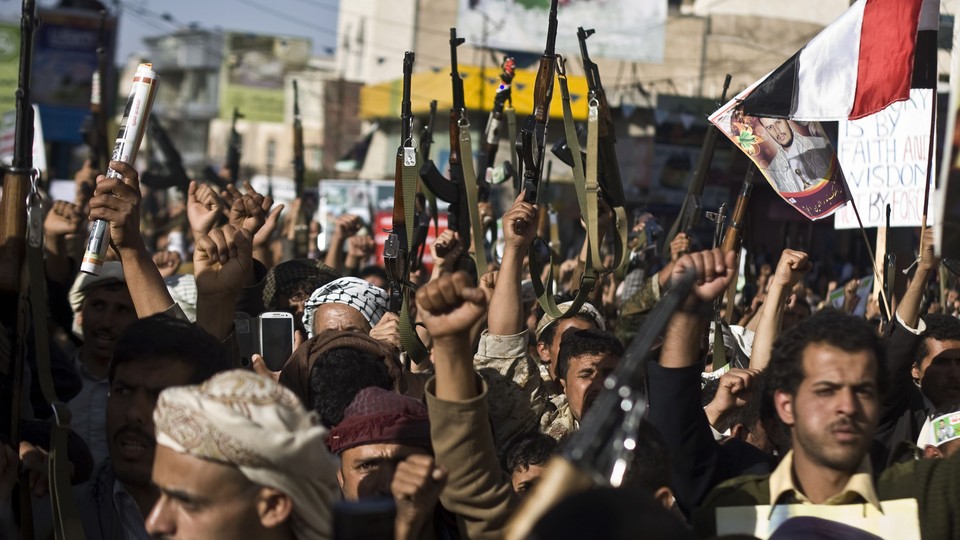 Claiming that it had "achieved its goals," Saudi Arabia announced on Tuesday that it would halt its air campaign against Yemen. But hours later, the bombing began anew. On Wednesday, Saudi planes struck a military base controlled by Houthi rebels in Taiz, Yemen's third-largest city, resuming a month-long campaign to uproot the Shiite group now in de facto control of the country. The stated goal of the Saudi campaign is to restore Abdu Rabbu Mansour Hadi, Yemen's exiled president, to power.
Yemen has been in crisis since last September, when the Houthis overran the capital city of Sanaa and placed Hadi under house arrest. In the ensuing months, the Houthis' control over Yemen's government, military, and territory has only grown. The group has received help from an unlikely source: Ali Abdullah Saleh, Yemen's former president and Hadi's predecessor, whose government led its own war against the group beginning in 2004. Saleh had relinquished power in exchange for immunity during the Arab Spring in 2012. He has since thrown his support behind the Houthis in an apparent attempt to regain influence in the country.
Complicating this internal dynamic is the rivalry between Saudi Arabia, the region's most important Sunni power, and Shiite Iran. Tehran claims that it has not provided military support to Houthis—but Saudi Arabia doesn't appear to be taking any chances and has implemented a blockade of Aden, Yemen's largest port city, to prevent Iranian ships from delivering weapons.
Yemen's fighting has displaced more than 100,000 people since last September; 944 people have died in airstrikes since the Saudi-led bombing campaign began in March. But these figures underestimate the true extent of the country's humanitarian crisis. The blockade—combined with Saudi airstrikes on oil-production facilities—has created vast fuel shortages in the country, preventing Yemenis who wish to flee from being able to leave their homes. Fuel shortages have also forced hospitals to curtail emergency and intensive-care services due to a lack of ambulances and unreliable electricity. On Tuesday, the World Health Organization warned that drastically reduced supplies of medicine have put Yemen's health services on the brink of collapse.
Saudi officials announced on Tuesday that its campaign—originally called "Operation Decisive Storm"—would enter a new phase called "Operation Restoring Hope," that emphasizes diplomacy, negotiation, and aid. But with the Houthis still in power, President Hadi still in exile, and more bombing on Wednesday, no relief seems to be in sight for Yemen's beleaguered population
"It's come to the point that we in Yemen may die just trying to get gas," Harazi, a minibus driver who lives in Sanaa, told the Washington Post.