'Saigon Has Fallen—Call New York'
The final hours of the Vietnam War through one reporter's eyes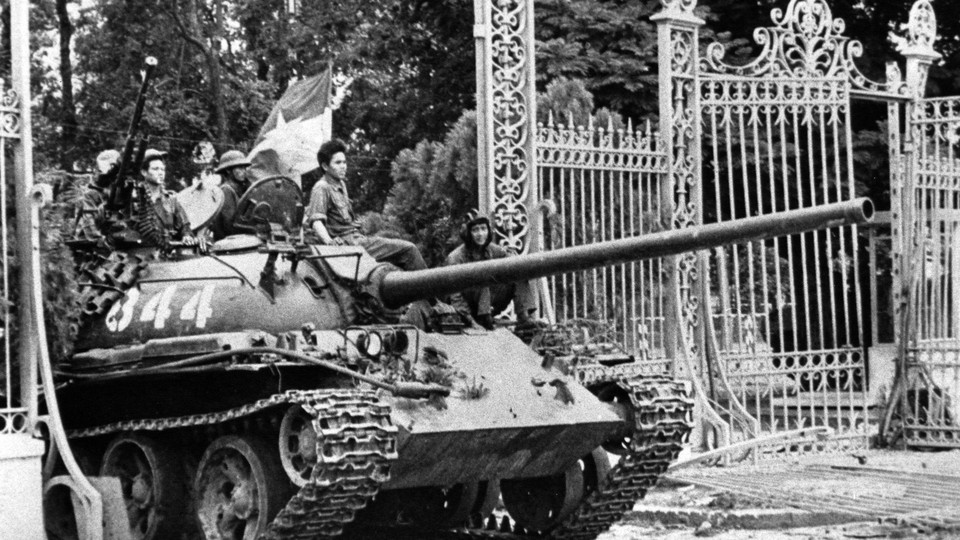 In March 1975, Peter Arnett was riding a bus down Fifth Avenue in Manhattan, devouring The New York Times's accounts of the gathering disaster in Vietnam. As a reporter for the Associated Press, Arnett had covered the war there for more than a decade, including the immediate aftermath of the American withdrawal from the country in 1973. He had watched the initial Marine landings in the spring of 1965, five months after President Lyndon Johnson had insisted in a speech that "we are not about to send American boys 9 or 10,000 miles away from home to do what Asian boys ought to be doing for themselves." By the end of the year there were some 180,000 U.S. troops in Vietnam, and more were on the way.
Arnett had sensed at the time, he told me recently—"and this is not Monday-morning quarterbacking"—that America was in for a difficult fight. And on the bus 10 years later, he sensed the end was coming. He had written thousands of stories—"literally"—about efforts by four American governments, and a series of South Vietnamese administrations, to keep South Vietnam independent and anti-communist. Thousands of young Americans and millions of Vietnamese had been killed. "And it was all coming to an end that would wipe away basically all that effort," he said.
So he went back to watch.
* * *
On April 30, 1975, the South Vietnamese government under President Duong Van Minh officially surrendered to North Vietnamese forces and set in motion the reunification of the country under communist rule. That event was the culmination of a 50-day offensive as North Vietnamese forces launched a surprise assault from the mountains on the Cambodian border, taking city after city from South Vietnam until their tanks finally rolled through the gates of Saigon's Presidential Palace. South Vietnamese soldiers, trained and equipped at enormous expense to the United States with the expectation that they could keep the U.S.-backed government standing after American soldiers left, fled toward the coasts on orders from their government.
Visiting the city of Danang in late March—South Vietnam's major northern city, and the same place where Arnett had first watched the Marines come ashore—he saw South Vietnamese "soldiers in their skivvies ... just walking around." They had arrived over mountain passes and by boat as communist forces had rolled through the northern quarter of the country and kept pushing south. Entire divisions of the South Vietnamese army had broken up. "They didn't have weapons. They had this lost look on their faces. ... And that sense of loss and fear just pervaded the whole city."
The fear and loss of morale in Danang was also present in other cities across the country. "My visit there was important for me because I saw how it happened," Arnett said. "Part of it was because of the propaganda that the communists would butcher a lot of people." He, along with a handful of other reporters, left Danang on a civilian jet back to Saigon; some desperate Vietnamese who tried to board were pushed off. It was, Arnett said, "an unhealthy, sad, sort of frightening feeling" to leave them behind. The reporters themselves "had no idea what would happen if at that point the army collapsed and the communists came in." Arnett was back in Saigon on April 29, when thousands more Vietnamese were trying to board the American helicopters ferrying U.S. citizens and Vietnamese refugees out as North Vietnamese troops made their final approach to the city. The last helicopter, in Arnett's recollection, left at about 4 o'clock the following morning.
Hours later, the announcement of surrender came over Saigon Radio in the form of a speech by President Duong Van Minh addressed to the communists rolling into the city. "We are here to hand over to you the power in order to avoid bloodshed," he said. Along with Arnett, AP bureau chief George Esper was one of the few reporters left to hear it. Many of the other journalists in Saigon had been evacuated via helicopter the day before. "Other news organizations ordered their reporters to leave"—as had the AP with most of its staff—"and I knew some of the reporters just didn't want to watch what was going on," Arnett told me. "They'd invested so much of their later years in predicting that the south would survive, that the fact that it was going to collapse was just too painful."
Esper wrote a bulletin and sent it to New York.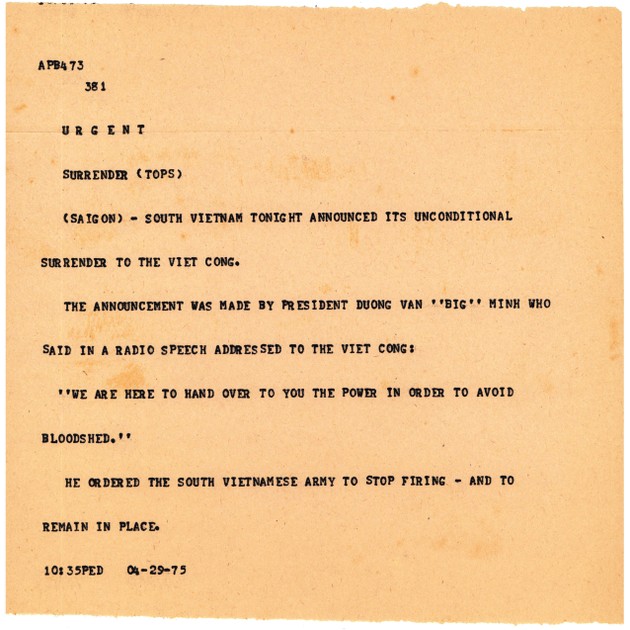 Outside in the streets, Arnett saw Russian-made trucks rolling through the city "loaded with young North Vietnamese in battle garb, their green pith helmets tilted back as they peer in wonder at the tall buildings they are passing, probably the first they'd ever seen," as he recalled in his new book, Saigon Has Fallen. He watched a separate set of soldiers, from the South Vietnamese military, strip off their uniforms and discard their weapons as they scampered away.
"I couldn't comprehend it," Arnett told me. "That I was seeing, I was seeing, this happening in a city that, to me—it had been inviolate forever. But when you consider the kind of effort that was put in to maintain the independence, this wasn't a place that was just thrown away. I mean right at the end, there was an enormous effort."
"And yet," he said of the communists, "here they were."
Arnett recalled locals standing around him, "mouths agape." He went back to the office. "I was just, I was sort of almost overwhelmed with feeling. ... And I'd never felt that way in my life before. ... But I was able to actually, you know, shout out to George Esper, our wonderful bureau chief, 'Saigon has fallen. Call New York.'"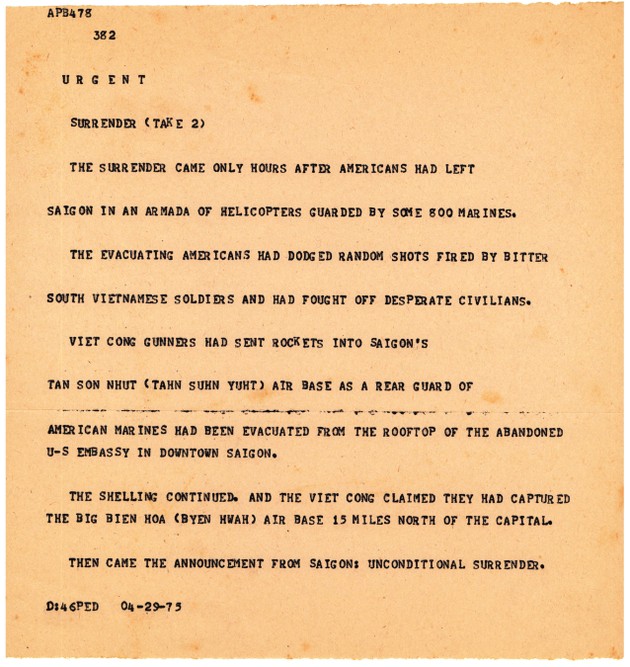 As Esper relayed what he had heard, Arnett wrote down what he had seen. When he finished his bulletin shortly before noon, he handed it to the telex operator, whom he described to me as a "beefy Vietnamese" named Tammy. Tammy had declined to be evacuated, and now he learned for the first time, from Arnett's bulletin, that communist troops were in the center of his city. "He clearly was not happy that his city was finally succumbing," Arnett said. Tammy sent the bulletin and left the office. Arnett never saw him again.
Later that day, two North Vietnamese soldiers visited the AP offices. Arnett found them, as he wrote in his book, "amiable, talkative, and appreciative of the snacks we [offered] them"—warm Coke and stale pound cake. "That," he wrote in a dispatch he composed that evening, "is how the Vietnam War ended for me today."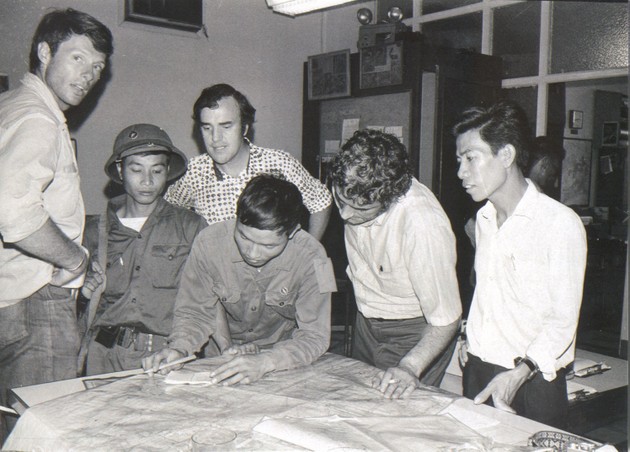 Before he had a chance to finish the piece, the AP lost its communications link to New York. "The new authorities [had] finally pulled the plug," Arnett wrote in his book.
"I [called] out to Esper, 'That's it, George. It's over.'"