When Is a TV Channel a Foreign Agent?
A Russian lawmaker thinks RT should register as a lobbyist with the U.S. government. Does he have a case?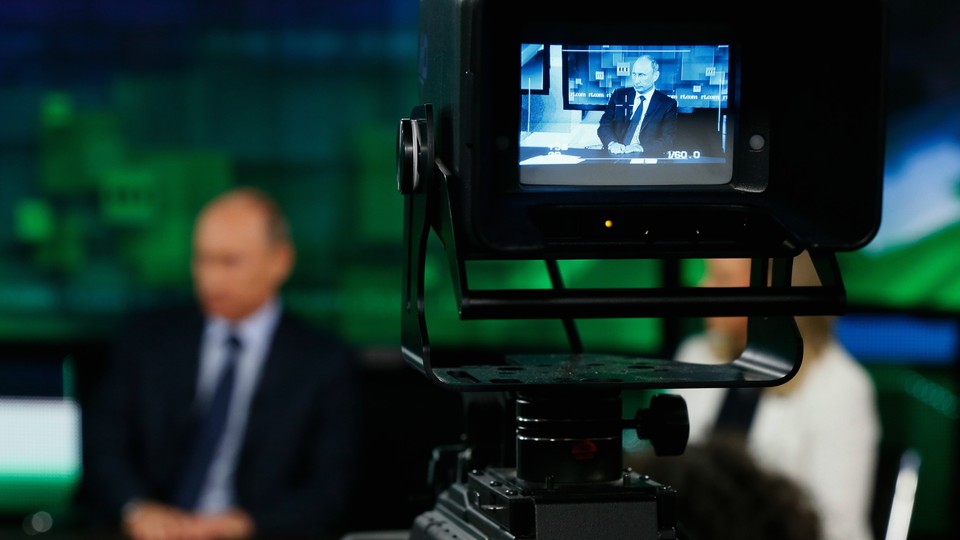 Where do the limits of a free press lie? If one were to ask Ilya Ponomarev, a member of the Russian parliament and the only lawmaker to vote against his country's annexation of Crimea, the answer might be at the doorstep of RT, formerly known as Russia Today. In a recent interview with BuzzFeed, Ponomarev—who currently lives in exile in California and was stripped earlier this month of his parliamentary immunity from prosecution, thereby exposing him to criminal charges and likely expulsion from the Duma—proposed that the flashy, Kremlin-funded international news network register as a lobbyist. "It's a great mistake that the west is doing, that it's acknowledging [RT] as a media tool. I think it's a lobbying tool and it should be regulated as a lobbyist rather than media," Ponomarev argued.
It was far from the first time that RT has been accused of being a mouthpiece for the Russian government. In fact, students at Columbia's School of Journalism, under the direction of professors Ann Cooper and Linette Lopez, have an entire Tumblr dedicated to tracking the controversy surrounding RT's reporting. But Ponomarev's comments did suggest that a debate about how to respond to news outlets like RT, already well underway in Europe, has reached the United States, where the network is available via cable (mostly in and around major metropolitan areas) and satellite TV, and online. BuzzFeed's Rosie Gray notes, for example, that the network has been subject to official investigations and threatened with sanctions in the United Kingdom—where RT is the fourth-most-watched 24-hour news station—for alleged bias in its reporting on the crisis in Ukraine.
RT "started out in 2005 by telling positive stories about Russian history and culture—no one cared and ratings were terrible," Peter Pomerantsev wrote last year in The Atlantic. "Gradually, RT changed its strategy, becoming a platform for Western conspiracy-theorists, far-right nationalists, and far-left radicals who sympathize with Russia. The formula works: RT claims that it now reaches more than 644 million people worldwide, and it can slip in messages about Kremlin policy between more popular programming." Operating with a budget that, at an estimated $300 million, rivals the BBC's, RT has translated that formula into a major online presence, including more than a million YouTube subscribers.
RT, for its part, claims that it "delivers stories often missed by the mainstream media" and "provides an alternative perspective on major global events, and acquaints an international audience with the Russian viewpoint."
In the United States, designating RT a lobbyist would involve invoking the Foreign Agents Registration Act (FARA), a law passed in 1938 to counter German propagandists operating in the United States prior to the Second World War. The statute's scope is broad, but in its most general sense, it is designed to identify any individual or organization that engages in political or quasi-political activities on behalf of a foreign government or organization. "Political activities" are defined as attempts to "influence any agency or official of the Government of the United States or any section of the public within the United States with reference to formulating, adopting, or changing the domestic or foreign policies of the United States," and include public-relations and publicity work.
With some exceptions, the act obligates organizations that meet this criteria to register as a foreign agent with the U.S. Department of Justice. Registration requires, among other things, the semi-annual reporting of the foreign agent's activities and funding, and a disclaimer on "informational materials" that "the information is disseminated by the agents on behalf of the foreign principal." Penalties for failing to comply can include a $10,000 fine or up to five years in prison (one of the more interesting applications of the law was its use in arresting Anna Chapman and 11 other members of a Russian spy ring in 2010).
Does RT fall under FARA's auspices? The statute explicitly states that its definition of a foreign agent does not include news or press agencies, but then goes on to say that the exemption only holds if the company is at least 80-percent owned by U.S. citizens and "not owned, directed, supervised, controlled, subsidized, or financed, and none of its policies are determined by any foreign principal …" Given that RT is funded by the Russian government and appears to lack full—if any—editorial independence from the Kremlin, the channel may not be exempt under FARA. Still, by my count, only four media organizations are registered under FARA at the moment: two Asian television networks and the distributors for two Chinese dailies.
Ed Wilson and Andrew Bigart, a partner and counsel at Venable LLP, expressed surprise that RT isn't registered under FARA. "We're saying to each other, 'Really, they're not registered?'" Wilson said. "I've seen their ads on the street—I assumed they fell under subsection c.1.ii [dealing with publicity agents]." (Justice Department officials declined to comment on RT's status in relation to FARA, and RT did not respond to a request for comment.)
Wilson and Bigart emphasized that FARA operates within an area of the law containing subtle yet significant distinctions, and that there could be a host of legitimate reasons why RT has not sought to register as a lobbyist and the Justice Department has not pursued the matter. Still, "looking at it on its face," they added, "it is probable that [RT] should be registered." Joe Sandler, a lawyer at Sandler Reiff Lamb Rosenstein & Birkenstock, agreed with Wilson and Bigart, saying that RT's reporting "raises a real question as to whether they should be registered." Based on his analysis, "the statute would appear to apply."
It's important to note that, were RT to be registered under FARA, the network would not be censored or banned in the United States. It's also unclear how the act's requirement of a disclaimer would affect the Russian outlet given that the network's primary format is video. China Daily, for instance, provides its disclaimer on its Facebook page and About Us page. TV Japan, on the other hand, has received a waiver for the disclaimer from the Justice Department on the basis that the company has not engaged in political propaganda. Regardless, registration would define RT as a foreign agent in the United States—a distinction that could make a difference in the ongoing media and information war between Russia and the West.
It's a struggle that Western leaders fear they're losing—particularly since the onset of conflict in Ukraine. "We are being outgunned massively by the Russians," John Whittingdale, chair of the British parliament's Culture, Media, and Sport Committee has observed. "It is frightening the extent to which we are losing the information war." In the United States, House Foreign Affairs Committee Chairman Ed Royce remarked, "Our nation is getting beat by Putin propaganda and our international broadcasting is floundering. It's unacceptable." Even NATO has expressed concerns about Russia "weaponizing" information.
In contrast to RT's inroads in the West, Western news outlets have been significantly curtailed in Russia. The closest analogues that the United States has to RT are Voice of America (VOA) and Radio Free Europe/Radio Liberty (RFE/RL), which are both government-funded news agencies broadcasting internationally, primarily via radio and online. Although both remain available online, the two networks' radio services are barely operational in Russia today due to intense political pressure from the Kremlin, according to RFE/RL's spokesman, Martins Zvaners.
The Russian government has increasingly tightened its grip on domestic and foreign groups that support the press through its own "foreign agents" law, and has extended censorship efforts to the web. Even CNN International, an organization in no way affiliated with a Western government, has been off the air in Russia for several months due to a foreign-media ownership law. (A spokesperson for Turner Broadcasting confirmed that CNN has yet to resume service in Russia, although the network will be returning to the country in the near future after complying with new regulations.) Only the BBC has maintained its presence in Russia, with its BBC Russian service reaching its largest audience since 2000, according to BBC spokesman Paul Rasmussen.
Ultimately, the central question for U.S. officials may be whether serving notice to Putin and his propaganda apparatus is worth sullying America's commitment to freedom of the press. Fred Schauer, a professor at the University of Virginia School of Law, told me that registering RT under FARA would not violate the First Amendment, mainly due to the Supreme Court's Meese v. Keene decision of 1987, which established that since FARA and its labeling of certain materials as propaganda neither "prohibits, edits, or restrains the distribution of materials," registration of media under the act is constitutional.
Even so, taking such a step could create an environment in which foreign media in the United States are, if not repressed, at least marginalized. Ann Cooper, the Columbia Journalism School professor who has monitored RT and was also formerly executive director of the Committee to Protect Journalists, rejected the idea of designating RT a lobbyist. "It's still regulation. Somebody still has to sit there and make the judgment … [that] this is a lobbying organization," she argued. "You don't want to get into a situation where you're trying to set up categories and define different news agencies and basically say, 'These ones are good, these ones are not.'" Instead, Cooper said, the U.S. government should let all voices be heard—and permit the public to decide who they want to listen to.
Besides, given RT's penchant for pointing out American hypocrisy, "U.S. Registers RT as Foreign Agent" is a headline that the Russian network would be all-too-proud to publish.