Nigeria's Violent Year Since 'Bring Back Our Girls'
Most of the 276 schoolgirls kidnapped by Boko Haram last April are still missing—and so are thousands of other women and children in the country.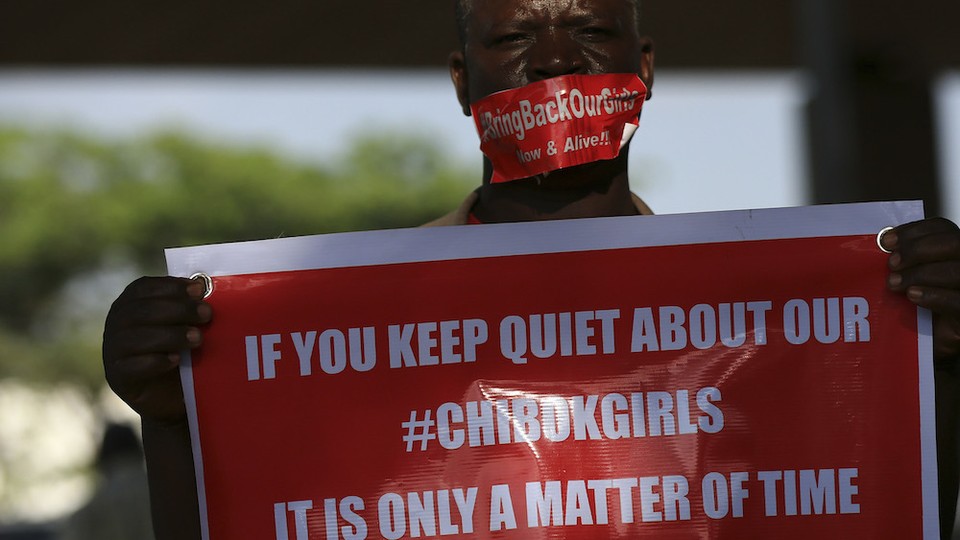 Last April, the social-media campaign #BringBackOurGirls helped galvanize international outrage about the plight of 276 Nigerian schoolgirls who were kidnapped from the village of Chibok by the Islamic terrorist group Boko Haram. One year later, 219 of them remain missing.
As that campaign joins Kony 2012 in the junkyard of digital activism, Boko Haram continues its campaign of violence. According to Amnesty International, the group has kidnapped 2,000 women since the beginning of last year, "forcing many into sexual slavery or combat," as Reuters noted.
Nigeria's deteriorating security was one factor in President Goodluck Jonathan's loss in the country's March presidential elections. But the incoming leadership can't promise that the young girls of Chibok will ever be brought to safety.
"We do not know if the Chibok girls can be rescued," president-elect Muhammadu Buhari said in a statement. "Their whereabouts remain unknown. As much as I wish to, I cannot promise that we can find them."
The problem is much larger than Chibok, however. Young men and boys have also been kidnapped, forced to join to Boko Haram, or killed for resisting. Fifteen thousand people have died in violence related to the group's insurgency since 2009, including in a reported massacre of thousands near the border with Chad in January. The civilian death toll since the start of 2014 alone has eclipsed 5,500.
According to a UNICEF report released this week, 800,000 children have had to flee Boko Haram's campaign, a displacement that will have generational reverberations. As NBC News noted citing a UNESCO study, "[f]ighting related to the group also has deprived children of access to education: 10.5 million children of primary school age in Nigeria are not attending school—the highest figure in the world."