The Earthquake Nepal Saw Coming
Political gridlock and substandard infrastructure left the country particularly vulnerable to devastation.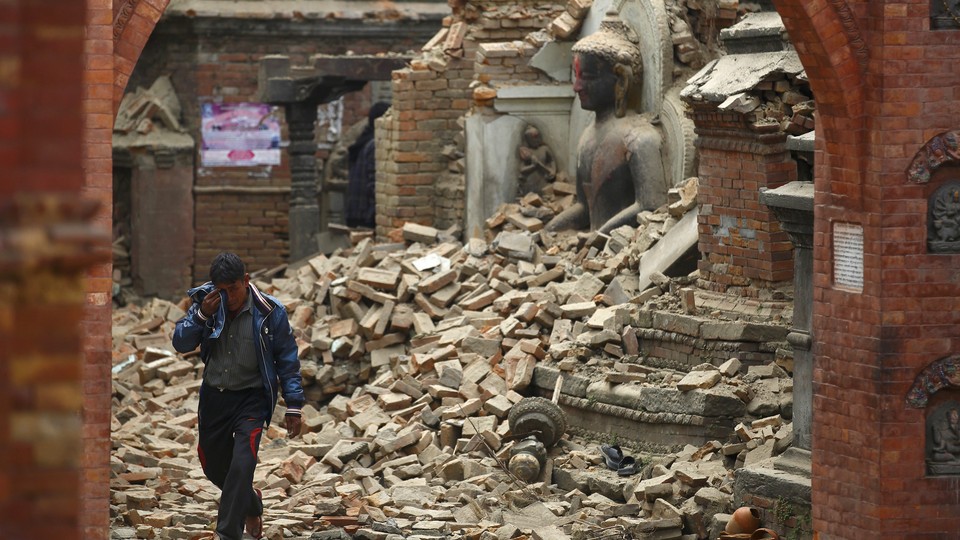 Hours after a major earthquake wreaked havoc across his country, Nepali Information Minister Minendra Rijal appeared at a news conference on Saturday to announce that schools would be closed for the next five days. "We never imagined we'd face such devastation," he said.
But for geologists, Saturday's disaster—which has claimed over 2,400 lives—was sadly predictable.
"Physically and geologically what happened is exactly what we thought would happen," James Jackson, head of the earth-sciences department at the University of Cambridge, told the Associated Press.
Blessed with stunning natural scenery, Nepal is a popular tourist destination that attracts hundreds of thousands of travelers each year. But the source of the country's beauty is what makes it particularly vulnerable to earthquakes. Much of Nepal's population lives in a valley beneath the Himalayas, a mountain range formed by collisions between the Indian and Central Asian tectonic plates. These collisions—which occur when the Indian plate slides underneath its much larger neighbor—are what cause earthquakes. According to The Washington Post, a chunk of the earth measuring 75 by 37 miles shifted 10 feet in 30 seconds on Saturday, destroying much of what lay atop the surface.
Earthquakes are endemic to Nepal because of this geology, and major tremors occur roughly every 70 years. But Nepal's socioeconomic situation is what made Saturday's quake so deadly. One of Asia's poorest countries, Nepal is also one of its most rapidly urbanizing—the population of Kathmandu, Nepal's capital, grows by 6.5 percent each year. Many newly urbanized Nepalis live in hastily built structures that lack adequate protection from earthquakes, and much of the city's existing housing stock was constructed before building codes were established. The collapse of these homes drives up casualty numbers. According to the U.S. Geological Survey, an earthquake of similar magnitude in California, a developed region that enforces strict building codes, would be as much as 100 times less fatal.
Nepal has adopted some measures to educate its population about the risk of earthquakes. But political gridlock has prevented greater progress. A bill to set up a Disaster Risk Management Commission is stalled in Nepal's parliament and, according to the Nepali journalist Kunda Dixit, emphasizes post-disaster relief instead of preventive measures. Building codes are only intermittently enforced, and developers often balk at paying extra for earthquake-proof materials. And in a country plagued by poverty and political instability, earthquake preparedness is not always a top priority—even when the government knows that a major disaster is imminent.
"They knew they had a problem but it was so large they didn't [know] where to start, how to start," Hari Kumar, Southeast Asia regional coordinator for Geohazards International, a group that works on worldwide quake risks, told the AP.
The scope of Saturday's disaster means that recovery, not prevention, will dominate Nepal's agenda in the months and years ahead. But as the country rebuilds, its mission will be to ensure that the next major earthquake—whenever it occurs—will be far less deadly.