More Than a Handshake?
Barack Obama is likely to greet Raul Castro soon at the Summit of the Americas in Panama. But it's unclear how substantive that interaction will be.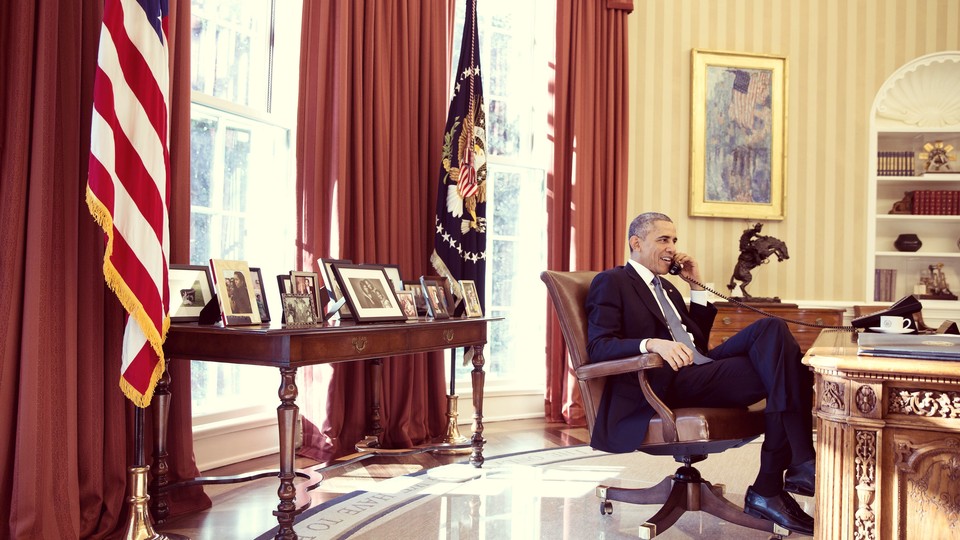 As the two-day Summit of the Americas kicks off in Panama, there is a high likelihood that U.S. President Barack Obama and Cuban President Raul Castro will at least shake hands, if not hold substantive discussions. The two have not met in the four months since Obama made the surprise announcement that he would seek to normalize ties with Cuba.
"It will be one of the few times that the two countries' leaders have shared any stage since Dwight D. Eisenhower and Fulgencio Batista met—coincidentally, also in Panama—in 1958," Jon Lee Anderson wrote at The New Yorker, "and it is poised to be the most significant interaction."
On Friday morning, a White House official confirmed "that President Obama spoke with President Castro on Wednesday, before President Obama departed Washington." As milestone-watchers noted, it was only the second phone call between American and Cuban leaders in 50 years. The two also briefly shook hands at Nelson Mandela's funeral in 2013.
As the two countries move toward better relations, one major benchmark could be an American decision to remove Cuba from its list of state sponsors of terrorism. "Such a move could pave the way for the two countries re-opening embassies," noted the BBC.
While the State Department has recommended that Cuba be removed from the list after more than three decades, President Obama didn't signal that a decision was immediately forthcoming on Thursday, though he said of the the list:
We want to make sure that given that this is a powerful tool to isolate those countries that genuinely do support terrorism, that when we make those designations we've got strong evidence that, in fact, that's the case.
How Much Progress in Cuba Has Been Made?
Anyone looking for signs that Cuba has opened itself up since December will see them. There have been reports of growing access to high-speed Internet in the largely disconnected country as well as a surge of direct flights from American destinations to Havana.
Last month, TBS late-night host Conan O'Brien filmed a special from Cuba. Major League Baseball even briefly flirted with hosting a few spring training games in Havana.
Nevertheless, between decades of estrangement and the existing trade embargo, the two countries are still a long way from peanuts and Cracker Jack.