Migrant Deaths and 'Reckless Multiple Homicide' Charges
Mohammed Ali Malek, the captain of a ferry boat that capsized on Sunday, has been arrested for his alleged role in a disaster that killed hundreds of migrants.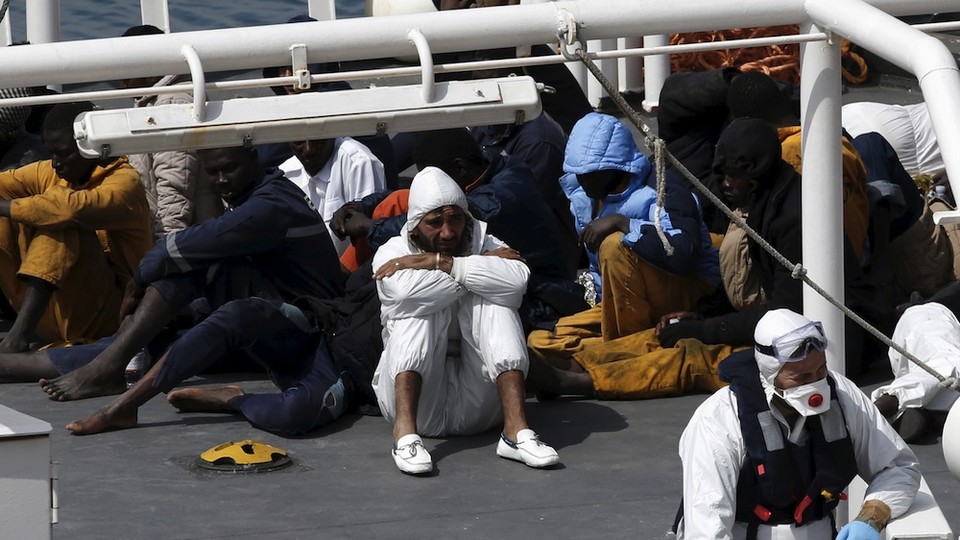 On Tuesday, Italian authorities arrested Mohammed Ali Malek, captain of the 66-foot boat that capsized off the coast of Libya on Sunday, killing over 800 migrants seeking refuge in Europe. Malek and Mahmud Bikhit, a fellow crew member, will reportedly face charges including reckless multiple homicide and engaging in illegal human trafficking.
More Details About the Fatal Accident at Sea
The horrifying deaths of hundreds of would-be migrants, widely characterized as the deadliest shipwreck on record in the Mediterranean, occurred after the boat they were in rammed into the King Jacob, a Portuguese container ship, that had responded to a distress call. (In a separate incident Monday, another migrant ship sank near Greece, reportedly killing three.)
According to accounts given by the disaster's few survivors to local authorities and international organizations, the migrants had been locked in the hold when the boat capsized. Malek has been accused of steering recklessly in the boat's final moments.
"Prosecutors in Italy are investigating what caused the sinking, including whether the vessel capsized after the migrants rushed to one side of the ship," The New York Times reported.
Few Survivors Out of 850 Passengers
"Only 28 people are known to have survived the shipwreck, including a young man from Bangladesh who was transported by helicopter to a hospital in Catania, Sicily, on Sunday, and 27 people disembarked by the Italian Coastguard in Catania last night [Monday]," the United Nations High Commissioner for Refugees said in a statement.
Among the dead were 350 Eritreans, would-be migrants from a number of African countries, and a number of Syrians.
Europe's Response
As demonstrations expressing support for migrants took place in a few European countries, the European Union released a "ten-point action program on migration" following a meeting of ministers in Luxembourg on Monday. The plan includes a boost in resources for rescue operations in the Mediterranean as well as a more concerted effort to crack down on smuggling infrastructure, including boats and funding.
"Twenty years ago, we and Europe closed our eyes to Srebrenica," Italian Prime Minister Matteo Renzi said in a press conference on Tuesday, referring to the 1995 massacre of Bosnian Muslims in that city. "Today it's not possible to close our eyes again and only commemorate these events later."