British Politics Is Now Playing Out in Russell Brand's Kitchen
Hopes weren't high for Ed Miliband when he agreed to be interviewed by the comedian, but the Labour leader may be savvier than he seems.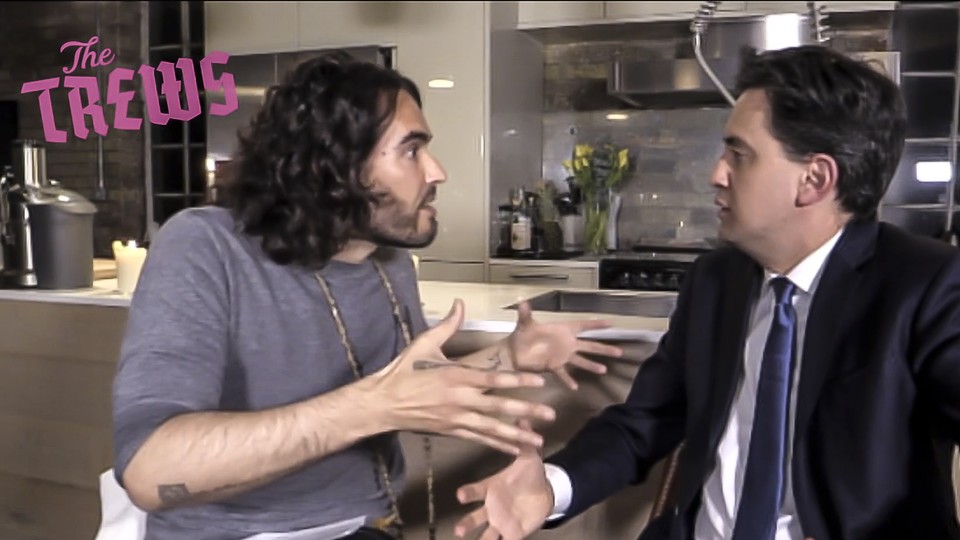 In Britain, comedy and politics have traditionally been enthusiastic, if unpredictable, bedfellows. From 1984 to 1996, the satirical puppet show Spitting Image offered unflattering impersonations of characters including Margaret Thatcher, Ronald Reagan, John Major, and the Queen; and the 25-year-old weekly panel show Have I Got News for You has been guest-hosted by a broad range of politicians, including London Mayor Boris Johnson (four times), House of Commons Leader William Hague (three), and former Foreign Secretary Robin Cook (just the once). It could be argued that the style of parliamentary debate embodied in institutions like Prime Minister's Question Time requires particular skill with improvisational comedy, which possibly sets British politicians up better than their American counterparts when it comes to embracing the genre.
The interview Ed Miliband gave to Russell Brand earlier this week, however, is different. For one thing, Brand isn't a comedian these days so much as a garrulous, self-appointed spokesperson for "the people"—one who has published a book
detailing his manifesto for revolution
(titled
Revolution
) and declared publicly over and over again that voting is a waste of time. Miliband, by contrast, is a politician who's worked for the Labour party in some capacity or other since 1994, and who's hoping to counter voter apathy on May 7 to the extent that he's elected prime minister. News of the interview leaked on Monday after a neighbor of Brand's spotted Miliband leaving his property, and the full 15-minute footage, exclusive to Brand's online news show,
The Trews
(short for The True News), was released Wednesday.
The British press pounced on the prospect of the interview, dubbed #Milibrand. "Do you really want this clown ruling us?" asked the Daily Mail next to a picture of the pair, noting helpfully that the headline referred not to Brand but to Miliband, caught mid-talking point with his face unfairly contorted. "Red Ed & Brand talk total ballots," read the front page of the Daily Star. "Monster Raving Labour Party: 'Mockney' Miliband cozies up with Brand," said The Sun, referring to the Monster Raving Loony Party, a long-cherished but chronically unsuccessful British political institution. The consensus seemed to be that Miliband was pandering to Brand and his 1.09 million YouTube subscribers, making himself look desperate and diminishing British politics in the process.
Luckily for Miliband, the dignity of British politics already hovers somewhere between Rupert Murdoch's Twitter account and Kim Kardashian's state visit to Armenia, so there wasn't far for it to fall. And judging by the interview itself, the move seems to have been a shrewd one for the Labour party leader, who manages not only to counter Brand's repeated assertion that politics is pointless, but also to seemingly persuade the 39-year-old activist that he gets it, whatever "it" is. "I think he understands the way the country feels," says Brand in an editorial at the end, which is one of the more powerful endorsements to come out of the current election.
Throughout the interview, Miliband challenges Brand on his assertions about voter apathy. "That's totally wrong," he says, after Brand asserts that no meaningful change has ever come from people voting, citing the National Health Service, the Equal Pay Act, and gay rights as products of the democratic process. "Progress comes through people demanding change, politics responding, not all the way, and people pushing for that change to carry on." He also does a good job of wrangling meaningful responses out of Brand's repeated interjections about "powerful elites," stating that he believes the country should be run by and for "working people," and that bailing out the banks preserved the savings of ordinary citizens as much as it helped the finance industry.
That's not to say the footage is entirely cringe-free. Miliband, who seems by all intents and purposes to be a decent person, is also unfortunately often
extremely awkward in his manner
, and the British press naturally isn't inclined to let him forget it. The charge by the
Daily Mail
that he adopts a "mockney," or "mock cockney," accent to make himself more palatable to ordinary people is shown to be not entirely unfair. "We don't want politicians saying, 'Vote for me,' and on day one the world is transformed … it ain't gonna be like that, it ain't," says Miliband at one point. At another, he seems to wholeheartedly ape the success of a certain American politician when he states, "It's about how do you make practical change happen, practical change that people can believe in."
Assessments of the interview seem to have predictably divided along partisan lines. The left-leaning
Guardian
declared that Miliband's decision to do the interview "
has been 100 percent vindicated
," while the right-wing
Spectator
stated that the interview is "
unenlightening
," and that "Brand comes across as the mad man cornering the boring person in a pub because he thinks he might agree with him." But almost everyone agrees that Miliband has escaped unscathed, even if he's demeaned himself in the eyes of some by meeting with someone whose views are hailed as brilliantly insightful by his fans and incomprehensibly bonkers by his detractors. By doing no harm to his campaign, and exposing himself to a wide range of younger voters, perhaps Miliband is a savvier political operator than he's given credit for.