The Sound of an Avalanche
A journalist recalls what he heard on Everest on Saturday.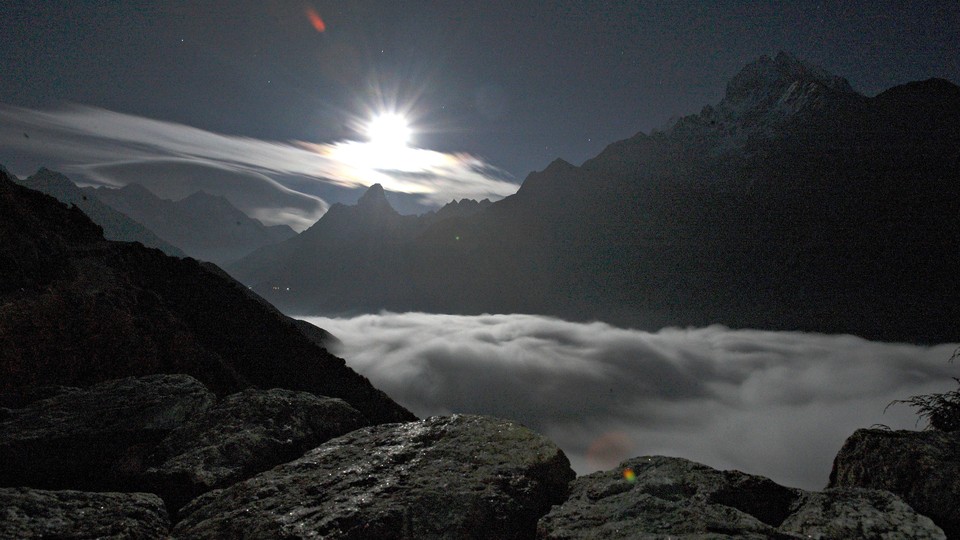 Thomas Martienssen of the BBC arrived at Mount Everest's base camp in mid-April, intending to stay on the mountain for six weeks covering the climbing season. A year after 16 Sherpas died in an avalanche—in what was until Saturday the deadliest incident in the mountain's history—Martienssen aimed to show exactly how tough the climb was. "It's not, kind of, you know, the rich man's plaything," he told the BBC on Tuesday. "It's an incredibly difficult mountain to climb."
He had just made it over the Khumbu Icefall—a perilous frozen wall where house-sized chunks can fall off or crevasses can open up without warning—to Camp 1, which sits at an altitude of about 19,500 feet. As he was getting ready for bed, the avalanche triggered by Saturday's earthquake in Nepal swept down the mountainsides.
Hearing it, and surrounded on three sides by mountains with the Icefall behind them, Martienssen and the other members of his expedition were convinced that they would die. Camp 1, he told the BBC, is "generally one of the least stable camps—it's been wiped off the mountain a few times by different avalanches."
"On all three sides, it sounded like, when you're in the pub, and someone presses the button on a pool table to release the balls, and the balls fall together and hit the bottom—it was like that, but a million times louder. ... And then you get this rumble, this deep rumble coming towards you," Martienssen told the BBC. He didn't know that there had been an earthquake, or where the rumble was coming from. "It sounded like it was coming from everywhere, which, effectively, it was."
The avalanche spared Camp 1 for the most part, but obliterated much of Everest's base camp—which sits in what has traditionally been a less dangerous zone 2,000 feet further down the mountain—killing 18 people. As Quartz's Svati Kirsten Narula explained in The Atlantic last year:
The most dangerous steps on Everest are taken between 18,000 and 21,000 feet, and they're steps that many Western climbers are actually able to avoid—thanks to the Nepalese Sherpas they hire to help install fixed ropes, carry gear, and break tracks on the route to the top.
It's not yet clear how many Sherpas were killed in this year's avalanche, but the avalanche's location meant that it did not spare wealthy foreigners either. Martienssen himself, a former soldier and war correspondent who has previously faced gunfire and explosions, said that he had never been as close to death as he was on Saturday. "I along with everyone else on the expedition had pretty much decided we were going to be hit by an avalanche, we were going to be killed. And then finding out that the one safe haven on the mountain—base camp—the one bit that you can always go back to and rely on, had gone—it's just devastating."