Al-Shabab's Deadly Resilience
Despite territorial losses and leadership assassinations, the Somali terrorist group remains a potent threat to civilians.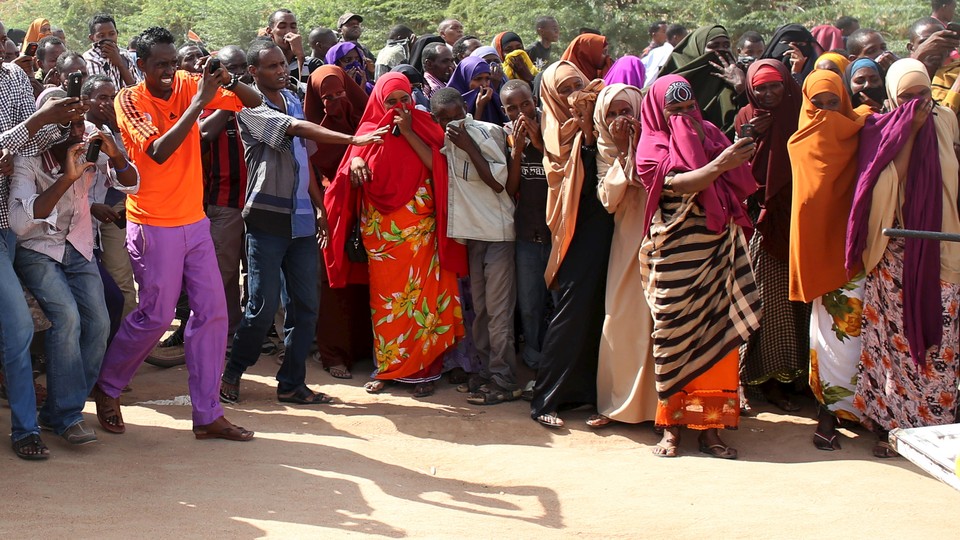 Last Thursday, a handful of armed men affiliated with al-Shabab entered a dormitory at northeast Kenya's Garissa University, executing 147 Christian students before government forces soldiers arrived on the scene. The massacre—the country's worst in 16 years—raised Kenya's death toll from al-Shabab attacks to over 600 since 2012, prompting renewed concerns that the Somali terrorist group operates with increased impunity. Last week, al-Shabab pulled off a deadly attack and occupation of a Mogadishu hotel that took 17 lives.
Condemning the massacre in Garissa, President Obama said Kenya—where he is scheduled to visit later this year—would not "be intimidated by such cowardly acts." But an anonymous White House official told the Washington Post that al-Shabab's attacks are a sign of the group's weakness, not its strength.
"They are desperate," the official said. "And as much as we hate to think about it, this is what desperate groups do."
Al-Shabab—a formal ally of al-Qaeda—assumed control over vast swathes of Somalia after 2006, when an Ethiopian invasion overthrew the existing Islamic Courts Union government. Ever since, Western and African leaders have based their strategy against the group on recapturing territory and assassinating al-Shabab leaders. Both strategies have, by and large, worked. Military action by the African Union Mission in Somalia, a multi-national group charged with protecting Mogadishu's fledgling government, has wrested control of important cities, such as Kismayo. The U.S. has launched a series of special operations raids and drone strikes against important al-Shabab figures such as supreme leader Ahmed Abdi Godane, killed by a strike last September.
"Al-Shabab has been unraveling for years," wrote terrorism analyst Peter Bergen at CNN. "Thursday's attack should remind the world that the group is a pale shadow of the organization that once dominated much of Somalia but now is reduced to high-profile attacks against undefended civilian targets."​
Attacking civilian targets, however, doesn't make al-Shabab any less dangerous. Fighters who once formed the core of the group's fledgling Somali state have now retreated into the population, organizing blockades of goods and targeting government leaders. Al-Shabab retains significant support from clan leaders across Somali society, and the group continues to recruit fighters from neighboring countries.
Kenya is particularly vulnerable to al-Shabab. The group has moved personnel and resources into Juba and Geo, regions of southern Somalia that border Kenya, and are able to cross into Kenyan territory without difficulty. On Saturday, President Uhuru Kenyatta said that the al-Shabab fighters responsible for Thursday's university massacre were "deeply embedded" in Kenya's communities. BBC's Africa correspondent Andrew Harding reported that survivors told him that the gunmen spoke Ki-Swahili, a Kenyan language, not Somali, adding to "concerns about homegrown Kenyan militancy."
The Obama administration's strategy to combat al-Shabab resembles its approach in countries such as Yemen, where drone strikes have emerged as the face of American power. But the horrific attack last Thursday have raised questions whether this strategy will ultimately prove successful.
"Al-Shabab is not defeated," J. Peter Pham, the director of the Africa Center at the Atlantic Council, told the Washington Post. "It has just changed."