After Rhodes Fell
The new movement to Africanize South Africa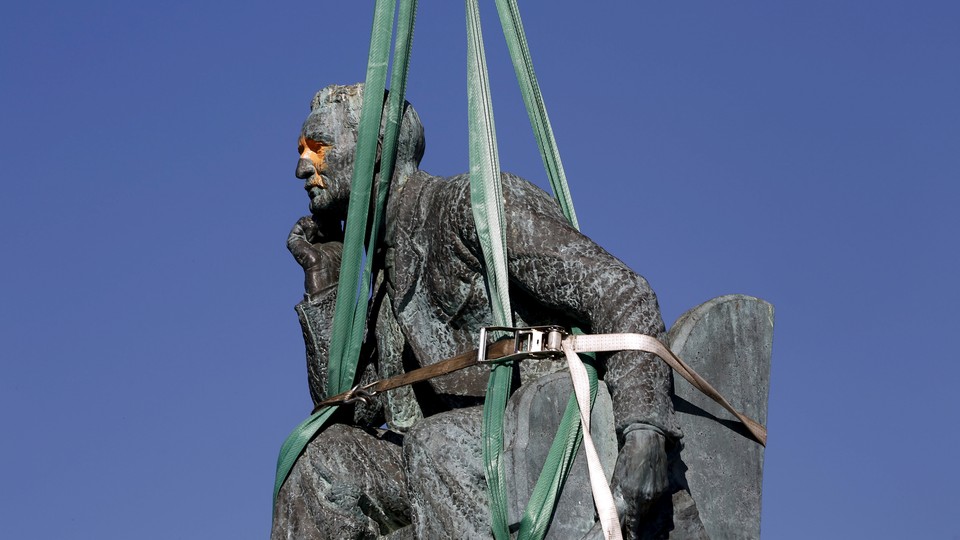 CAPE TOWN, South Africa—By the time I arrived, Cecil John Rhodes had already been trussed up as if for a hanging. It was an autumn afternoon in April, and Rhodes's statue hung in limbo at the entrance to Upper Campus of the University of Cape Town, canted to the right like a drunkard. His eyes were obscured by orange paint, and in the previous weeks he'd been pelted with everything from stones to human excrement. Hovering just above the plinth, graffiti read: "AFRICA LIVES, Fuck Rhodes."
The British imperialist and former prime minister of the Cape had once written, "I find I am human, but should like to live after my death," predicting his influence would persist for at least 4,000 years. Now, 113 years after his death, he'd been hoisted up for hauling to an undisclosed location.
Rhodes had become the chief target of student protesters at the university partly because of his sheer ubiquity; his name and likeness were stamped on everything from scholarships, memorial groves, and universities to cities, countless roads, and, once, even a nation. Mostly, though, he had brought it on himself, given his history as a crude race-baiter ("I prefer land to niggers").
Just uphill from Rhodes, toward Table Mountain, I spotted a second, smaller plinth. On top of the pedestal stood a striking black woman, with her back to the statue and her face, obscured by a traditional beaded veil, angled down as if she was meditating. She wore a black leotard and had a quite untraditional pair of shiny stilettos on her feet.
The woman was Sethembile Msezane, an MFA candidate at the university and a Zulu-speaking performance artist from Soweto, outside Johannesburg. She'd made it her trademark on public holidays to juxtapose her young, black, female body with monuments of old, white, male colonial and Apartheid-era figures, and to turn up in silent vigil at sites of resistance to oppression.
Now, she raised her arms as wings fashioned from lace, brass rings, and human hair unfurled in a flourish—invoking the mythological figure of a fish eagle from Great Zimbabwe, once invaded and despoiled by Rhodes. He'd fetishized the image, keeping a statue of the eagle at his nearby estate. In Zimbabwe's Shona culture, the eagles served as interlocutors between the living and the dead. For five hours, in the blazing sun, Msezane acted as a new interlocutor, in an interposition that was at once eloquent, mute, and overdue.
* * *
The row over Rhodes has inspired similar protests on other campuses across the country. At the University of KwaZulu-Natal, a statue of King George V was splashed with the slogan: "End white privilege." At the university named for Rhodes in the Eastern Cape, demonstrations broke out to change the school's name. The outcry amounts to a public rejection of the spirit of accommodation that marked the Mandela era. In the first 21 years of post-Apartheid South Africa, few statues were toppled. Now a new movement, rooted in pan-African rhetoric and assertions of black pride, has announced itself. The movement has been fueled, in part, by rising numbers of black students on campuses where the values of the country's new, supposedly non-racial, non-sexist democracy has chafed against antiquated architecture that celebrates former oppressors.
In recent weeks, these debates over statuary and historical memory have coincided with a wave of attacks in South Africa against immigrant shopkeepers from places like Pakistan, Bangladesh, and several African countries. The surge of nationalistic, xenophobic violence, carried out by poorer segments of the population and aimed at so-called amakwerekwere, is a decidedly anti-pan-African counterpoint to the student movements. The twin developments expose just how unsettled the dream of creating a more egalitarian society in South Africa remains.
The night before I saw Rhodes hang, there had been a nasty, loud confrontation in the chambers of the university's governing council. An urgent meeting had been called at an off-campus research center not only to decide the statue's fate, but also to respond to student demands for major changes in admissions, scholarship, faculty hiring, and curriculum. Student leaders had complained for years about testing and admission standards that translated into just over 23 percent of the student body being black South African when black South Africans constitute nearly 80 percent of the country's population (31 percent of the student body are white South Africans and 18 percent international students, many of them blacks from elsewhere in Africa).* Even worse was the proportion of black South African professors—only five out of 223 in 2013 according to university figures.
Outside the meeting, several hundred students and their supporters from the Occupy-style Rhodes Must Fall campaign hoisted a banner reading, "ALL RHODES LEAD TO COLONISATION OF THE MIND." Others sang and performed the stiff-legged dance of resistance known as the toyi-toyi. The mostly black protesters drew a direct line from the legacy of figures like Rhodes to contemporary conditions. While millions of blacks have moved into middle-income status since 1994, a disproportionate share of wealth and land remain in white hands. Income inequality, among the highest in the world, continues to be color-coded.
Still, I was surprised by how few of the protesters' chants and songs related to their particular demands, especially their emphasis on women's rights, the needs of the disabled, and LGBT concerns. There were no lyrics capturing the circumstances of black students in a majority-black country arriving to study at an elite and previously white-dominated institution. Most of the songs were expressions of loss and struggle from the centuries-old fight against colonial oppression and the battle that began, in 1948, to topple that extreme form of racial segregation known as Apartheid.
References to the power of the bazooka alternated with a circling, frenzied mimicry of the sound of an AK-47: ka aka k aka ka. One broad-shouldered student with a comb stuck backwards in his Afro led a chant that dated back to the military wing of the Pan Africanist Congress, which operated during Apartheid with the explicit aim of driving whites out of the country: "One settler, one bullet! Two settlers, two bullets!" he shouted.
When I asked about the use of this old slogan, he replied: "In so many forums in this country it's always been race. But we don't want to say it's about race." In other words, using "settler" as code for "white" kept him on the legal side of race-based hate speech while still allowing him to assert race-conscious grievances. "Look, we want what's ours," he went on. "Our elders—ah! Nelson Mandela, personally I don't like him. They sold us, you know? We're trying to pave the way for the next generation. We don't want democracy. We want freedom." (A number of faculty members and older veterans of the struggle against Apartheid are worried about this apparent turn away from non-racial and democratic ideals, and the settler slogan is divisive among the student protesters themselves.)
Word spread through the crowd that the demand for removing the statue would likely be approved imminently by the council. When the iron gate in front of the research center opened, the crowd hurried into the courtyard, sweeping me and a few other journalists into the building, up the circular stairs, and into the council's chambers, unannounced and uninvited. There, the stunned chairman, Anglican Archbishop Emeritus Njongonkulu Ndungane, welcomed the students as "ladies and gentlemen" but urged them to withdraw from the room so the council could vote.
The protesters, however, weren't interested in polite conversation about procedure. "As far as we're concerned, this meeting was illegitimate until we arrived," one of the female protesters called out, pointing her finger around the table. "Where are the black women?" (Nineteen of 30 council members are male, and council membership is predominantly white or coloured.)*  When Ndungane adjourned the meeting, a throng of protesters blocked him and other council members from leaving the room.
At that point, others mounted the tables, took off their shoes, and thumped them around the stricken-looking council members, periodically cocking their fingers and letting loose with more imaginary machine-gun fire. In decades of reporting on social movements around the world, I hadn't seen anything quite like it: Just at the point when authorities were prepared to give in, they were peppered with insults—as if a long-suppressed need for catharsis trumped everything else. Eventually, Ramabina Mahapa, president of the Student Representative Council, negotiated a compromise. The protesters withdrew. And a vote was taken to cart the Rhodes statue away the very next day.
Back on campus one week later, I made my way past the rugby fields where black students were once prohibited from playing alongside whites and toward Jameson Plaza, which is dominated by a massive hall set off in colonial columns and named for Rhodes's most notorious sidekick, Leander Starr Jameson.
Off to the side of the plaza, I met up with one of the organizers of the protests, a stocky, voluble black student named Lwazi Samoya. Raised in a township outside the city of Port Elizabeth by a single mother, he'd attended an elite boys' high school before being admitted to one of the most prestigious institutions in the country. Despite these achievements, Samoya felt uneasy on campus. He thought of friends back home who couldn't afford college and was painfully aware of the costs paid, by his own family, for the freedom he was enjoying. He venerated an uncle who was murdered by the police long before he was born and admired thinkers like Black Consciousness icon Steve Biko and former guerrilla leader Chris Hani, both slain anti-Apartheid icons.
Like others activists I interviewed, he'd been raised in the new democracy but felt deeply alienated by its social, cultural, and economic constraints. As an example, he cited artwork around the university that portrayed blacks in the nude—poverty-stricken and degraded—and butted up against depictions of whites looking triumphant and magisterial. "Not a single piece of art on this campus portrays a black person with dignity," he insisted.
Now that the Rhodes statue had been banished, he and his fellow activists felt it was time to push even harder. (Last week, Mahapa, the student-body president, called on the governing council to audit other statues and artwork on campus that students found offensive and to attend to bigger questions like who belonged on campus, who should be teaching there, and what the curriculum itself should look like.)
"We need a curriculum that's Afrocentric," Samoya explained. "We're sick of being taught Eurocentric ideology when there's plenty of perfectly good Afrocentric scholarship on the continent. We don't want a European university in Africa. We want a world-class African university in Africa."
The next day, I drove to the university's administrative headquarters at the Bremner Building, which had been occupied by protesters in the preceding weeks. The protesters had since been evicted, though a big sign in the entryway still read, "Under New Management." Inside, I was greeted by the school's chief administrator, Max Price, a trim, gray-haired, middle-aged man who'd been in charge since 2008.
He looked exhausted and was battling a bad cold. And he'd been arguing with himself about whether his administration had ultimately struck a balance between responding promptly to student concerns and holding leaders of the protests to account for their behavior. Price knew that plenty of staff members and alumni thought that he'd caved in to student demands, while newspaper columnists and black members of his own faculty portrayed him as an empowered white man resistant to needed change.
He'd worked hardest, he said, to protect "the idea of [the university] as an argumentative place, where no view is so controversial or heretical that it can't be expressed. We will not be bullied. We will not take down the statue just because people think it's painful. We won't allow people to say only black people have a right to comment on whether the statue should exist or not. We've protected that critical space for debate."
Price believed the episode would accelerate changes at the university, partly because white students and faculty had been educated about the imperative for them. But change would not come easily. Altering the demographic composition of the faculty, for instance, was difficult to do quickly because rising numbers of black South African students began entering Ph.D. programs only after Apartheid. "This is our big problem!" he said.
As for calls for an Africanized curriculum, he agreed that the university should be a premier center of knowledge about the continent; after all, that was its "comparative advantage." In the past 10 years, international faculty members had gone from constituting less than 3 percent of the faculty to more than 20 percent, and many of them were black Africans from elsewhere on the continent.* Where Price would draw the line, though, was if demands for an Afrocentric curriculum encompassed the notion that "maths can be Afrocentric, physics can be Afrocentric. [That] would affect our ability to be a world-class university."
When I stopped by her studio shortly after the Rhodes statue fell, Sethembile Msezane explained the rationale behind her performances alongside colonial and Apartheid-era figures. The series was intended as commentary about how young black South Africans still feel like aliens in their own country. "I had the question, 'Where are my people in this landscape? Where is my identity? Why do my kind remain faceless and unnamed?" she said.
The wings Msezane had worn during her performance alongside the Rhodes statue were mounted on the wall behind her. They looked gigantic, and she seemed far smaller without her veil, plinth, and props, and a little less confident.
She reconstructed for me what had unfolded, from her point of view, as the monument to Rhodes receded from public view. Since Msezane had positioned herself with her back to the statue, she had only been able to catch glimpses of the action reflected in sunglasses worn by people observing her. The artist hadn't even realized that the statue was gone until she heard the roar of the truck's engine and wild cheering from the crowd.
"'F-i-n-a-l-l-y,' I thought. Finally," Msezane recalled. Even then, she did not turn or move an inch. "I wasn't suggesting the character I'd just performed should be like a new statue, erected on the spot," she went on. She'd kept standing for another half hour, sunburned, aching, and dizzy, meditating on the historic moment and searching for deeper meaning.
How arrogant, she thought, to install monuments to powerful individuals across such a beautiful landscape in the first place. Permanent installations, even of heroes, eventually inflicted "the kind of pain" associated with the Rhodes statue. Cape Town, in particular, was choked with colonial- and Apartheid-era figures, she added. Their presence only encouraged a culture of narcissistic, bankrupt triumphalism. Did any of those statues really belong on a university campus—or in a new democracy, for that matter? "I don't really understand why we should have any of them," she mused. "Why do we ever litter a landscape like that?"​
---
* This article has been updated with additional information on the demographics of the University of Cape Town's student body, governing council, and faculty.