Devastation in Nepal
The disaster has claimed over 2,400 lives and destroyed much of the country's cultural heritage.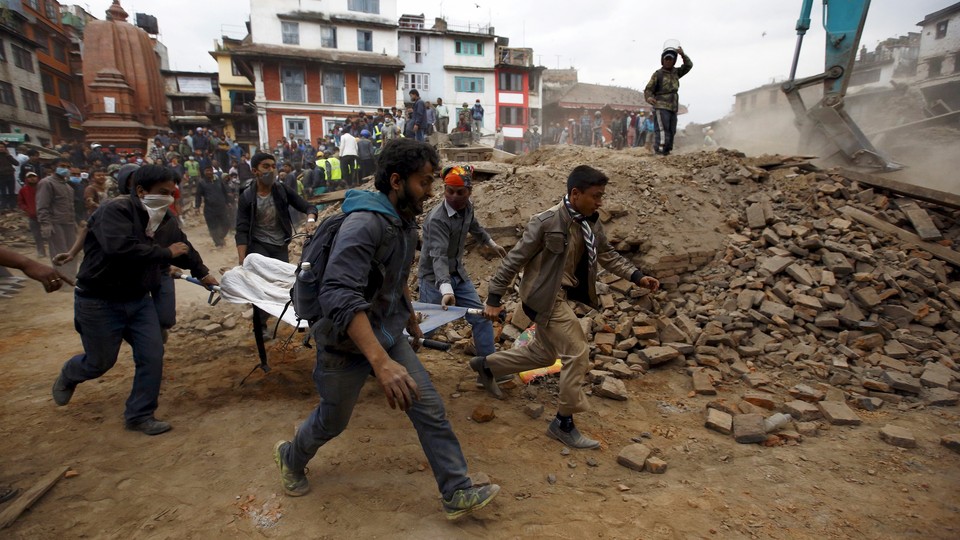 Updated April 27, 2015, 11:25 a.m.
Nepalis are moving to recover, rescue, and survive as aftershocks from Saturday's powerful earthquake rattle the country. Helicopters are searching for survivors on Mount Everest, where the earthquake caused a huge avalanche. The government has set up 16 relief stations across the capital, Kathmandu, and the surrounding areas. And Nepal's neighbors India and China are among the countries contributing to an international aid effort to provide much-needed blankets, cooking supplies, and paramedics.
But the earthquake—which according to the latest estimates is thought to have killed nearly 4,000 people—has left scores of Nepalis without adequate food or shelter. "We have nothing now," Nar Bahadur Nepali, a farmer from a small village, told The New York Times. "All the grains we stored are gone. We've had nothing from the government. We are sleeping on the road." Meanwhile, in the capital, thousands are huddling under plastic tarps or sleeping in parks. They fear that aftershocks could bring even more buildings down: Building codes in Nepal are only intermittently enforced, and a bill to set up a disaster preparedness commission was held up in Nepal's gridlocked parliament when the quake hit.
International aid workers are on the way, and the disaster may spur efforts to prepare the vulnerable, mountainous country—which sits at the meeting point of the Indian and Eurasian tectonic plates—for future earthquakes. For now, though, Nepal's concerns are more immediate.
Updated April 25, 2015, 10:57 a.m.
An earthquake with a magnitude of 7.9 struck western Nepal on Saturday, leveling buildings throughout the country and triggering deadly avalanches on Mount Everest. The Nepalese government placed the preliminary death toll in excess of 2,400 people, with 5,900 injured—but both figures are expected to grow. The earthquake is the largest to strike South Asia since 2005, when a tremor in Pakistan-administered Kashmir killed over 80,000.
Saturday's earthquake caused extensive damage in and around Kathmandu, Nepal's densely populated capital, and destroyed numerous historic structures. The Dhararara Tower, a famous 19th century tower in Kathmandu popular with visitors, completely collapsed. Nepalese police have pulled 60 bodies from the wreckage. The quake also destroyed much of Vasanthapura, a Kathmandu neighborhood noted for its 11th century architecture, and reduced Patan Durbar Square, a UNESCO Heritage site, to rubble.
This is what we feared for decades -- that a massive earthquake is coming and we would be helpless. Devastated to hear about #Nepal.

— Anup Kaphle (@AnupKaphle) April 25, 2015
On Mount Everest, the earthquake destroyed several base camps at the foot of the peak and unleashed a massive avalanche, reportedly killing 18. Media reports indicate that teams of hikers and guides remain missing on the mountain. Last April, an avalanche swept through Everest's Khumbu Icefall and killed 16 climbers in what was then the deadliest day in the mountain's history. Most avalanches on Mount Everest occur at altitudes between 18,000 and 21,000 feet, disproportionately victimizing Nepalese Sherpas hired to guide adventure-seekers.
It looks like the worst devastation and most deaths in Nepal came from brick buildings, as usual, and tragically predictable--and predicted.

— Kathryn Schulz (@kathrynschulz) April 25, 2015
A small Himalayan country wedged between China and India, Nepal's natural beauty has long made it a popular destination for tourists. But the country, plagued by poor infrastructure, is particularly vulnerable to earthquakes. Few Nepalese citizens live in retrofitted homes, and the government has struggled to prepare the population for such a disaster. According to the Wall Street Journal, Saturday's earthquake was the fourth measuring over 6.0 on the Richter scale to strike Nepal since 1980, and the largest since a magnitude 8.1 tremor killed thousands in 1934.
In addition to the many dead in Nepal, the earthquake also claimed 34 lives in India, 12 in China, and 2 in Bangladesh.