A Humanitarian Crisis in the Mediterranean
Hundreds of migrants are feared dead after their boat capsized north of Libya.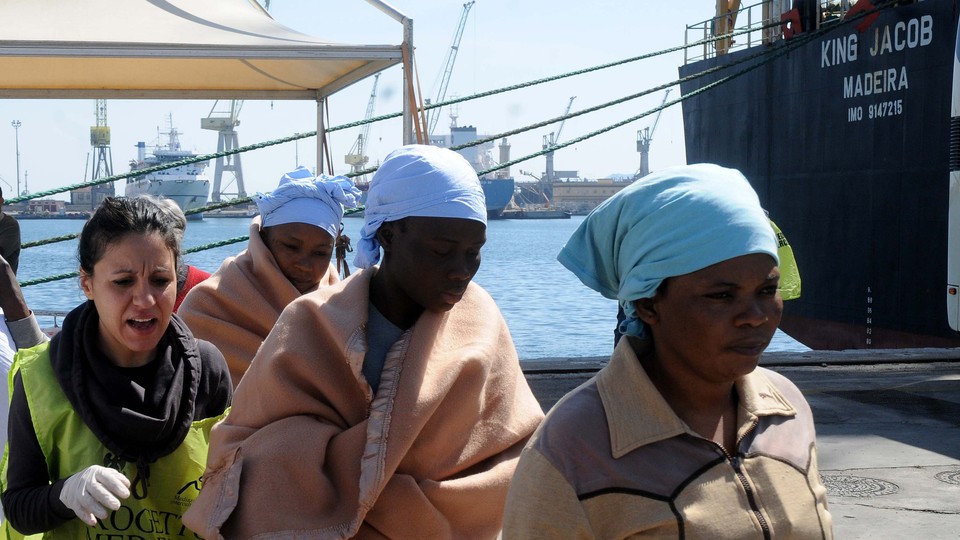 The Mediterranean Sea is one of the world's most celebrated bodies of water, a cradle of European civilization and a place celebrated for its climate and cuisine. It's also the site of a large and growing humanitarian crisis. On Sunday morning, a boat carrying 700 migrants capsized 90 miles north of the Libyan shore after being approached by a Portuguese vessel. According to the Italian Coast Guard, rescuers have saved 24 passengers and recovered the bodies of 28 others. Several hundred are feared dead.
"It is really too early to know, but if the number was confirmed, this would be the deadliest shipwreck in the Mediterranean," Flavio Di Giacomo, a spokesman for the International Organization for Migration in Italy, told the New York Times.
Migrants from northern Africa and the Middle East have long sought refuge in Europe. But their numbers have increased in recent years, driven by violent instability in Libya and Syria. The process is expensive and difficult. Some 80 percent of migrants rely on a facilitator, whose responsibilities include forging identity documents and connecting to counterparts on the European side. These facilitators cost several thousand dollars, and migrants often work for years to cobble together enough money for the journey. Those who arrive in Italy are, for the most part, sent back home. Others are less lucky. More than 3,400 people died attempting to migrate to Europe last year, nearly five times the total for 2013.
An Italian-led search-and-rescue organization called Mare Nostrum bears primary responsibility for helping stranded migrants in the Mediterranean. The Italian government has called for other European countries to shoulder more of the burden, but plans to establish a larger, continent-wide organization were rejected last year. Opponents to search-and-rescue organizations have argued that their existence provides an incentive for migrants to set off for Europe.
But as Patrick Kingsley, a journalist who has covered North Africa's migrants, explained, the violence and instability in their home countries is reason enough to flee.
"The message from the migrants is that the dangers they are fleeing from constitute a far greater threat than the risk of drowning at sea," he wrote in the Guardian. "Many display some awareness of the decision to end Mare Nostrum, but no one says its closure would put them off."
Among the migrants Kingsley profiled is Abu Jana, a Syrian who plans to make the perilous journey to Europe in the coming weeks.
"I don't think that even if they decided to bomb migrant boats it would change peoples' decision to go," he said.