Yemen's Wily Puppet Master
Ali Abdullah Saleh, ousted in the Arab Spring protests, has re-emerged as the country's most influential man.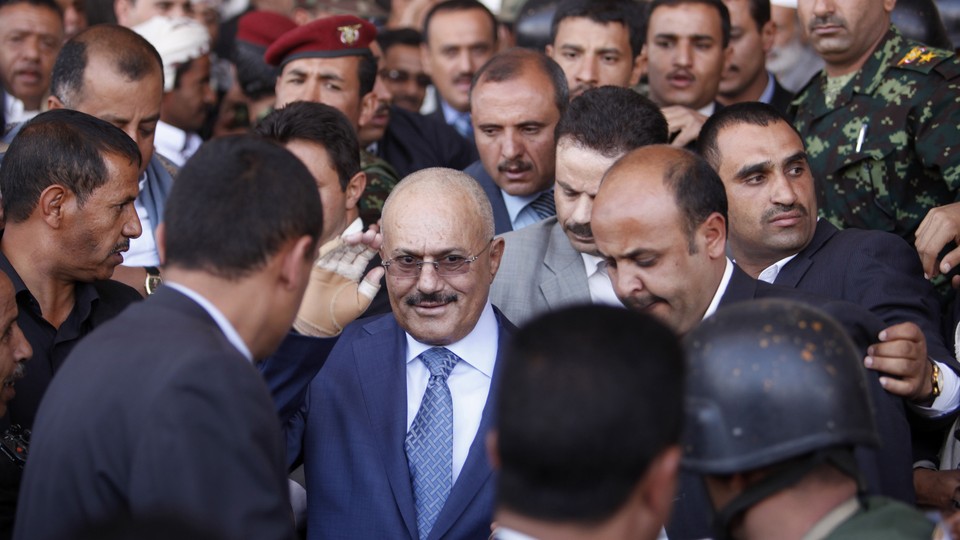 The violent conflict engulfing Yemen, the Arab world's poorest country, intensified on Saturday, as Houthi rebels fought government forces for control of Aden, a crucial port city. Meanwhile, air strikes launched by a Saudi Arabia-led coalition attacked Houthi positions in an attempt to repel the group that now controls most of Yemen. According to the national Health Ministry, the air attack killed 35 and wounded 88.
Since the Houthis overthrew president Abu Rabbu Mansour Hadi in February, Yemen has become a front in an emerging proxy war between Saudi Arabia, the Middle East's strongest Sunni power, and Shia-majority Iran. Tehran has provided ample financial and logistical support to the Houthis, a Shia group whose meteoric rise compelled Riyadh—and nine other nations—to intervene. But the Yemeni conflict has also revealed the power of a source far closer to home: ex-president Ali Abdullah Saleh.
Now 73, Saleh ruled Yemen for three decades until an "Arab Spring" uprising drove him from power in 2011. But unlike his counterparts in Tunisia, Egypt, and Libya—who ended up exiled, imprisoned, and murdered, respectively—Saleh managed to step down in exchange for immunity. That he extracted such a deal was, given his history, unsurprising. During his tenure as Yemen's president—a job he famously likened to "dancing on the heads of snakes"—Saleh was an acknowledged master manipulator: a Middle East Frank Underwood. Saleh allowed the U.S. military to launch drone strikes against al-Qaeda positions while, at the same time, ceding control of an entire province to the terrorist organization. During his presidency, Saleh waged an anti-insurgent campaign against the Houthis. But since his ouster, he has emerged as their great champion, and forces loyal to the ex-president have assisted the Houthis in their sweep across the country. Abandoning his low profile, Saleh delivered a speech on Saturday, urging a truce and disparaging the Saudi-led air strikes.
"I appeal to you and your conscience to protect your children and women in Yemen against these barbaric and unjustified strikes," he said.
Saleh has promised Yemenis that he would not again be president, and has called for elections to select a new leader. But his behind-the-scene power grab, aided by a marriage of convenience with the Houthi, leaves little doubt that he will retain de facto control as long as he can. Four years after the Arab Spring protests inspired hope of a better future for Yemen, Saleh's return to prominence leaves little doubt that, elections or not, he has truly won.