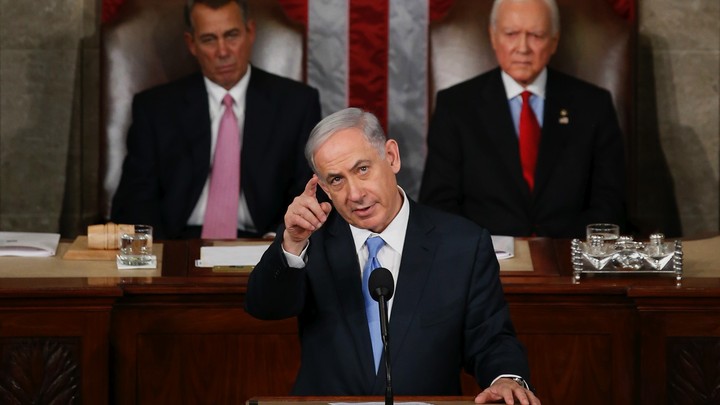 Deputy National Security Adviser Ben Rhodes, one of the President Obama's closest aides, appeared on the Charlie Rose Show last night (Goldblog was guest-hosting), in order to address Israeli Prime Minister Benjamin Netanyahu's criticisms of Obama's Iran approach. The transcript of our conversation is below, but there are a couple of things worth noting. When I asked Rhodes why Obama believes that a nuclear agreement may encourage Iran—a well-known regional bully—to behave in a more responsible manner, he more or less rejected the notion that this is Obama's belief, saying, "The purpose of the agreement is not to bet on the notion that Iran will moderate. The purpose of the agreement is to prevent Iran from getting a nuclear weapon throughout the duration of the agreement."
This brings us, conveniently, to a second controversial topic: the sunset clause, the provision of this still-theoretical deal that would see it fade away in 10 or 15 years. The White House has been adamant that the sunset provision is not simply an invitation for Iran to wait 10 years, and then build a bomb. This issue will turn into one of the thorniest for the administration when it confronts congressional critics of the deal. I asked Rhodes why the agreement would simply be allowed to expire in a set period of time, whether or not Iran proves to be a good actor. He said that the theoretical deal "should not be read as some type of preemptive permission slip for Iran to pursue a nuclear weapon on the back end of this agreement. The fact of the matter is the same type of options that we have in place today to prevent Iran from getting a nuclear weapon will be available to the president of the United States in 10, 15 years—whenever the conclusion of the duration of the deal is."
Another issue I raised is Netanyahu's idea that the nuclear talks be expanded to include discussions about Iran's sponsorship of terrorism, and of the Assad regime in Syria. I asked Rhodes why Obama seemed to be paying attention solely to the nuclear file. "Well, first of all, that's not our sole focus. We're a superpower—we do more than one thing at a time. We're negotiating a nuclear deal. But every day we're working to counter Iranian influence in different ways. We do a lot to restrict the proliferation of ballistic missile technologies to Iran, for instance. We cooperate in terms of Israel's efforts to counter Hezbollah in many ways."
I also asked Rhodes if he thought Netanyahu was trying to drive the United States toward a military confrontation with Iran. His (careful) answer: "Look, I don't think that that's his preferred course of action. What I do think, however, is there's a logic to the alternatives here, in the sense that if you get an agreement that is verifiable that goes into the double digits of years, that gives us a pathway to ensure that Iran is not getting a nuclear weapon diplomatically. If Iran does not reach that type of agreement with us and maybe we pivot to sanctions, then the options start to shrink for the United States and the international community, and you're either betting on the notion that Iran is going to completely capitulate under the pressure of economic sanctions—which by the way does not seem likely given the very nature of the Iranian regime that the prime minister laid out today—or you're left with the decision to take military action."
Our full conversation follows.
---
Jeffrey Goldberg: Is this speech going to damage the President's cause?
Ben Rhodes: No, I don't think so. I mean, the fact of the matter is the president said there's nothing new because we have been hearing these arguments from Prime Minister Netanyahu privately and publicly for some time now. He's made very clear his opposition to the type of deal that we're pursuing.
What we heard today was a lot of different arguments we've heard from different places from the prime minister pulled together in one space. As the president said, he made similar arguments before the Joint Plan of Action [which froze parts of Iran's nuclear program in exchange for some sanctions relief] was agreed over a year ago, and that has actually borne out as a successful effort to halt the progress of Iran's program and roll it back in certain elements.
So again, the prime minister has been clear about his view, but we don't think he's putting forward an alternative that can deal with the issue of preventing Iran from getting a nuclear weapon as effectively as the type of deal that we're negotiating.
Goldberg: I was surprised at the emotional effectiveness of the speech. Did you, as a speechwriter, find it at all convincing? Did you find anything in it that made you worried as, essentially, the adversary here?
Rhodes: Well, first of all—look, we're not adversaries. Israel is one of the closest friends that we have in the world. A lot of what the prime minister said are things that we absolutely share—views that we absolutely share. What he said about the nature of the Iranian regime, what he said about the need to defend the Jewish state—those are things that we fully agree with.
What we have a difference on is how do you go about doing that? So yes, there's tremendous emotional resonance and a need to stand up to the Iranian regime. The question is, how do we accomplish the goal that we share, preventing them from getting a nuclear weapon?
Goldberg: You said that you share [Netanyahu's] basic view of the Iranian regime. One of the points he made is that he believes that these negotiations should be expanded or enlarged to include Iran's support for terrorism, Iran's support for Assad, Iran's various aggressive moves in the Middle East. The administration has been adamant that you don't want to do that. Why don't you want to do that?
Rhodes: Well, first of all, Jeff, we think that the nuclear challenge is distinct, and the prime minister himself said today that the challenge is a combination of nuclear weapons with this type of regime. We need to deal with the threat of a nuclear-armed Iran. And that's what we're trying to do. They would be much more emboldened with a nuclear weapon—a nuclear weapons capability than they are even today.
But the day after a deal is reached, if we get an agreement, our concerns about other Iranian activities in the region will be exactly the same as they are today. We'll be just as concerned about their support for terrorism, their support for Hezbollah, their destabilizing actions in the region as we are today. But the fact is if you can verifiably ensure that they're not able to get a nuclear weapon, we will be more secure and the region will be more secure.
Goldberg: Why are you so confident that you will be able to verifiably ensure that they won't have a nuclear weapon? I mean this is a country that had two nuclear facilities that have been hidden from view for years—eventually discovered through intelligence means. But why do you believe that it's possible to know what the Iranians are doing underground?
Rhodes: Well, Jeff, the type of inspections that we're contemplating in the agreement do not just cover the nuclear sites—the facilities in Natanz and Fordow, the reactor at Arak—it also covers the uranium supply chain. So their uranium mines and their mills, their production facilities where they're producing centrifuges. We're looking across the entirety of the Iranian nuclear program.
That is your best hedge against a covert path, because you're able to detect Iranian activity and make sure that not only do they not potentially have the facility that's of concern, but they'd have to construct an entirely separate covert supply chain to feed into that.
Goldberg: But you know as well as I do that intelligence is not perfect. It's not a perfect art, and we've seen multiple occasions in recent American history of intelligence failure. Is there something different about this that I'm not understanding?
Rhodes: What's different about this is Iran would be accepting inspections and transparency that go beyond any other country in the world. You'll have more eyes into the Iranian nuclear program than you have into any other similar program around the world.
Without a deal, you don't have those inspections. You don't have that transparency. You have a much greater risk of a covert path. With the deal you get inspections, you get the ability to verify. You get the ability to challenge and seek out sites that are of concern to us. And again we're not going on trust here.  The whole point of the inspection regime is we can verify for well over a decade what the Iranians are doing in their nuclear program.
Goldberg: Why do you think the Israeli government is so worried?
Rhodes: I think the prime minister has a longstanding view on Iran that takes a particular line that opposes this type of diplomatic agreement. But the fact is the type of deal that he laid out today is one that is simply unattainable. That involves Iran dismantling its entire nuclear structure. It involves Iran changing the nature of its behavior in the region. That's a recipe for no deal. Not only will the Iranians not agree to that. No other country in the world would support us in taking that position in the negotiations.
Goldberg: Why is it a recipe for no deal? I mean the United States should be the party in the driver's seat. We're the superpower. They're a country—a weak country relatively speaking, under sanctions. There's a perception out there among some people that the U.S. wants the deal more than Iran wants the deal, which is not logical.
Rhodes: That's simply not the case. The Iranians don't want to make the types of concessions that they've already made and were contemplating. They already, under the pressure of sanctions, have agreed to get rid of and have gotten rid of their stockpile of highly enriched uranium, for instance. That was the cartoon bomb that Prime Minister Netanyahu had before the United Nations.
They have submitted to inspections. They've capped their low-enriched stockpile. They have not installed advanced centrifuges. So they've already adjusted their behavior in their nuclear program because of the interim agreement we have.
When you talk about the limitations that we're going to impose on their program, [they're] significant limitations: no ability to produce weapons-grade plutonium; not using Fordow as an enrichment facility; having at least a one-year breakout timeline associated with its enrichment program—that's up from two or three months now—... strict limitations on their stockpile and their centrifuges and the types of centrifuges that they're using.
Those are all changes in Iranian behavior as it relates to their program. It would set the program back in terms of their capacity to break out and pursue a nuclear weapon. So we are using the leverage that we have to bring to bear here, but at the same time we're dealing with different alternatives. What is the best alternative course? A long-term deal that verifies into the double digits of years that Iran is not pursuing a nuclear weapon—is at least a year away in terms of its breakout timeline—and that involves these types of transparency measures is better than the alternatives, of military action—that would only set the program back by a fraction of that period of time—or simply pivoting the sanctions. One thing we know is every time we've moved the sanctions away from the negotiating table, the Iranians continue to advance their program.
Goldberg: The so-called sunset clause that says after 10 years or 15 years—again this is not fully negotiated yet—that this agreement would expire. Why is this being talked about as an issue of time rather than actual behavior on the ground? In other words, why don't you set this up so that the United Nations Security Council, for instance, can look at Iranian behavior over the next period of years and say, OK, you know what, they're being responsible actors, we're going to remove some of these conditions, rather than just saying, if you guys wait 10 years you're going to be, relatively speaking, free and clear of these onerous burdens?
Rhodes: Well, so, a couple of things, Jeff. First of all, we're negotiating an agreement that has a specific duration on it. We're not negotiating a permanent treaty and we never have been. So there was always going to be a fixed duration to the type of agreement that we're pursuing.
On the other hand, that should not be read as some type of preemptive permission slip for Iran to pursue a nuclear weapon on the back end of this agreement. The fact of the matter is, the same type of options that we have in place today to prevent Iran from getting a nuclear weapon will be available to the president of the United States in 10, 15 years—whenever the conclusion of the duration of the deal is.
Secondly, the transparency measures are going to be extensive beyond the duration on the limitations on the program. So you will be able to know what the Iranians are doing with their nuclear program and make a judgment at that time. I think the question is, why would you not want to have a decade or more of verifiable limitations on the Iranian nuclear program that prevents them from getting a weapon? And then, again, the Israeli prime minister, the president of the United States, and the international community can make a judgment on the back end of that deal about how to move forward.
Goldberg: President Obama has said repeatedly that one of the reasons he's so concerned about the Iranian nuclear program is that he wants to prevent a nuclear arms race in the world's most volatile region. From what I hear and other people hear from Arab allies of the United States, they are just as nervous about this program as Israel. Is that something that concerns you or should concern you?
Rhodes: Look, we take very seriously the security of our partners in the region. That includes Israel and it also includes our Arab partners. What I'd say is, first of all, we're talking about an Iranian program that is set back from where it is today under this agreement. So we have been living in a world where Iran has a nuclear program for 10 or 20 years now. And our partners have not felt the need to pursue their own nuclear weapons capability.
The fact of the matter is, Iran is going to have less facilities, less centrifuges, longer breakout time during the duration of this agreement. So what we would say to them is we are actually preventing Iran from getting the nuclear weapon that you're concerned about.
At the same time—
Goldberg:  But you're not guaranteeing permanent non-nuclearization.
Rhodes:  We will continue as a matter of policy to oppose Iran getting a nuclear weapon. So, again, on the back end of this deal, there is no permission slip for Iran to simply then wait until the end of the agreement and get a nuclear weapon then. Again, there are limitations that will be imposed for the duration of the agreement. There are transparency measures that have more permanence to them. And we can make a judgment on the back end of the agreement about where things stand.
In the meantime, I think what we do have to do with respect to our partners is reassure them that this in no way lessens our concern about everything else Iran is doing in the region; that this is not a broader rapprochement between the United States and Iran; that we are more aligned frankly with our Arab partners when we look at issues like Syria, when we look at issues like Yemen than—
Goldberg: But your Arab partners would say, you know, in fact that you have let the Assad regime maintain its control over much of Syria; that you haven't intervened in a more muscular way and a more robust way. And that their critique is that you have been so focused on the nuclear file that you've allowed Yemen to fall to the Iran-oriented, Iran-aligned rebels, that Hezbollah is more powerful than ever, and so on.
You've heard all these arguments, and this comes back to that original question of why the sole focus on this behavior, and not other bad behaviors that are actually affecting American national security today?
Rhodes: Well, first of all, that's not our sole focus. We're a superpower—we do more than one thing at a time. We're negotiating a nuclear deal. But every day we're working to counter Iranian influence in different ways. We do a lot to restrict the proliferation of ballistic missile technologies to Iran, for instance. We cooperate in terms of Israel's efforts to counter Hezbollah in many ways. We share information and intelligence in that regard.
And with respect to the Gulf, we have tens of thousands of military personnel stationed in the Gulf. We have extraordinarily deep defense relationships and joint military exercises that we conduct with our Gulf partners. That is aimed at reassuring them that we have a commitment to their security.
And the president of the United States stood up at the UN General Assembly last year and he laid out really our core interests in the region. He put up top the security and sovereignty of our partners, and that certainly includes allies like Saudi Arabia, like the United Arab Emirates, again who we manifest our commitment [to] with tangible military presence in the Gulf region.
Goldberg: You and I both know that there have been difficult moments over the last six years between the prime minister and the president. Do you think there's a chance that the White House reacted too strongly to this speech, to the idea of being invited by the Republican speaker?
Rhodes: No. First of all, Jeff, this—
Goldberg: I mean, Susan Rice did call this a destructive moment.
Rhodes: Look—the point is that this is not a dynamic that we sought out. We have had a very clear policy of coordinating and briefing our Israeli friends about the status of these negotiations for some period of time. When there have been differences we address them privately, we address them publicly. This specific speech is something that was planned between the prime minister's office and the Speaker of the House. That's what created the current dynamic that we're in.
What we were articulating and Susan was articulating is that this relationship should not become partisan. You know, the president himself said the U.S.-Israel relationship, part of what makes it different and special is it's not between the Labor Party, the Democratic Party, the Likud Party and the Republican Party. It has to endure under different parties and it should be bipartisan. And that's what we believe, and that's what we're going to continue to stand for.
At the same time, on a core foreign-policy priority of the president, the prime minister is making a case that is against that deal, that we believe is the right policy for the United States of America. We're going to make our case as well and we're going to do it respectfully.
Goldberg: What would happen to this relationship if the prime minister were to win this argument, which is to say, let's say that this was a very effective speech and he convinced some wavering Democrats to join in with, let's say, a Republican-sponsored sanctions program that the Iranians say will drive them from the table?
Rhodes: I'd say two things, Jeff. First of all, the deal doesn't exist yet. And our simple message to Congress has been, give us the space to get a deal and then take a look at it. And people will have an opportunity to weigh in. They'll have an opportunity to be heard. So one thing is, let's see the deal, lay it out on the merits. We'll make our case, people can make their case against it.
But the second point that's important is, let's say we don't get a deal. Let's say we're not able to get to the finish line. That's a very real possibility because the Iranians may just not move far enough to reach our bottom lines. In that case it's very important that the perception internationally be that the Iranians are responsible for the failure of negotiations. That's how we have been able to get buy-into the sanctions regime.
Time and again, we have been able to say Iran are the ones who are not serious about these negotiations, therefore we need to tighten the sanctions and apply pressure on them. If the appearance is that before we're able to reach an agreement, the United States took an action through—for instance the passing of new sanctions that derailed the negotiation—that puts us in a weaker position to build the very sanctions that the Israeli prime minister has advocated.
So in other words, it's important to let the negotiations reach their end point. If there's a deal, look at the deal. If there's not, let it be the Iranians' fault.
Goldberg: Do you think that the prime minister of Israel is trying to drive the United States toward a military confrontation with Iran?
Rhodes: Look, I don't think that that's his preferred course of action. What I do think, however, is there's a logic to the alternatives here, in the sense that if you get an agreement that is verifiable that goes into the double digits of years, that gives us a pathway to ensure that Iran is not getting a nuclear weapon diplomatically.
If Iran does not reach that type of agreement with us and maybe we pivot to sanctions, then the options start to shrink for the United States and the international community, and you're either betting on the notion that Iran is going to completely capitulate under the pressure of economic sanctions, which by the way does not seem likely given the very nature of the Iranian regime that the prime minister laid out [Tuesday], or you're left with the decision to take military action.
And look, the president has said all options are on the table and he means it. The point is the military option is not as effective as the diplomatic option in ensuring that Iran doesn't get a nuclear weapon for the longest period of time.
Goldberg: Has the White House studied this in some deep way and said, you know what—we're not going to be able to buy much time if we destroy the 10 or 15 Iranian nuclear facilities?
Rhodes: Yes. I think if you look at any—even independent assessments here, Jeff, if you're talking about an agreement that is well beyond a decade or even a decade itself—let's say it's just 10 years. That is a longer period of time than you could set back the program by just bombing a certain number of facilities. The fact is they do know the nuclear fuel cycle. They do have expertise, and what is most likely to happen in a scenario where there's a military option is that they do break out and that the program goes underground.
Goldberg: What makes the president believe that an Iran that is essentially empowered, that has been granted through this alleged deal or theoretical deal, the right to enrich uranium that puts it on a pathway toward an end of sanctions, what makes the president think that this kind of empowering moment would lead to better behavior on the part of a country that he himself describes as a bully and as a sponsor of terror and as a sponsor of the Assad regime?
Rhodes: So a couple of things, Jeff. First of all, we would make this deal even on the basis that the Iranian regime is not going to change. So, in other words, this is a nuclear deal, the type we are pursuing that we would make on the merits. And frankly, because we distrust this regime, we would make this deal because it includes the verification measures that allow us the unprecedented access to their nuclear program.
However, if making the deal does help lead to a dynamic where the Iranian regime is moderated, that would obviously be with a preferable course of action. But we're not banking on that. The purpose of the agreement is not to bet on the notion that Iran will moderate. The purpose of the agreement is to prevent Iran from getting a nuclear weapon throughout the duration of the agreement.
I would say what we've seen in recent years as Iran has been isolated is that they prioritized their funding on the nuclear program, they prioritized their funding on the RGC, that the hard-liners are very comfortable—
Goldberg: The Revolutionary Guard.
Rhodes: Yes. They're very comfortable in the current dynamic where Iran is in the penalty box. They can still operate. They still get their accounts. There is, I think, a possibility that if you have this type of agreement, that there is a different faction of Iranian society that does not feel comfortable with the more hard-line direction of the country that could be empowered, and that could lead to a more moderated policy that would be good for the United States, for Israel, and the whole region. But again, we're not banking on that.
I do think it's more likely that that dynamic takes place if there's a nuclear agreement than if there is not. But again, we're not going to take any chances on that, and that's why the deal calls for the verification measures that it does because, ultimately, that's our best hedge against Iran taking nefarious actions.
Goldberg: How do you feel about these negotiations right now? Do you feel like they're moving toward a successful conclusion?
Rhodes: Well, I feel like they have come a long way, but there is no guarantee. The reason I think we still put this as a 50/50 proposition is it's going to come down to a question of political will on the Iranian side. Can they make the final compromises on the key areas that can get this across the goal line?
Ultimately, that decision is going to lie with the Iranian leadership, and until that's done we don't know that the deal is going to get done. But again, what's different about now from November or even July, when there were extensions, is that we're in the ballpark in terms of the gaps narrowing. We can see what this could look like, but we're not there yet because the Iranians saw further to move on some issues that we really care about, and we're not going to make a bad deal, as the president said. We have had plenty of opportunity to accept the bad deal and we haven't done it.
We want to hear what you think about this article. Submit a letter to the editor or write to letters@theatlantic.com.