Vladimir Putin Is Hiking the Appalachian Trail
The Russian leader hasn't been seen in public for a week, leading to some wild speculation about his whereabouts and well-being.
Where were you when you heard that Vladimir Putin, fat on territorial conquest and thin on ruble value, had died at age 62? Probably the same place you were when you heard that North Korean dictator Kim Jong Un had either suddenly disappeared, was thought to be dead, or was on a cheese bender.
On Thursday, the Internet once again went aflame with theories about the possible whereabouts and potential demise of Vladimir Vladimirovich Putin. According to reports, the last time Putin was seen in public was March 5, a week ago, when he met with Italian Prime Minister Matteo Renzi.
Putin's health first became the topic of conjecture when he paused his recent flurry of globetrotting and canceled a trip to Kazakhstan earlier this week. The Kazakh government, as The Guardian reported, said that Putin had fallen ill.
Putin not only missed presidential pow-wows with Belarus and Kazakhstan, but  a treaty signing in South Ossetia, Georgia's breakaway region. On Wednesday, the Kremlin posted pictures and particulars from Putin's meeting with Karelian chief Alexander Khudilaynen in Moscow, but that appears to have been a ruse. As Meduza noted, "a local business newspaper in Karelia, however, reported this meeting on March 5," one day after it took place. Khudilaynen was said to be far from Moscow on March 11.
So where did Putin go? According to Russian Twitter, Putin joined ISIS. Other speculations say the Russian premier has cancer, is recovering from plastic surgery, or has suffered a stroke. Among the selection of Russian-language rumors, memes, jokes, and cartoons curated by Radio Free Europe about Putin's health is the image of "Putin has died" as it trends on Russian Internet.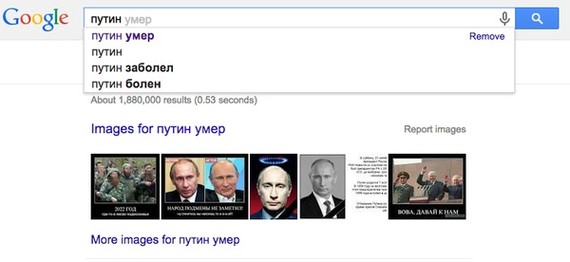 The Kremlin was quick to bat away any suggestions that Putin was putting St. Peter in a headlock, insisting that the Russian leader is not only in good health, but also very busy. "He has meetings all the time," a Putin spokesman told Reuters. "He has meetings today, tomorrow. I don't know which ones we will make public."
But more than just a passing fascination and launch point for humor, Putin's disappearance highlights a greater dearth of transparency within Russia. "It offers evidence enough that Russia has become an outright dictatorship," writes Leonid Bershidsky at Bloomberg View. "No other kind of state would be so opaque, nor its citizens so preoccupied with their ruler."