A 'Deliberate Attempt to Destroy the Aircraft'
As the details emerge about the Germanwings crash, audio evidence suggests that the crash was intentional.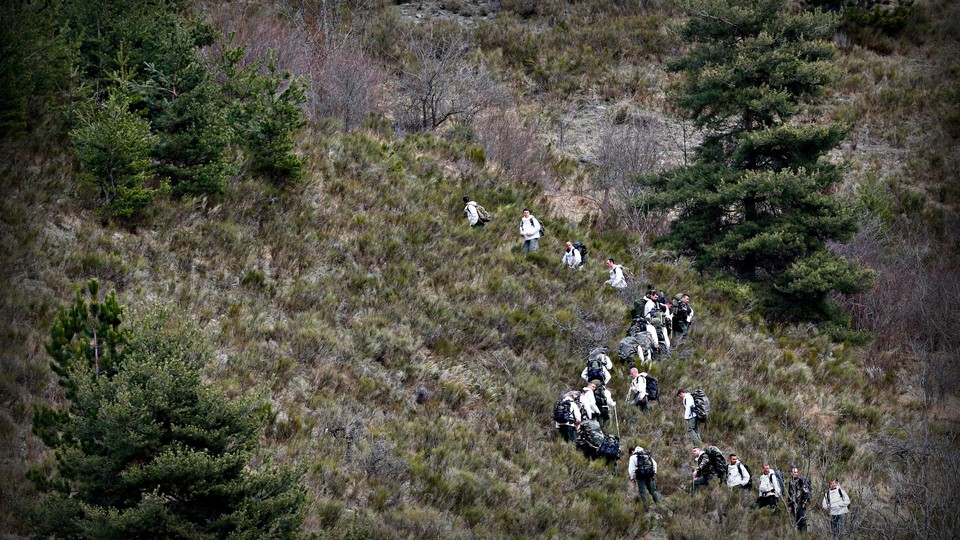 Developments surrounding the Tuesday crash of a Germanwings A320 Airbus, which killed all 150 passengers on board, took a surreal turn on Thursday. The picture of how the aircraft, which was said to be "in perfect technical condition," crashed amid relatively clear skies came into focus as investigators and prosecutors revealed that they believe the crash was intentional.
What the black box revealed
In a press conference on Thursday, Marseille prosecutor Brice Robin detailed the contents of the plane's audio, which revealed that the commanding pilot had apparently been locked out of the cockpit by the co-pilot prior to the crash, citing an audio tape recovered from the plane's black box recorder.
"The guy outside is knocking lightly on the door, and there is no answer," a senior investigator told The New York Times. "And then he hits the door stronger, and no answer. There is never an answer."
Robin explained that the co-pilot "activated the descent" and characterized it as a "deliberate attempt to destroy the aircraft." Citing the steady breathing on the audio, the prosecutor said the co-pilot was believed to have been alive until impact when he and all the passengers died instantaneously.
Who was the co-pilot?
Andreas Lubitz, a 28-year-old German pilot with more than 600 flight hours, has been identified as the co-pilot. Lubitz lived with his parents in Montabaur, Germany, and had reportedly trained at the Lufthansa Flight Training Pilot School in Bremen before joining the company in September 2013.
"According to our present information...we have no indication of any kind of terroristic background for him," German Interior Minister Thomas de Maizière said in a press conference on Thursday. Maizière added that security checks on Lubitz by Germanwings parent company Lufthansa hadn't raised any concerns.
Earlier in the day, Marseille prosecutor Robin also dismissed the early theory that the crash was a terror act, saying that there is "nothing to allow us to say that it was a terrorist attack."
Why was the co-pilot alone?
Speaking at a press conference in Cologne on Thursday, Lufthansa CEO Carsten Spohr addressed the new developments including the peculiar detail about Lubitz having been alone in the cockpit.
"Unlike in the US, European regulations do not provide for two people to be in the cockpit at all times," The Guardian relayed from Spohr's comments. "Lufthansa does not voluntarily implement such a protocol, and Spohr said that he is not aware of any of the company's competitors that have such a procedure."
"I can only repeat what I have said over the last few days," Spohr added. "We are really deeply shocked and I wouldn't not have been able to imagine that the situation would have got even worse."