Lee Kuan Yew's Giant Legacy
The founding father and first prime minister of Singapore died Sunday. He was a dominant figure beyond his country's borders.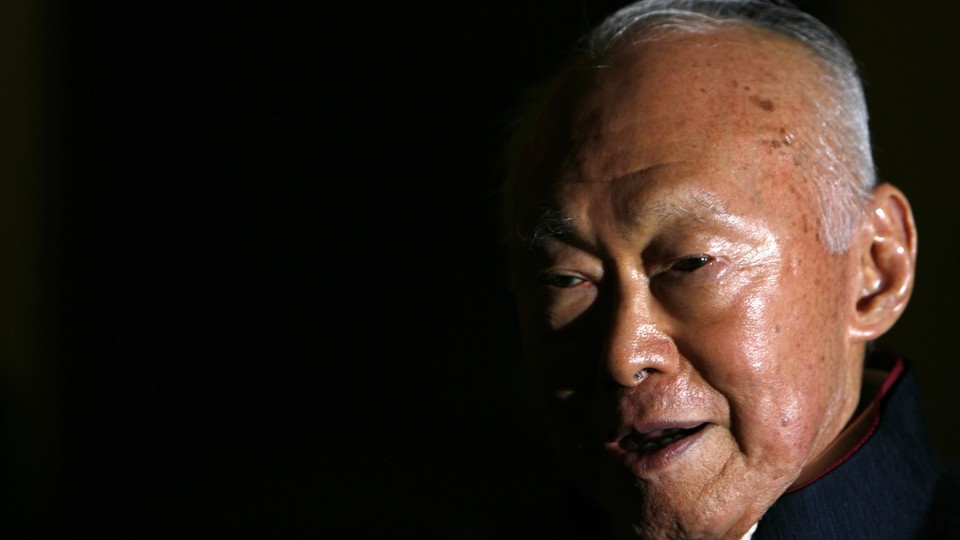 Lee Kuan Yew, the founding prime minister of Singapore and a giant of postwar Asian history, was fond of saying that his country never should have existed. "To begin with, we don't have the ingredients of a nation, the elementary factors: a homogeneous population, common language, common culture and common destiny," he said in a 2007 interview with the New York Times. "So, history is a long time. I've done my bit."
Lee was being modest. The statesman, who died at the age of 91 on Sunday following a bout with pneumonia, helped to transform his impoverished homeland into one of the world's most prosperous societies, a business and transportation hub that has enjoyed decades of peace, stability, and economic growth. This success wasn't accidental. Lee's embrace of international trade—buoyed by the territory's strategic location along shipping lines—turned Singapore into an attractive destination for foreign investment. And by insisting that Singapore's 5.3 million citizens adopt English as an official language, Lee helped foster a shared identity among the country's Chinese, Indian, and Malay ethnicities, grouped together in new, ethnically mixed apartment buildings.
"With the possible exception of Cuba under Fidel Castro, it's hard to think of another country where one leader left such a firm imprint," said Ali Wyne, a Singapore expert and analyst at Wikistrat.
Singapore's success, however, has come at significant cost to human rights. Lee tolerated no dissent and jailed regime critics without trial, and despite their wealth, Singaporeans do not enjoy a free press, freedom of speech, or freedom of assembly. Critics have also accused Lee of nepotism. In addition to his son Lee Hsieng Loong, Singapore's current prime minister, other children and close family members occupy powerful positions within the country. Members of Singapore's Malay and Indian populations have accused Lee, who was of Chinese descent, of failing to share political and economic spoils with other ethnic groups.
Lee's influence extended well beyond Singapore's borders. A Cambridge-educated lawyer of Chinese descent, he was uniquely positioned to interpret the U.S.-China relationship and spoke frequently on the subject. As prime minister, Lee served as a key adviser of several American presidents, making frequent visits to the White House during his years in power. But Lee was also influential in China. In his acclaimed biography of the Chinese leader Deng Xiaoping, the Sinologist Ezra Vogel wrote that Deng consulted Lee during the initial stages of China's economic reform. Indeed, China's blueprint for prosperity—economic liberalization combined with political repression—closely followed that of Singapore.
Lee has not served as Singapore's prime minister since 1990, and has held no official government position since resigning as "Minister Mentor" in 2011. Yet his death has raised uncomfortable questions about Singapore's future. In recent years, income inequality has widened, and political opposition has grown more powerful. In a 2013 speech, the prime minister warned that Singapore was at an "inflection point": "Our society is more diverse, our economy is more mature, our political landscape is more contested." Singapore's next general elections, scheduled for 2017, may bring about the country's most pluralistic—and divided—government since independence.
For now, Singaporeans will reflect on a man whose dominance of the country's political life stretched across six decades. Lee's legacy, however, has more to do with just longevity—and in this way comparisons to Castro, who like Lee assumed power in 1959, are inapt. Where the Cuban leader derived his legitimacy through adherence to ideology, Lee took the opposite approach.
"If it works, let's try it," he said in the interview with the New York Times. "If it's fine, let's continue it. If it doesn't work, toss it out, try another one."
He did his bit, indeed.